These 5 K-Beauty Rules Are The Secret To Glass Skin
In the past few years, K-beauty (aka skincare from Korea) has taken over the beauty world in a major way. Remember when glossy, glass-like skin was everywhere last year? Yeah, that's the K-beauty glass skin trend, which is basically the process of cleansing and hydrating your skin to a level that it literally looks like crystal clear glass. Although a K-beauty routine may take a little longer, alright, a lot longer, as soon as you get the inevitable complement of "your skin is super glowy." it's 100% worth it. So, to help you K-beautify your skincare regime, we spoke to the Korean skincare gurus and founders of our go-to K-beauty site, Glow Recipe, Sarah Lee and Christine Chang, for their top five beauty rules.
1. Wear SPF daily 
One of the pillars of K-beauty is to never underestimate the power of SPF; 90% of how your skin ages is down to sun exposure, so maximum protection is essential if you want your skin to look fresh for as long as possible. Sarah Lee explains that "Hybrid SPF products like moisturizers or foundations contain such a small percentage of SPF, that we always recommend finishing your skincare routine with a stand-alone SPF step." She also adds that in Korea they're seeing "new technology where there are now invisible SPF, which can be used with all skin tones." Sarah recommends the "Make Prem UV Defense Me Capsule Sun Gel, which is one of our most popular SPFs on glowrecipe.com."
Posts You'll Love:
2. Always double cleanse
Possibly one of the most important skincare rules ever; Sarah explains that "Double cleansing thoroughly removes impurities from the skin — dirt, oil, bacteria — in a gentle way." Most importantly, Sarah tells us, you need to start with "an oil-based cleanser like the Yuri Pibu Grante Cleansing Oil or cleansing water like Whamisa Organic Flowers Cleansing Water on dry skin to remove makeup." Then, you should "follow with a hydrating cleanser like the Blueberry Bounce Gentle Cleanser to remove any additional residue and remaining dirt." Read our full guide to double cleansing here.
3. Layer up, on lightweight products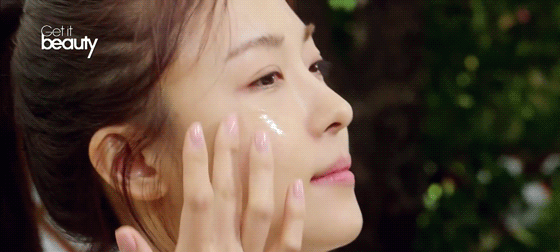 Christine told us that the most fundamental rule of Korean beauty is lightweight layers of hydration, as opposed to "Applying one thick cream to moisturize the skin." She tells us to think of it, just as we would layer clothes: "Liken this to wearing several layers during the winter to keep warm vs. wearing one chunky sweater or coat." Christine tells us that this is why "every skincare routine should start with a hydrating toner (not astringent) as this is the first step of hydration." Christine and Sarah's go-to toner is the Jullia Super 12 Bounce Essence Oil Toner, as Christine tells us it's "the perfect toner that can be built upon — especially with the holy grail 7-skin method" (where you tone your skin seven times to get next-level glow and hydration). They also recommend using a lightweight oil-free moisturizer like the Watermelon Pink Juice Moisturizer, as Sarah says "you can also use this as your serum step before a heavier moisturizer for those with drier skin types or in the winter months when skin tends to be drier."
4. Exfoliate… gently 
Gentle exfoliation is another vital step in the K-beauty skincare routine and Christine reminds us that we have to take serious care when exfoliating, and to avoid granule scrubs entirely. Christine explains that "K-beauty is all about being gentle with your skin and minimizing any rubbing, pulling and friction (never pull always pat pat pat!)" which is why she recommends "gentle exfoliation vs. physical exfoliation," as it can be too abrasive on the skin. More specifically, she recommends "Using chemical exfoliants like AHAs once or a few times a week to resurface skin." Christine and Sarah  also love to use an overnight sleeping mask that contains a chemical exfoliant like the Glow Recipe Watermelon Sleeping Mask (which we love), as it "combines two things all skin types need: exfoliation (via pore refining AHAs) and hydration." And they reassure us that you shouldn't worry "If you notice any pilling at all — this is a natural byproduct of the exfoliation process which is quickly gone with a quick rinse in the morning."
5. Never underestimate the power of a sheet mask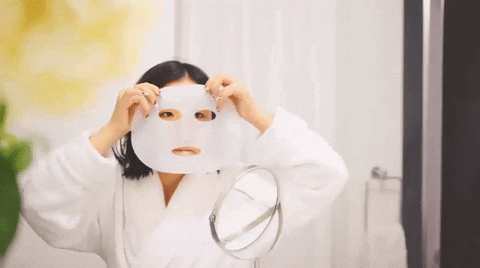 You've probably seen hundreds of sheet mask selfies on your IG feed, but they're not just for a funny, slightly creepy selfies, they're a foundation of Korean skincare routines. According to Christine, "Sheet masks have always been a staple in Korean beauty as they originated from South Korea." What makes them so magical is that the sheet "Provides high concentrations of good-for-skin ingredients like hyaluronic acid and other actives while also preventing them from evaporating, locking the serum in place" explains Christine. That's what makes their Watermelon Glow Jelly Sheet Mask so special as Sarah says the "Sheet mask itself, is fermented watermelon extract, providing hydrating benefits to the skin while other fabric sheet masks only act as the carrier."
Check out our full K-Beauty guide here.