ALL My Makeup Tips For Round Faces
Just because we haven't all been blessed with high cheekbones and a perfectly chiseled jaw, doesn't mean we can't fake it if we want to. If you're blessed with a round face, you're actually super lucky, as fuller cheeks and a round chin not only make your face look more youthful, but it'll also stay looking younger for much longer. If, however you want to chisel out your bone structure a little more, then with the right highlight and contour, you can tweak the dimensions of your gorgeous face to create angles like Naomi Campbell. You just need to know what features to emphasize to enhance your natural beauty.
Round faces are one of the most common face shapes out there, but they're also one of the most misunderstood face shapes. A lot of people assume if their face is round, it lacks structure, but often it's just one particular feature that makes the overall shape look round; your hairline could be curved, or you may have fuller cheeks and yet still have a defined jaw. Although generally, round faces usually have a youthful feel, with a curved jaw, and wider cheeks.
Contour Tricks
Contour works really well for round face shapes as it can help add definition and structure to your curved features. The general rule to follow, is the classic '3' contour. This means you should start by contouring along the outer edges of your forehead, at your temples, and under your cheekbones, then continue the contour around your jawline, avoiding the chin. By leaving the chin free of contour, it'll help to add more height to your face, creating the illusion of a longer, more oval face shape.
Find your shade: Possibly THE most important step of contouring is finding the right shade: Go two shades darker than your foundation, or for a more dramatic look, you could even opt for three shades darker. For a more natural shadow, use ashy shades that have cooler, grey undertones – if the contour shade is too orange, you could end up looking like an Oompa Loompa rather than the queen of contour. If you're new to the world of contour, a contour palette is ideal as you can play around with the shades to find your perfect match. We love this Morphe Shimmer and Sculpt palette, $25, check out our full review here.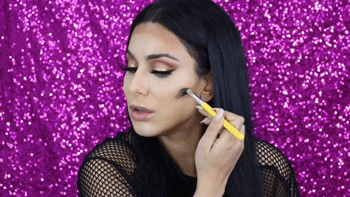 Top tip: Instead of sweeping a line underneath your cheekbone, add some thickness near your ear so that it forms a triangle shape, which will create a more angular look.
Brow Shape
High, arched brows work perfectly with round face shapes as this will provide a vertical point, creating the illusion of an elongated face. Start by brushing your brows upwards and then use a darker shade on the arch and tale of the brow to further lift your face. We like to add a touch of highlight to the brow bone as well, to lift the tale of the brow.
Blush-Up
A lot of people with round shaped faces skip blusher, but this is a big mistake as it adds a super cute flush of color and can actually enhance the definition of your contour. You just need to know where to place the blusher to work with the dimensions of your face: Sweep your blusher lightly across your cheekbones, starting very lightly at the apple of your cheek and drawing it towards your ear, between your contour and highlight. This will add warmth while elongating your face.
Hair Styling Hacks
According to celeb hairstylist Paul Labrecque of Paul Labrecque Salon and Spa, if you have a round face, you should take note from celebs like Selena Gomez and Emma Stone, and go for a layered look. "This type of styling gives the illusion of a softer, more oval face shape and wherever the face holds weight, it's always a good idea to soften that area," he explains. "Your stylist can easily do this with layers to help create a frame and this will eliminate some of the heaviness our eyes see." To keep your style fresh, layers must be put back in shape to maintain their health every 6-8 weeks. And before you start to question whether layers would suit you, let us assure you they work well on almost any texture from wavy or naturally straight to medium-to-coarse thickness. Basically, layers are a must.
Let us know if there any other makeup tips or trends that you want us to write about in the comments below.