DIY Tuesday: This Is The Easiest Way To Remove ALL Your Makeup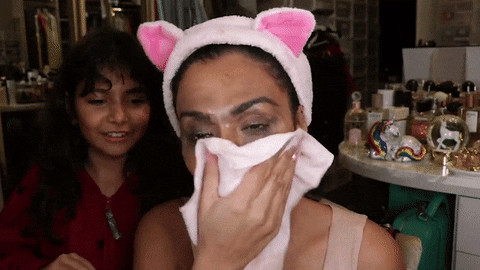 When you wear as much makeup as we do (#cakeface and proud), you NEED a makeup remover that you can rely on to get rid of every last trace of product. And while we have a whole array of branded makeup removers on our shelf, we reach for this DIY time and time again. Not only is it all-natural (YAY), it removes every inch of makeup including stubborn mascaras. Plus, it has some major skin-loving, eye brightening powers and will even help fight against fine lines, wrinkles, and dark circles. Okay, so now we have your attention, here are all the deets of our ultimate DIY makeup remover.
The MVP DIY Makeup Remover
As far as DIYs go, this one is pretty damn easy! It includes just three ingredients, and although the ingredient list is small, the list of benefits is MAJOR. The makeup remover is a combination of three beauty junkie staples; coconut oil, sweet almond oil, and Vitamin E oil. Firstly, it'll remove any makeup, bacteria or dirt that's sitting on the surface of your skin while also hydrating and nourishing the skin, leaving it glowy AF. All three oils also boast a long list of skin-saving antioxidants, including vitamin E and K, both of which will improve the appearance of dark circles by dilating blood vessels and boosting blood flow. This influx of vitamins simultaneously provides a surge of antioxidants that'll help protect your skin from free radical damage that can cause premature aging.
It also contains compounds like phytosterols and niacinamide, that'll naturally brighten the skin, and even help stimulate collagen. Finally, the oils also have anti-inflammatory properties so they'll get rid of any puffiness. This is the oil that will come through for you every single time!
Posts You'll Love:
Ingredients 
Coconut Oil, $12
Sweet Almond Oil, $10
Vitamin E Oil, $12
Tip: Look for cold-pressed, organic oils, as these will retain the best skincare benefits.
Combine 4 tablespoons of coconut oil, 3 teaspoons of sweet almond oil, and 2 teaspoons of Vitamin E oil in a bowl. Once combined, use a funnel to pour the oil into a glass bottle. To use gentle massage two to three pumps (or about half a tablespoon) of the oil onto your face then wipe away with a muslin cloth or cotton pad, then rinse with water. Follow with a gentle water-based cleanser to remove every last trace of makeup – think of it as the first step of your double cleanse.
Have you guys tried this DIY oil? Let us know in the comments below.