DIY Friday: This Kitchen Staple Will Make You (Even More) Gorgeous
Coffee: it's an essential part of our daily ritual – seriously, here at HB HQ our day doesn't start without it! But you shouldn't limit your coffee intake to your morning latte. Coffee is an all-around beauty miracle ingredient: it'll brighten your skin, reduce inflammation, boost hair growth, and it's even said to fight cellulite. Okay, so now we have your attention, here's how you can add it to your beauty regime…
Coffee's Beauty Benefits:
For your skin: Coffee is bursting with antioxidants that'll brighten the skin and help fight free radicals that cause premature aging. If your skin is acne-prone, coffee is ideal as it has antibacterial and soothing properties that'll reduce acne bacteria in the skin while calming any existing pimples. Due to its high caffeine content, coffee is a powerful anti-inflammatory, so it's great at combatting undereye puffiness. To combat dark circles, keep coffee ice cubes in your freezer and apply them to your under eyes in the morning. It'll instantly brighten and reduce any swelling – perfect for those nights when you've had a little too much fun!
For your body: Coffee is believed to reduce the appearance of cellulite as the caffeine content will help dilate blood vessels and improve blood flow. Umm, awesome! Drinking coffee can also boost your metabolism and enhance weight loss: one study reported that caffeine can increase fat burning by as much as 29%.
For your scalp: The caffeine content in coffee improves blood flow and circulation, helping to stimulate hair growth. Incorporating coffee into your haircare routine can also thicken your hair, as it's full of antioxidants and minerals that'll strengthen the hair shaft, preventing hair loss and breakage. Due to the coarse texture, it'll also gently exfoliate and help rid your scalp of any product buildup.
Coffee Face Mask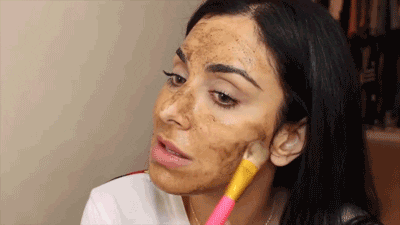 This mask is an all-rounder! Honey is a potent antibacterial and anti-inflammatory, so it's great at keeping breakouts at bay, as it'll help reduce acne bacteria in the skin and soothe redness. It's also a natural humectant, which means it'll draw moisture into the skin, hydrating thirsty skin. Plus, coconut oil is a mega-hydrator and is full of omegas and fatty acids that help strengthen the skin's protective barrier.
Ingredients
1 cup of fresh organic coffee grounds
1/2 cup of Organic Coconut Oil
1 tbsp of Manuka Honey
Combine the ingredients in a bowl and stir well. Apply onto cleansed skin (double cleansing is always best) using small circular motions to gently exfoliate and boost circulation. Leave the scrub on your face for 10 minutes, then wash off with warm water and tone. Follow with your fave moisturizer. Keep your face mask in an airtight jar and store in a cool, dark place.
Posts You'll Love:
Coffee Body Scrub
You can also adapt this DIY for your body, you just need to trade in the honey and add some more exfoliating ingredients, as the skin on your body isn't as sensitive. Brown muscovado sugar is ideal as it'll buff away dead skin without stripping the skin of its natural oils. Rose oil is also super nourishing and will soften the skin, plus, it smells delicious too!
Ingredients
1 cup of fresh organic coffee grounds
1 cup of organic coconut oil
1 cup of brown muscovado sugar
4 drops of rose oil (or your face essential oil)
Combine the ingredients in a bowl and stir well. As this scrub is pretty messy, apply it to damp skin in the shower using circular movements, then wash it off with warm water. Once you've showered, make sure you moisturize within five minutes (when your skin's still damp) to lock in moisture for soft, hydrated skin.
Coffee Scalp Scrub
A healthy mane starts with a healthy scalp, which means you should be using a scalp scrub weekly. Combining coffee and salt creates a gentle yet detoxifying scrub that'll remove any dead skin or product buildup that's making your hair look greasy. Tea tree is also AMAZING for your scalp as it's antibacterial and antifungal, so it'll help revive hair follicles, leaving you with clean, nourished hair.
1 cup of fresh organic coffee grounds
1 cup of sea salt
1 cup of organic coconut oil
3 drops of tea tree oil
Combine the ingredients in a bowl and stir well. Apply a tablespoon onto damp hair, gently messaging it into your scalp. Leave the scrub on your hair for 5-10 minutes before rinsing with warm water, followed by shampoo and conditioner.
Let us know if you try any of these DIYs in the comments below.