GRWM: Atlantis The Royal Opening (And BEYONCÉ)
Hey my loves! As you guys may have seen, this weekend I got the opportunity to go to the Atlantis The Royal opening, where Queen Bee performed for the first time in FOUR YEARS! It was such an incredible night – I was literally pinching myself! Anyone who knows me will know I'm obsessed with Beyoncé! She just oozes this confident, glamorous energy that I've always found so inspiring, so to be in the same room as her and hear her ahhhmazing voice was EVERYTHING. I honestly sang every word to every song #guilty.
Obviously, I knew I had to bring Beyoncé-level glam. The night was to celebrate the opening of the new Atlantis the Royal, so basically, it needed to be regal AF – especially as Dubai always goes IN on nights like this.
View this post on Instagram
My final look was this STUNNING Micheal Cinco dress that made me feel like a billion dollars. I teamed it with a bombshell blow dry and my classic makeup look using our EMPOWERED Eyeshadow Palette, $67. Everything just complemented each other, and I felt so comfortable but also hella fierce. One of my fave Beyoncé songs is Alien Superstar – it's TOO good. It makes me feel so powerful, and that was the energy this look gave me. Of course, I had to share all of the inside deets with you, so keep scrolling for a full breakdown.
The DL on My Micheal Cinco Gown 
For my dress, I worked with my incredible stylist Jihae. She always pulls the most beautiful garments – it's actually so hard to pick a final look! However, we knew we wanted to go with a Dubai-based designer and so we opted for this stunning Micheal Cinco couture gown. It definitely gave "it should cost a billion to look this good" feels.
The gown had the most beautiful, intricate bead and sequin detailing on the bodice with a sheer fishtail. The metallic moment felt reminiscent of Beyoncé's Renaissance artwork, so it was just one of those things that made sense.
Posts You'll Love:
How To Get My Makeup Look 
As for my makeup, I kept it (relatively) simple with a matte nude eyeshadow and smokey liner teamed with a nude matte lip. It's a very classic Middle Eastern makeup look, which again felt right to honor the historic Dubai hotel opening. This look is super versatile, and you can also easily tweak it depending on what level of glam you want to go for.
My skincare prep: Before I spill the deets on my makeup, I've got to cover skincare. Honestly, your complexion will never look as seamless and smooth without the right skincare prep, which means exfoliation and LAYERS of hydration.
I started by gently removing any dead skin using our WISHFUL Yo Glow Enzyme Scrub, $39, as it creates the smoothest canvas for makeup application and leaves your skin with a radiant glow. I then followed with our Thirst Trap Juice HA3 Peptide Serum, $47, to give my skin that juicy bounce, followed by our WISHFUL Honey Whip Peptide Moisturizer, $43, to lock in all of that delicious hydration. I finished by applying just a couple drops of our WISHFUL Get Even Rose Oil, $63.
My eye look: When I'm doing a full glam moment, I typically start with my eyeshadow as it ensures your wing is super clean and sharp. Plus, if there's any fallout from the eyeshadow, you can clean it up without disturbing your complexion.
For this look, I used our Huda Beauty EMPOWERED Eyeshadow Palette, $67. First, I took a fluffy brush and mixed two shades together (Get It and Best-Self), to contour my lid. I then took my #FauxFilter Luminous Matte Concealer, $27, and a small dense brush to create a cut-crease, which I then set by packing on the shade Power, using small stippling motions (when your press the brush into your lid).
For the liner, I wanted a smokey finish, so I used the shade Worthy for my feline flick. It has the most unique gel texture that's long-lasting but has this rich smokey depth. To finish the look, I applied our Huda Beauty LEGIT Lashes Mascara and added a pair of my fave Huda Beauty Hoodie #23 Lashes, $19.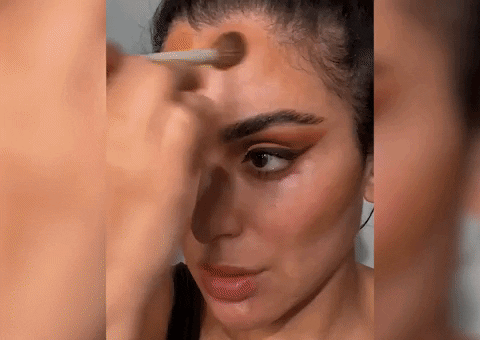 My complexion: I was inspired by the Mary Phillips complexion tutorial, so I started by applying Tantour, $30, underneath my cheekbones, forehead, jawline, and nose. Then, I applied our Huda Beauty #FauxFilter Luminous Matte Foundation, $42, followed by the #FauxFilter Luminous Matte Concealer, $29, in my snatch shade to brighten and sculpt. (Check out how to find your snatch shade here.)
To set the look, I mixed together two shades of our Huda Beauty Easy Bake Loose Setting Powder; Cherry Blossom, which has a pink undertone, and my go-to shade, Banana Bread. Mixing them together creates a peachy shade that helps cancel out undereye circles. I applied the powder to my undereye area, the bridge of my nose, and underneath my contour using a powder puff. I finished by adding some warmth with our Huda Beauty Cheeky Tint Blush Stick, $25, to the high points of my cheeks.
My lip: For my lip, I kept it super simple and lined my lips with our Huda Beauty Lip Contour 2.0, $19, in the shade Warm Brown, before applying our Huda Beauty Liquid Matte Lipstick, $21, in the shade Venus. This combo is so stunning and lasts all night, so I never need to do touch-ups.
How Celeb Stylist Dom Seeley Achieved My Sleek Blow Dry
When it came to my hair, I wanted to let the dress take center stage. I worked with celebrity hairstylist, Dom Seeley, my go-to stylist for the past three years; he always creates the most immaculate hairstyles. After a few conversations, we went with a classic, sleek blow-dry. He spilled all the deets on how he achieved the look:
Dom explained, "I prepped the hair with COLOR WOW's Dream Coat Supernatural Spray, $12, to block out any humidity and give that incredible shine. Then I spritzed Huda's roots with COLOR WOW Raise the Root Thicken and Lift Spray, $24, and blowdried her hair fully using the Dyson Supersonic, $430. Next, I added some clip-in extensions for length and volume."
Once the hair was dry, Dom says, "I smoothed the hair using the GHD Max Flat Iron, $249, and then I used a 2-inch-barrel curling iron at an angle to give soft movement and shape to the ends. I finished by locking in the look with the COLOR WOW Cult Favorite Firm + Flexible Hairspray, $26, and COLOR WOW Extra Mist-ical Shine Spray, $29," for megawatt shine.

Okay, so now you know all the deets! What did you think of my look? Let me know in the comments below.
Disclaimer: Every product we review has been independently selected and tested without bias by our editorial team. Although some brands allow affiliate links, we never take payment to review products, so we may earn a commission if you purchase a product by clicking on one of our links.