How To Apply Blush - And What You Definitely Shouldn't Do!
We're calling it: blush is going to be one of THE biggest makeup trends of 2020. While some of you may think blush is a little old school, it's a classic for a reason! When applied correctly, blush warms up your entire face and gives you the most stunning youthful glow. It also adds an element of harmony to your makeup game that we can't live without (more deets on that later). The thing is, it has to be applied correctly otherwise a sun-kissed goddess is the last thing you'll look like, and trust us, it's easy to go overboard if you're not careful! Here are all of our top blush tips, and how to avoid any blush-mishaps.
How to Find the Right Blush Shade for Your Skin Tone
Finding the right blush for your skin tone is one of the most important elements to get right. If it's too bright it can look harsh on your skin, and if it's the wrong shade it can disrupt the harmony of your look. The key is to choose a shade that looks like a natural flush; as if you're blushing.
For fair skin tones: Light, pink-toned blushers work well for fair skin tones – the Benefit Cosmetics Dandelion Box O' Powder Blush, $30, is perfect!
For light to medium skin tones: Peach shades will warm up your complexion beautifully. We're obsessed with the Charlotte Tilbury Beach Stick in Formentera, $45.
For golden or olive skin tones: Opt for brighter pinks and soft corals like Patrick Ta's Monochrome Moment Velvet Blush, $32, in the shade She's Passionate – a beautiful coral-pink.
For deep and rich skin tones: Hot pinks, fiery corals, and deep berry tones look divine. The Glossier Cloud Paint in Haze, $18, is perfect for rich skin tones; it looks super bright but it blends out like a dream.
How to Choose A Blush Shade To Complement Your Look
Of course, you don't have to stick to one blush shade, you can experiment with different shades depending on your vibe. However, try to create an element of harmony by using similar hues for your eyes, lips, and cheeks. It's an MUA rule that we live by – it'll instantly elevate your look. Celebrity makeup artist Patrick Ta actually created a makeup collection dedicated to the monochromatic mantra including four sets of Lip Cremes, lip liners and Velvet Blushes in complementary shades to create a truly harmonious look.
For example, if you're wearing a bold coral or orange-toned lip, opt for a coral-toned blush. If you're wearing a brown nude lip like our Power Bullet Matte Lipstick in Board Meeting $25, use a cool-toned blush with muted brown undertones like NARS Luster, $30. Check out our examples below for monochromatic makeup goals:
For fair skin tones: To match the Dandelion Box O' Powder Blush, $30, we'd recommend our Power Bullet Matte Lipstick in shade Rendez Vous, $25. It'll create that soft feminine look that's seriously trending right now.
For light to medium skin tones: The Beach Stick in Formentera, $45, is in fact, a lip and cheek stick, so you can use it to warm up your complexion as well as your lips. This is actually one of the easiest ways to create a harmonious look; either by buying multi-purpose products or using a lip creme as a blush. Simply try to find a shade that matches the blush shade for your skin tone, as we've recommended above.
For golden or olive skin tones: Patrick Ta's Monochrome Moment Velvet Blush in shade She's Passionate, $32, was created to be worn with Lip Crème shade She's Independent, $24.
For deep and rich skin tones: Once you've applied the Glossier Cloud Paint in Haze, $18, to your cheeks, you can use it to stain your lips or try our Demi Matte Cream Lipstick in the shade Lady Boss, $20, which looks gorgeous on deep skin tones.
How to Find the Right Blush Formula
When you're searching for your perfect blush, the formula is another crucial factor to consider. There are so many variations on offer from matte and shimmer powders, cream pots and sticks, and stains and tints. Each formula has its own set of pros and cons. Powder blush is great for those who love to set their foundation with powder and prefer a more matte skin finish. If you prefer the no-makeup makeup look and glowy skin and rarely set your base with powder, then you'll most likely gravitate towards a 'wet' finish blush, like a cream or a tint. Blush stains are another great option and can be blended with foundation, but they can be harder to blend out, so you have to be very careful with the application.
We recommend steering away from very shimmery or sparkly blushes, as these can disrupt the balance of your blush. Creams are also often not as long-lasting as a powder, which is why Beyoncé's makeup artist Sir John suggests layering your blushes; first by applying a cream, followed by a powder to set it. He notes this is especially beneficial for dark skin tones to ensure it stays put and the pigment pops.
How to Apply Blush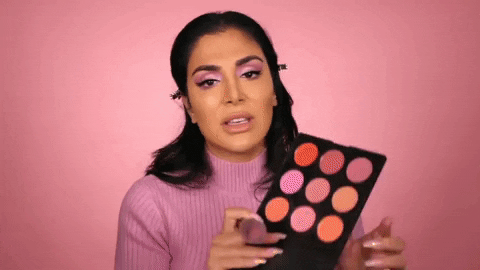 For flawless blush application, use a tapered or rounded, medium-sized fluffy brush. If the brush is too densely packed, you run the risk of picking up and applying too much blush, and if the brush is too small, then the blush will be too heavily concentrated and won't look well blended.
Our Fave Blush Brushes
The Spectrum A05 Blush Brush, $10, which has a tapered finish and works beautifully for targeted blush and contour.
The Patrick Ta Monochrome Moment Blush Brush, $35, has crimped synthetic fibers that easily pick up powder formulas and a tulip shape to disperse pigments for seamless application.
The Real Techniques Blush Brush, $9, is a classic and one of our all-time faves. The tapered bristles allow for precision application and flawless blending.
How to Apply Blush for a Natural Glow
View this post on Instagram
For a healthy flush of color apply blush to the apples of the cheeks and blend outwards using a circular motion. Scott Barnes, J.Lo's go-to MUA told us "Instead of applying blush to the sides of your face, apply it towards the front of your cheeks, more under the eye line."
What You Should Never Do…
Scott warns; "Applying blush on the sides, or stretching it out really far like it's some sort of blush contour, will make you look older or outdated. The only time you want to put blush on the sides is if you are doing an editorial shoot or fashion shoot with a specific reason. Proper blush screams youth and that's the makeup gospel truth." And if there's anyone we can rely on for youthful makeup tips, it's JLo's makeup artist – that woman doesn't age!
How to Apply Blush for a Sun-Kissed Look
View this post on Instagram
If you're looking for a sun-kissed vibe, even in the dead of winter, blush is your BFFL. The trick is to apply a dusting (and we mean the lightest of dustings) of blush wherever the sun would hit. Think about the apples of your cheeks, the center of your forehead, and the tip of your nose. This looks works particularly well when it's layered on top of a bronzed glow.
How to Apply Blush for a Warm, Sculpted Look
View this post on Instagram
For a warm sculpted finish, apply blush to the apples of your cheeks as instructed by Scott, then lightly warm up your contour with any excess product, like under the cheekbones, and the top of your forehead. This will warm up your face and balance a grey-toned contour; the key is to go lightly – only use whatever is on your brush after applying your blush.
Do you guys wear blush? Let us know in the comments below.