How To Apply False Lashes – Every Single Step!
We're rounding up absolutely everything you need to know about false lashes. From how to pick the best lash style to flatter your eyes, how to apply fake lashes like an absolute pro (and our extra easy beginner's hack and fake lash application video), and how you can clean your false lashes so you can wear them again and again. Here's your ultimate false lash application guide!
How To Apply False Lashes – The Easy Way!
Applying false lashes is one of those things you've either mastered or are absolutely terrified of – if it's the latter, you probably avoid lashes altogether or beg your bestie to apply them for you. Getting a pair of false lashes in place without ruining your makeup is kind of an art, but once you learn it, you'll be set! Before applying false lashes, complete your eye makeup, including mascara and eyeliner. After your lashes are added, you can add a little more liquid liner and mascara to blend everything together.
Top Tips for Flawless False Lash Application
Step 1: Trim the lash to fit your eyes. Lashes are always extra-long so they can fit anyone, but most people need to trim them. We recommend trimming away the outer edge – where the lashes are typically longer – for a more natural look.
The lash doesn't have to fit the full width of your eye: you can cut them so that they will only fit the outer two-thirds of your eye, which helps to lift and open up the eye, plus it makes it easier for beginners.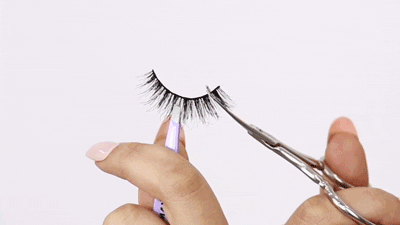 Step 2: Wiggle the lashes a little to make them more supple, comfortable to wear, and easier to apply.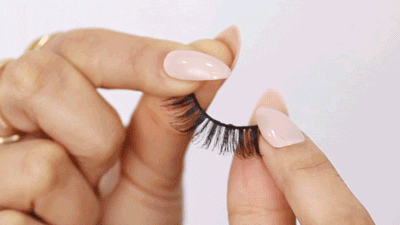 Step 3: Holding the lashes with a pair of tweezers, apply a thin layer of glue along the band of the lashes. You can apply directly from the tube or add a little glue to the back of your hand, and then lightly drag the band through the glue, to give it an even coating. Let the glue dry for around 10 to 30 seconds (depending on the lash glue), and when the glue is tacky it's time to go for it.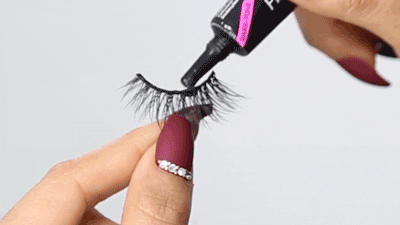 Step 4: Place a mirror on a desk or dresser so that you're looking down into the mirror – this makes it easier than looking at a mirror straight on. Holding the lashes with a pair of tweezers (this gives you more control), gently place the lashes as close to your lash line as possible. Use your tweezers to push the outer and inner corners down. When fitted, use your fingers to gently press them into place, and then pinch your natural and false lashes together to ensure they sit together.
Step 5: If during the process of applying the lashes you get a little glue on your lid, continue applying and wait until the lashes are secure, then take a queue tip and gently remove any glue splodges.
Step 6: If you want to, you can apply a little mascara afterward to help blend your lashes and false lashes together.
How To Apply False Lashes – For Beginners:
If you're still struggling – we feel your pain – then try cutting the strip into three pieces. We know this sounds weird, but it will be SO easy to apply the tiny blocks of lashes individually – trust us, it will revolutionize your lash game. Once you've trimmed the lash to the right length, cut it evenly into three pieces. Then, start to apply the pieces, starting from the outside of your eye, working your way in.
What we love about this technique is that because the pieces are separate, they fit the shape of your eye really comfortably, and you don't get the corners pinging off halfway through the day! This way of applying lashes is so perfect that we even created a lash inspired by the technique, the Huda Beauty Eazy Lash – Harmony, $20.
Check out the complete, foolproof video guide to applying false lashes:
How To Choose Lashes To Suit Your Eye Shape
The beauty of false lashes is that they can open up your eyes, alter the shape, and make them look bigger and sexier. But, if you choose the wrong pair of lashes, they can do the complete opposite. Depending on the shape of your eye, whether it's almond, round, hooded, deep-set or monolid, the lash style needs to change. So, while almond-shaped eyes can get away with almost any lashes and deep-set eyes can go extra glam, round eyes will look even more sultry with a whispy lash that has more drama at the outer lash, and hooded lids need to go a little smaller. Check out our full guide and our fave lashes to suit every eye shape here.
How To Easily Clean False Lashes
False lashes can be expensive, but spending money on quality lashes is totally worth it and cost-effective in the long run if you know how to clean them properly. Lashes are super delicate, so the most important thing to remember is that you need to be gentle with them. Whenever you're cleaning them, always hold them firmly at the base of the lashes so that the lashes aren't pulled from the band. Check out this video to see how easy our lash cleaning method is:

Step 1: Gently peel away old glue holding the lashes firmly by the base.
Step 2: Place the lash between two cotton pads soaked in oil-free makeup remover, like micellar water.
Step 3: Lightly press the cotton pad and wait 30 seconds, so the lashes are saturated.
Step 4: Carefully wipe away any remaining mascara with an oil-soaked queue tip.
Step 5: Using a clean queue tip, wipe away any excess mascara residue.
Step 6: Place the lashes back in your lash box, securing the lash band firmly to keep the lash curled.
Storing the lashes back in the original package is the best way to keep your falsies clean and safe. If you attach them firmly to the band and press them down this will help them to stay curled.
Posts You'll Love:
How To Safely Remove False Lashes
Removing false lashes can be dangerous – if you've ever caught your own eyelashes in the process, you'll know the pain is real! The trick is to soak a cotton pad with your weapon of choice (micellar water, eye-makeup remover, or cleansing oil) and let it sit on your eye for at least 20 seconds to loosen and dissolve the glue. Then gently peel away the lash with your fingers. If the lash still isn't easy to remove, soak another cotton pad in solution and let it sit on your eye for longer and then try again. Et voila! You're lash-free with your natural lashes still intact!
Let us know if you guys have any more questions about false lashes in the comments below.