How To Do The Most Bomb DIY Blow Dry EVER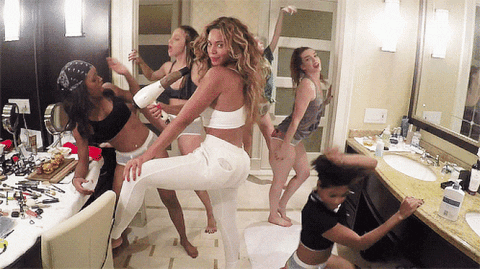 There's arguably no better glam moment than when you've just had your hair blow dried. But as much as we love the feeling of a fresh, glossy blow-dry, we can't deny that it can be a pretty expensive habit. Which is why learning how to give yourself a bomb ass blow dry, is an essential life skill (like perfecting your wing). If you think it's a skill only a pro hair stylist can master, you're wrong, and we're here to help with the tips, tricks, and hacks that will give you tresses your hairdresser would be proud of.
Use the right dryer for your hair
As with all things beauty related, it's easier to achieve your desired final look with the right tools. Look for a good blow dryer with powerful wattage and you should also factor in your hair type. If you have fine or dry hair, look for a blow dryer that's plastic or metal or has a ceramic or porcelain coating, as this provides gentle and consistent heat, like the RUSK Engineering W8less Professional 2000 Watt Dryer, $59. If you have thick hair, look for ionic or tourmaline hair dryers, like the Magnifeko 2000W Professional Hair Dryer, $40. Ionic hairdryers produce negative ions that will break the water droplets, for faster drying time; this will also help to reduce static and frizz.
Find a good brush
Finding a good quality brush is ESSENTIAL for the perfect blow dry. For a sleek straight finish, opt for a wide vented paddle brush, as it's vented it'll speed up drying time as the heat can reach more hair. If you want curls, try a round boar bristle brush, as this will maximize shine while giving you perfectly round curls. For more tips on finding the right brush for your hair, check out this post.
Prep Your hair
Prepping your hair with a good hair oil will help reduce frizz and tame flyaways. As exposing your hair to heat can seriously dehydrate it and leave it looking dry and dull, so we like use a couple of drops of Argan oil, $21, which is full of vitamins and antioxidants to promote shine. Or, if we know we're going to be blow drying our hair for a big event, we like to do a hair mask like Pantene's 3 Minute Miracle Mask, $5, the night before. 
Start With A Rough Dry
If you rough dry your hair first, you'll cut your drying time in half and your hair will remain shiny as you're not exposing it to long bursts of concentrated heat. Start by flipping your hair upside down, drying all around your hair, so you get the layers underneath as well as the front sections; plus it'll add some serious volume. Once it's just a little less than half dry, flip your hair back over and dry the sides and crown.
Section Your Hair
The easiest way to get the best blow dry possible is to work through your hair in four rectangular shaped sections: two side sections (from the ear to your forehead), one back section (from the nape of your neck to below the crown) and a top section. Using a thin comb divide your hair evenly into these four sections, holding each area separate with a large butterfly clip. Once your hair is sectioned, then you can start blowdrying: take small sections of hair and glide your brush slowly through your hair starting from scalp to end, angling the dryer downwards on the brush until you reach the end. If you keep the hair taught on the brush and lift it up, it will help to add volume. Always begin with the back section, then work on the side sections, finishing with the top section.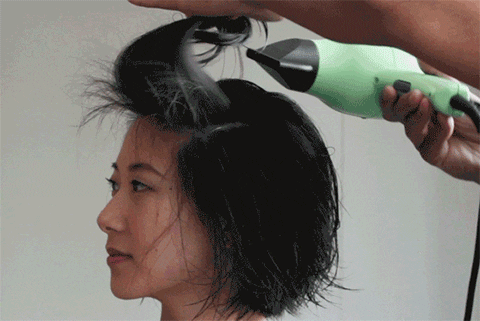 Blast Your Hair Dry
While your blow-drying your locks, let your hair cool for a couple of seconds before taking it off your brush. This will help your hair hold the curl and will also reduce heat exposure, so there will be less long-term damage. Alternatively, you can blast each curl, with cool air. We know it may increase blow dry time, but when your curls stay in all night, it's totally worth it.
For Volume 
For the most voluminous blow out ever, you need to pay serious attention to your top section. Firstly, split the section in two, and then using a round brush, brush the section out and then focusing on the first two inches, going back and forth until its completely dry. Then roll each section, as if it was on a hot roller and finally, pin it so it's standing in a big loop. Blast it dry with cold air to ensure it's dry and that the curl holds.
Use the diffuser
If you're going for soft natural looking waves, then the diffuser will help you achieve that. If you want some major volume, flip your head over and dry with a diffuser but avoid touching your hair with your fingers as this will make your hair frizzy. If your hair is naturally curly, using a curl cream or leave-in conditioner to help reduce frizz.
Don't forget the back
To ensure that the back of your hair looks smooth, bring the brush downwards towards your shoulders as your dry it. This will create tension at the roots so that it looks sleek rather than puffy.
Make It Last 
To keep your blow dry in top shape for as long as possible, loosely twist your hair into a gentle bun and use a grip to hold it. If you use an elastic, you'll wake up with a dent in your hair. To minimize frizz, you should wrap your hair in a silk scarf to reduce friction – we know it sounds extra but it's a total game changer.
Happy blow drying!