We all love the idea of wearing a crazy shade of lipstick, but whether or not you can pull it off can feel a bit daunting! We always see Rihanna rocking black lipstick on the red carpet, Lupita is always killin' it in bold berry hues, and we don't think we've ever seen Gwen without her signature bold red lipstick. Still, most of us are suspicious – we've all tried on that one lipstick that was really terrible and decided we'd play it safe with our fave nude for the rest of life.
Well, we're here to tell you, not only is it the time of year that you need to up your bold lipstick game, but also that it's totally easy to do! Here are our rules and tips for rocking a bold lip like you're RiRi:
Rule 1: Don't just wear it, WEAR it!
Confidence is everything! Believe in your lipstick. We see lipstick as our 'power suit' it makes us feel bold and brave, and we love the power that lipstick can bring – not just to our mood, but our look too!
Rule 2: Experiment!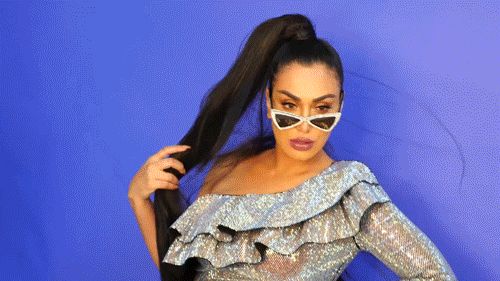 We can't guarantee that every bold shade is going to suit you – but you never know, some people can pull off anything (Lupita knows!) – so play around with different shades. Think about celebs who you feel have a similar skin tone to yours, scroll down their 'Gram and get some inspo. If you don't yet have a bold red lipstick in your beauty kit, then check out how to find your perfect red lipstick shade here.
Rule 3: Liner, always!
The thing with bold lipstick is one small mistake, and all of a sudden you've gone from totally chic to a hot mess – mistakes aren't as easy to rectify like they are with a nude shade. That said, it's not difficult either, you just need to prep with a lip liner. Not only will a good lip liner help you define and shape your lips more easily, but it also stops any color from running or feathering.
Tip 1. Tidy up
Clean up any mistakes with a little foundation on a small dense brush or queue-tip – we like these tiny queue-tips from Muji.
Tip 2. Learn to contour your lips
Lip contouring is so easy and can take your bold lip from chic AF to super sexy in minutes. A little overlining is our secret to fuller, juicier looking lips. The key is to go slow, and gradually overline, so you can make sure you don't go too far. Check out our full guide here.
Tip 3. Matchy-matchy is cute
Matching with your lip shade isn't always a bad thing – if these A-list's stylists are doing it, then we're down for it. Donning a berry evening gown? A vampy cherry shade might be the perfect topper. If you're reminiscing your grunge days, we say 'hell yes' to pairing it with a sexy matte black lipstick! Similarly, colors on the other end of the spectrum work well too: Think a cobalt blue jumpsuit with a pillar box-red lipstick or a green dress with a hot pink lip or bright purple shade.
Tip 4. The finger trick
We know that sounds weird AF, but there's really no other way to write it. To avoid getting your flawlessly-applied lipstick on your teeth, open your mouth and place your index finger (pointer finger) inside your mouth in the center of your lips, and then close your lips around them while you slowly pull it out. Trust us, your teeth will stay lipstick-free, and you can smile in safety.
Now go forth, and be bold!! Let us know if you already do any of these tips in the comments below, and what your go-to bold lipstick shade is.