This Is How I Make My Makeup Last ALLL Day
Believe it or not, I don't ever touch up my makeup! I'm a firm believer that if you do it properly, you won't need to do anything else. Of course, it's all in the process and the power of setting everything properly. For me, the most important steps for life-proof makeup is baking combined with my setting spray hack that not only keeps your makeup in place but gives your skin a really stunning radiant glow. Intrigued? Here are all the deets:
Step 1: Bake Like A Pro 
It's no secret that I'm a die-hard baker, AKA when you bake your face – not cupcakes! Baking gives your makeup an airbrushed finish and keeps it looking fresh all day long, I mean what's not to love? Plus, it only takes 20 seconds and it means fewer touch-ups, no creasing, and no smudging. I like to bake under my eyes, along my laugh lines, and sometimes underneath my cheekbones to give my contour a more sculpted final look. Here's my step-by-step baking guide:
The tools: To bake, use a damp makeup sponge (our fave is $7) to grip the powder. Alternatively, you can use a densely packed brush, like a foundation brush, which will grip and pack on the powder. To dust away the excess powder, you also need a fluffy brush.
Step 1: Start by applying your foundation or concealer – to bake, the powder needs to have something to hold on to.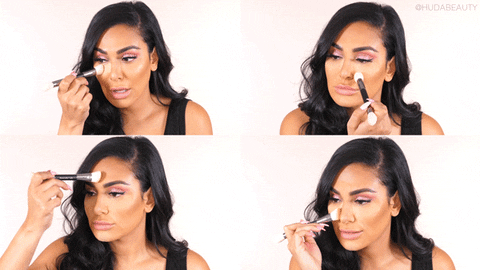 Step 2: Once your concealer or foundation base is down and fully blended, dip your damp makeup sponge or densely packed brush into the powder and apply a thick layer of setting powder (using a dabbing motion) on the areas of your face you want to brighten and set.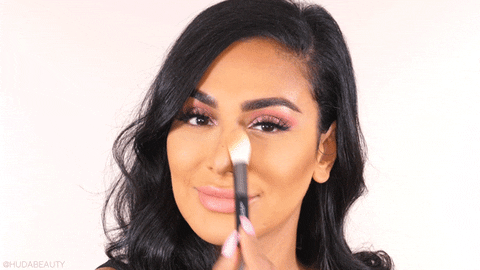 Step 3: Once you've let it set for three to five minutes, depending on how much time you have, simply dust away any excess powder using a fluffy brush.
Tip: We recommend letting the powder sit for up to five minutes if you know you'll need your makeup to last from dawn to dusk, or just one to five minutes for a lighter bake.
Step 2: My Setting Spray Hack
Not only does this hack lock in your look, but the cream highlighter makes your cheekbones pop while giving your skin a natural, soft glow.
Step 1: Cover your beauty blender in setting spray like our Resting Boss Face Setting Spray, $33. To remove any excess gently squeeze the blender in a tissue.
Step 2: Now, it's time for the highlighter. Dab your sponge in a cream highlighter, like the Melted strobe in our Huda Beauty 3D Highlighter Palette in Gold Sands, $45. You could also use highlighter drops, like the L'Oreal True Match Lumi Glow Amour Glow-Boosting Drops, $15, or our N.Y.M.P.H, $49, for a more intense glow.
Step 3: Apply it first to the cheekbones, the bridge of your nose, and the Cupid's bow, and then bounce whatever is left on the sponge over the rest of your face to set it and add a glow. This hack works really well on the body too: apply it to your collar bones and shoulders for the ultimate body shimmer. It'll give your skin a beautiful, luminous finish, and give your complexion a healthy-looking glow – we're obsessed.
Do you guys bake? Let us know in the comments below.