Don't Do Another Face Mask Until You've Read This
Our love of face masks has progressed from a weekly ritual of self-love to a full-blown beauty obsession. We mask at least twice a week, and that's not including our fave sleeping mask. Although this may sound a little excessive, it has made a huge difference to the quality of our skin.
According to the K-Beauty rule book (aka the skincare bible), as well as tons of celeb facialists, you should mask regularly, even daily if you're using sheet masks! But knowing how to apply your mask is just as important; if you do it incorrectly, you can actually mess up your skin, so make sure you follow our seven key tips. Trust us – we've got this routine on lockdown. Here are seven masking rules to follow:
Rule 1. Think About Your Skin Type
Whenever you buy a mask, the most important thing to ask yourself – as with all your skincare products – is, "Is it a match for my skin type?" You want to find a mask that works for your skin and contains active ingredients to cater to the skin concern you want to address. If it contains the wrong ingredients, it could aggravate your skin. For instance, if you use a rich cream mask on acne-prone skin, it could make your skin even oilier and trigger a breakout. Or, if your skin is dry and your mask contains potent enzymes or clay, it could further dry out your skin. Here're some mask recommendations according to your skin type:
Dry: Our current fave is the Glow Recipe Avocado Melt Sleeping Mask, $45, which has a creamy consistency and locks in moisture all night long.
Normal: The Sand & Sky Australian Pink Clay Porefining Mask, $27, has a cult following for a reason – it literally does it all: Detoxifies, brightens, smooths, and hydrates.
Oily: Dermatologist Dr. Dennis Gross recommended us the Clarifying Colloidal Sulfur Mask, $32, which contains sulfur and kaolin clay that'll absorb oil and fight acne-inducing bacteria. We also love the L'Oréal's Clay mask range, which has five different masks to cater to different skin concerns, read our full review here.
Acne-Prone: The Indie Lee Clearing Mask, $75, will work wonders on acne-prone skin as it's full of detoxifying ingredients like bentonite clay, as well as salicylic and glycolic acid.
Sensitive Skin: Choose a mask that doesn't contain potent ingredients, like the First Aid Beauty Ultra Repair Instant Oatmeal Mask, $24, that has calming oats and botanical antioxidants to protect and nourish the skin.
If you're still a little confused about your skin type; read our guide to figuring out your skin type.
Rule 2. Prep Your Skin
Before you apply your mask, it's really important to cleanse your skin to ensure there's no dirt or bacteria on your skin. If you're not wearing makeup, a no-rinse cleanser like micellar water is perfect as this will get rid of any dirt, makeup or oil that's sitting on your skin. If you're wearing makeup or if it's the end of the day, double cleanse, then gently pat your face dry before you apply your mask. As always, make sure your hands or application tool are also squeaky clean!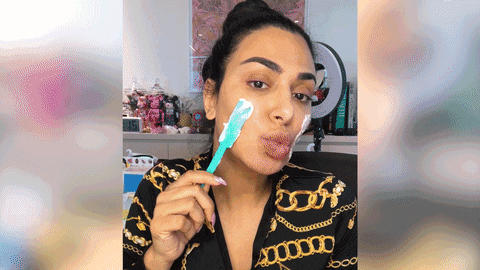 Rule 3. Read the Instructions
We know it can be tedious, but you NEED to read the instructions of every skincare product you use, including masks. The instructions are there for a reason! Peel masks often recommend you wear them for just 10 minutes, while hydrating or clay masks might suggest 15 or 20 minutes. Either way, the guidelines are there for a reason, and if you leave your mask on too long it could aggravate your skin or, in the case of clay masks, dry out your skin.
Posts You'll Love:
Rule 4. Know How Much to Apply  
It's safe to assume that at one point in time, we've all been guilty of applying too much product. It's so easy to be lured into the common skin care myth;  the more you apply, the more effective it will be. But actually, applying copious amounts of formula will not make it any more effective – you'll just waste the product and you could overwhelm your skin and clog your pores. Always read the instructions as they usually give a rough guideline as to how much you need.
Rule 5. Follow with the Right Products
Slotting a mask into your daily beauty regime needs to be done with care. Make sure you follow and prep with the right products and formulas to make the most of your mask. Here are some things to consider:
Pre-mask: As we've already mentioned, you should only apply a mask onto cleansed skin. You can exfoliate before a clay or hydrating mask, but you shouldn't exfoliate before doing a peel or an exfoliating mask. If you've been wearing makeup, we also recommend using a gentle toner on a cotton pad after cleansing, which will remove any leftover makeup on your face and around your hairline.
Post-mask: Depending on the active ingredients in your mask, you'll need to apply different aftercare products. For example, if your mask is detoxifying and contains clay this could be quite drying, so make sure you follow with a hydrating serum and moisturizer. If your mask contains exfoliating ingredients such as fruit enzymes or chemical exfoliants, you should avoid using harsh ingredients like retinol or AHAs, as this could over-exfoliate or dry out your skin.
Rule 6. Sheet Mask Like a Pro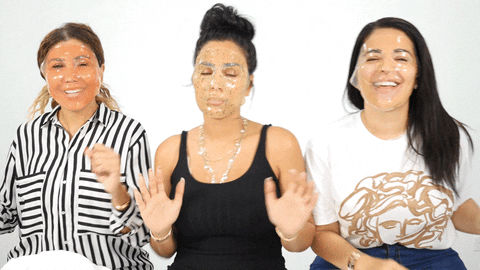 Sheet masks have become a staple in our beauty cabinet; they're so easy to use, super effective, and they make for a hilarious selfie. But to reap all the benefits, you need to know how to use them like a pro. One of the most common mistakes people make when they use a sheet mask is washing off the excess product or serum, but that's all the good stuff. Instead, gently pat the remaining serum into your skin. As sheet masks are super hydrating, simply follow with a moisturizer. And finally, the shimmy with your sisters? That's optional.
Rule 7. Know How to Multi-Mask
Multi masking may seem a little OTT, but it's actually really beneficial for your skin. It's basically like a mini facial – we like to do it once a week. The most important element to get right is to make sure the masks complement each other – there's no point in using two hydration masks! However, a detoxifying mask followed by a brightening or hydrating mask is a match made in heaven. You can also use multiple masks at the same time to target different areas. For example, you can attack your pores with a pore strip or a charcoal mask around the T-zone, while using a brightening and hydrating mask on your cheeks and forehead! Our fave combo is a detoxifying clay and charcoal mask followed by a hydrating sheet mask.
We recommend using clay or detoxifying mask up to two times a week, however, you can use a sheet mask every day if you like.
Do you guys use face masks regularly? Let us know in the comments below.