If You Use Makeup Wipes, You Need To Read This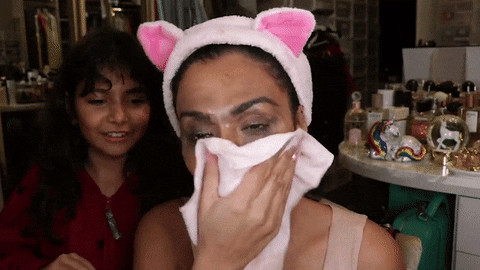 Maybe it's sheer laziness, maybe it's a travel situation, or maybe it's the fact that you love seeing your makeup artistry skills displayed in all of their colorful glory on that little towelette post-swipe. Whatever the case, sometimes a cleansing cloth just seems easier (or more enticing) than getting your hands, water, and a towel involved.
Then you factor in all of the options crowding drugstore shelves (acne-clearing, glow-boosting, pore-stripping) and it seems like a foolproof way to get your skin squeaky clean. Only there's one little problem – most contain seriously drying parabens and the biggest ingredient no-no: alcohol.
"Makeup remover wipes can get off most of your makeup, but they should not be used in place of a facial cleanser, as they do not thoroughly clean the skin," explains Dr. Michele Green, dermatologist and contributor to online cosmetic treatment community RealSelf.com. Instead of solo swiping, Dr. Green recommends following a cleansing cloth sesh with another lather using your fave cleanser to really rid your dermis of sebum, dirt, and debris. And by all means, "Avoid wipes containing alcohol or formaldehyde," as these chemicals can be drying and irritating to your skin.
Joie Tavernise, esthetician and owner of JTav Clinical Skin Care, also suggests quitting wipes with unnecessary faux fragrance, in lieu of soothing and calming ingredients such as aloe, chamomile, cucumber, and green tea, since they're more suitable for all skin types. Tavernise's easy cheat sheet for buying makeup remover wipes goes as follows. "For sensitive skin, choose natural brands because they are most likely hypoallergenic and follow the simpler is better rule. For oily and acne-prone skin, look for clarifying ingredients such as salicylic acid and alpha-hydroxy acids. For normal and combo [skin], look for a wipe that contains hydrating ingredients such as micellar water and hyaluronic acid."
Now that we've memorized that game-changing bit of beauty advice, we promise to go forth and cleanse correctly. And when we do wipe, you better believe it will be with a non-alcohol version – such as the below. 
Derm-Approved Wipes We Love:
The Pore-Blasting Option
Boscia Black Charcoal Cleansing Cloths, $15: Charcoal is a well-known detoxifying agent and just as other products containing the ashy compound can magnetically draw gunk out of your pores – so can these wipes. Plus they contain black tea, for tightening benefits.
The Normal/Combination Option
NuFace Prep-N-Glow Cloths, $20: If you're normal-to-combo, your skin will appreciate cloths saturated with hyaluronic acid, antioxidants, and minerals that exfoliate and hydrate like a boss, sans the harsh chemicals.
The Sensitive Option
Koh Gen Do Cleansing Spa Water Cloths, $50: There's a reason all the derms swear by these alcohol and formaldehyde-free wipes to soothe stressed-out skin. They're made with organic Japanese cotton and infused with essential herbs and spa water, which is as gentle as it gets.
The Medical-Grade Option
Lancer Makeup Removing Wipes, $40: Dr. Lancer's box of 30 oil-free, pH balanced, and biodegradable pre-moistened wipes are a bit of a splurge for a reason. They're packed with good-for-you ingredients that your skin loves, like calming aloe, cucumber, and marshmallow extract, plus vitamin E. They're also not too rough on your skin, given that they're comprised of bamboo fibers.
The Acne/Oil-Control Option
Cetaphil Gentle Skin Cleansing Cloths, $6: If you're prone to acne, oil, and breakouts, using a one-size-fits-all wipe isn't the smartest move. Instead, grab an option specifically targeted to your skin's needs. Dr. Green likes these little guys for this skin type because they "contain cetyl alcohol, which does not make the skin dry, but helps keep its natural moisture balance."
The Eco-Friendly Option
Makeup Eraser, $20: Even cleansing cloth junkies can appreciate wanting to cut down on waste and help out our girl, Mother Earth. So, if you're an eco-conscious babe, try this one-of-a-kind cloth blend that's the equivalent of 3,600 wipes. Just add a bit of cleanser with warm water and say good-bye to grime, cake and bake – even mascara. Be sure to toss in the wash afterward, with hypoallergenic detergent.
Are your fave makeup wipes derm-approved? Let us know in the comments below!