How To Adapt Your Makeup Routine For Masks
Due to the ongoing COVID-crisis, wearing a face mask has become the new norm. And while it may take time to adjust, it could literally save lives, so if you haven't already, it's time to invest (check out 20 cute protective masks here) and make sure you're always wearing yours in public. However, it's not just our daily routine that needs to adapt – keys, wallet, mask is our new mantra – our beauty routine needs to change too.
If you've been wearing makeup during your essential errands, you're likely to be well acquainted with the frustrating foundation and lipstick transfer situation – this is what we need to avoid! The key is finding long-lasting, transfer-proof products, as well as incorporating makeup techniques to enhance the longevity of your makeup. Lucky for you, at HB HQ we're experts in life-proof makeup. Here are all of our top tips and go-to products.
Always Prep the Skin
Prepping your skin before makeup application is a non-negotiable step if you want to have flawless makeup. However, it's particularly important with mask-proof makeup, which relies heavily on powders and setting sprays. First, exfoliate the skin to buff away dead skin and create a seamless base for makeup application. The WISHFUL Yo Glow Enzyme Scrub, $39, is ideal as the papaya and pineapple enzymes dissolve impurities while leaving your skin with a healthy glow. Moisturizing is also essential – if you don't moisturizer your makeup will look dry, flakey, and cakey… A big no-no! We're obsessed with the Sweet Chef Superfood + Vitamins Moisture Boost, $19, the vitamin-rich formula leaves your skin feeling super plump and hydrated.
Look for Long-Lasting Complexion Products  
Finding long-lasting, transfer-proof complexion products will lay a good foundation (no pun intended) for mask-proof makeup. The Estee Lauder Double Wear Stay In Place Foundation, $43, is a great long-wear formula that blends easily, and once set with powder, stays in place all day. We also love the Maybelline Superstay Foundation Full Coverage Foundation, $12, it's lightweight yet long-lasting, as the name suggests! If you prefer a more natural look, you can still opt for one of these foundations, simply apply less product.
Do Not Skip Primer!!
One of the many benefits of a good primer is it helps your makeup last all day long. However, not all primers are made equally. Our go-to is the Tatcha Silk Canvas Primer, $52, it smooths your pores creating a seamless base for makeup application, and of course, increases the staying power of your makeup. The Huda Beauty Matte Perfection Pre-Makeup Base, $32, also works wonders, it controls shine and keeps makeup in place throughout the day, while visibly reducing the appearance of pores.
Powder is your BFFL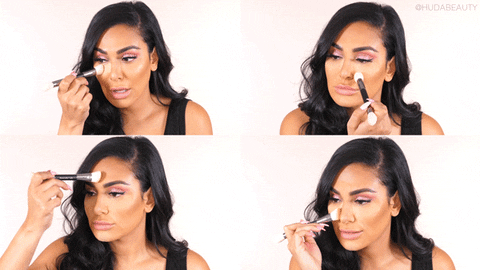 Regardless of whether you're wearing a mask, the easiest way to lock in your look is with powder. So needless to say, it's essential RN, particularly around the nose and mouth area where your mask will sit.
First, to prevent your foundation from transferring onto the string attachment of your mask, apply a light dusting of translucent powder using a large fluffy brush all over your face. Our go-to powder is the Huda Beauty Easy Bake Powder, $34, however, if you're looking for a drugstore alternative, the Maybelline Fit Me Mineral Loose Finishing Powder, $8, is also a great option.
Now, for the fun part… Baking! For those of you who don't know, baking is a makeup technique that uses a heavy layer of loose powder to set your makeup, which is lightly dusted away after a few minutes once the powder has set your cream formulas. It basically gives your makeup a long-lasting creaseless, poreless, and flawless finish. The most common area for baking is the undereye, however, due to the addition of the mask, it' time to boost your baking game.
Firstly, when baking the undereye, adjust the powder placement by bringing it further down towards the mid-cheek. You should also bake around your 'frown lines' if you do not already do so. Bake the entire area where your mask will come into contact with your skin. Using a damp makeup sponge, pick up an abundance of powder and lightly dab the sponge onto those areas. Let the powder sit for 5 minutes, and then dust it off with a loose brush.
Try the Tik Tok Complexion Hack
This complexion hack has been around for a while but hit the mainstream running when it was showcased on Tik Tok recently. The technique is easy to do at home – you simply apply your complexion products in a different order, which may seem completely crazy, but it totally works. And more importantly, it enhances the longevity of your makeup, which is exactly what we need right now.
First, moisturize your skin, then set your moisturizer with a dusting of translucent setting powder. Follow with a spritz of setting spray, and then apply your primer. Next, apply your foundation as usual. Et voila!
Choose your Lipstick Wisely
Another key area for consideration is your lipstick choice. While glosses are seriously trending right now and perfect for summer, they'll transfer to your mask in an instant. Equally bold lipsticks are also riskier with a mask because if they smudge, it's more noticeable, plus they're harder to touchup without makeup remover. Instead, opt for a nude color in a matte formula as it will wear well and if there is smudging, it's easier to fix. We're loving the new Haus Laboratories Le Monster Matte Lip Crayon, $18, which glides on so smoothly, is really pigmented, and more importantly, it doesn't transfer and doesn't budge once it's on. It also gets bonus points because it feels so lightweight and doesn't crack.
Prep your Lips
To prep your lip for a matte formula, just like your complexion, it's important to hydrate the lip to prevent your lips from cracking – that's not cute. Apply a generous amount of lip balm like the Aquaphor Lip Repair + Protect Broad Spectrum SPF 30, $4, and then blot it with a tissue to remove any greasy residue. Next, line your lips using a long-lasting crème pencil like our Huda Beauty Lip Contour, $19. However, don't stop at the outer line, fill in the entire lip – this will create a solid base layer of color. Finish with a long-lasting matte formula.
Be Daring with Your Eye Makeup
Wearing a mask allows your eyes to take center stage, so be daring with your eye makeup. Experiment with bold makeup trends like floating eyeliner or pastels and play with bright hues. Oh, and don't forget your brows! To perfect your brow game, check out our top brow hacks.
Load Up on Setting Spray
To lock in your look, finish your makeup routine with a spritz (or 10) of setting spray. We actually like to use two setting sprays on different areas of the face to mattify the T-zone and add a dewy finish to our cheekbones. To mattify, use the Huda Beauty Resting Boss Face Setting Spray, $33, then to add a summer-skin finish, spritz the new Huda Beauty Glow Coco Hydrating Mist, $35, on the high points of your face.
Remember, even with all these tips, you may still get a little makeup transfer on to your mask, but the most important thing is that the makeup on your face should still look good and won't be patchy. Don't forget to wash your mask frequently to avoid a build-up of makeup and bacteria, which can cause maskne, AKA mask acne.
For more makeup tips, check out 10 celeb makeup tips that are actually genius.