We Might Have Just Created The Best Brow Gel Ever
What's the difference between good brows and great brows? An amazing brow gel, duh!
So basically, we were brainstorming ways to help you guys get the best brows on a budget, and we are BEYOND shook at this insanely amazing DIY brow gel we've created. It is legit better than some of our fave bought versions, and the best bit is, you only need three ingredients – and you probably already own them. This DIY brow gel will not only condition and enhance brow growth, but it will also tame the wildest brows, and add color and depth to bulk up your brows.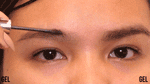 We've even created two equally awesome versions so you can tailor it to your brows.
All you need is:
1. Hair gel or hair wax – To keep your brows locked in place. Hair gel is great if you have longer brow hairs, and wax is perfect for shorter brow hairs. But both work brilliantly, so whatever you can get your hands on will be fine.
2. Castor oil – It's bursting with protein and fatty acids that strengthen hair.
3. Eyeshadow – Use a color one or two shades deeper than your brows.
4. Container and spoolie – You can use an old brow gel container, or you can keep it in a small airtight container and use a spoolie with it.
How to make our DIY Brow gel:
STEP 1: Combine 2 teaspoons of either brow gel or brow wax with 7 drops of castor oil.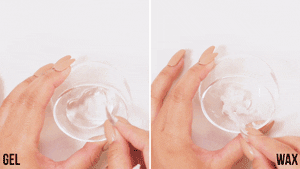 Step 2: Scrape in an eyeshadow powder to suit your brows (at least half a teaspoon).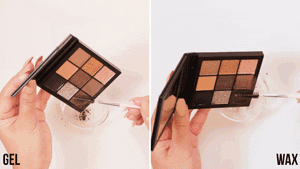 Step 3: Mix up the concoction until it's fully blended, then add it to an old brow gel container.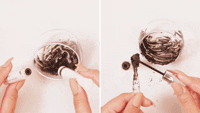 Step 4: Comb through your brows and be prepared to be blown away.

We love that these DIY brow gel formulas work really well at bulking up sparse brows and that they're also so effective at taming and holding bushy brows in place too.
If you have dark brows, we recommend combining a black and a brown eyeshadow powder, and if you have blonde eyebrows, using a light brown and medium brown shade. It's also great if you're a redhead, as you can add in warm brown undertones to get the perfect shade for you.
Let us know if you guys are gonna try this out, in the comments below.