My Go-To Look RN: A Little Bit Natural & A Little Bit Naughty!
You guys are always asking me about my go-to look, and the truth is, my signature look is constantly evolving and is really dependent on my mood. Recently, I've been feeling really powerful, sexy, and confident in my own skin and my makeup looks reflect that.
My Go-To Makeup Vibe Right Now
For the first time in my life, I'm SO proud of my skin thanks to our amazing WISHFUL products, which means I've been wearing a lighter coverage foundation and keeping my complexion glowy and natural – something I never thought I'd say. Instead, I'm focusing ALL my attention on my eyes for a sultry, smokey vibe using our new Naughty Nude Palette, $67 – it's literally the sexiest palette we've ever created. Everything from the formulas to the finishes and the color palette is such a turn on! And because we're all wearing masks 24/7 now, it's all about the eyes!
Here's my step-by-step guide:
Step 1: Start by taking a black kohl liner – I use the pencil side from the Huda Beauty Life Liner Duo Pencil and Liquid Liner, $25, as it smokes out beautifully. Line the upper lash line with a pencil liner, starting from the inner corner and drawing it into a sexy, elongated wing – make sure the width of the liner gets thicker towards the wing. Then, take a small brush and smoke out the eyeliner – I'm using the Huda Beauty Smoke & Smudge Brush, $18.
Top tip: When creating this look, I usually start with my eyes as this makes it easier to clean up the edges for a snatched, sexy finish.
Step 2: Next, using the shade SPICY, layer the eyeshadow on top of the liner using a back and forth motion to create a sultry, burgundy wing. For an effortlessly sexy feel, you can stop here and complete the look with some mascara or a pair of falsies.
Posts You'll Love:
Top tip: If you've already applied foundation, to keep the edges of the eyeshadow clean, take a folded tissue and place it along your lower lash line, angled towards the tail of your brow, which will stop any fallout from messing up your base.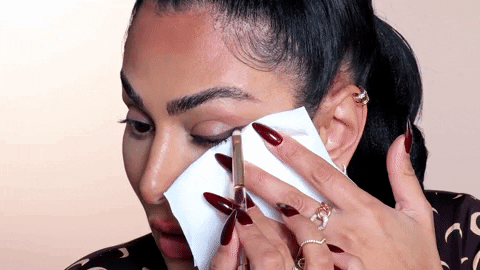 Step 3: For a full glam feel, intensify the look by taking the same brush with the shade SPICY on, and bring the wing from the outer corner, tracing it back in along your crease. Then, taking a clean brush, soften the upper wing by blending out the line.
Step 4: Next up, fill in the negative space with the shade FILTHY by tapping the pigment into the lid, then, layer the shimmer shade IRRESISTIBLE on top.
Once again, you can leave it there however, if you want to add more depth and dimension then…
Step 5: Take the shade UNTAMED and intensify your wing and the corner by working it along the crease for a smokey, sexy finish. You can also layer the shades NAUGHTY or AROUSED, which is slightly warmer, to blend out the crease further. For the ultimate bedroom eyes, take the shade SPICY and line the lower lash line.
Step 6: To finish the look, use our new gloss shimmer hybrid formula, SLIPPERY, to add a sexy, wet finish. I use my finger to apply SLIPPERY by dabbing the formula onto the center of my lid. Clean up any edges using a Q-tip and some micellar water for a snatched, polished finish.
My go-to complexion vibe right now: For my complexion, I like to keep my skin looking natural and healthy. Our new Huda Beauty #FauxFilter Skin Finish Foundation Stick, $39, is ideal as it gives a stunning, filtered yet really natural finish. Then, I softly sculpt my cheekbones, jawline, and forehead with Tantour, $30, and sweep our N.Y.M.P.H. All Over Highlighting Powder, $55, on the high points of my face. To finish, I quickly spritz my skin with the Huda Beauty Glow Coco Hydrating Mist, $35, for a dewy, sexy glow.
Check out my YouTube tutorial to see the finished look: 
What's your go-to look right now? Let me know in the comments below.
Disclaimer: Every product we review has been independently selected and tested without bias by our editorial team. We never take payment to review products, however, some brands allow affiliate links, so we may earn a commission if you purchase a product by clicking on one of our links.