Our Fave New Brow Product Costs $10 (Smudge-Proof & Waterproof)!
If there's one thing that we almost never leave the house without – other than SPF, obvs – it's a sculpted brow. Our latest brow obsession is seriously impressive and majorly affordable! The Maybelline TattooStudio Brow Pomade, $10, is everything we look for in a brow product and more. Here's why…
What it is: The creamy, pigmented brow pomade is designed to be buildable, transfer-proof, waterproof, smudge-proof, and last up to 24 hours. The formula comes in 8 shades, ranging from Light Blonde and Auburn to Ash Brown and Black Brown – we found a perfect match for everyone at HB HQ.
The pomade also comes with a double-ended tool: At one end is a densely-packed, angled sculpting brush, and at the other end a spoolie to tame and blend.
The formula: We're seriously impressed with this formula, which is like the perfect blend of being waxy enough to tame hairs, wet enough to glide on smoothly, but not too wet that it goes everywhere! The formula is super pigmented, but not so pigmented that it can't be easily blended on first application.
The claims: This brow pomade makes some pretty serious claims, and guys, they actually stood up to all our tests. We wore this before an intense workout class in a 40-degree room and our brows didn't budge despite the fact our face has never sweat that much before. Once the formula sets in place, it's completely smudge-proof and waterproof and needs some sort of remover/ soap to come off. If you use so much that the formula is very thick, it will take longer to 'set' but we found that after around 30 seconds, the formula had set and was completely smudge-proof.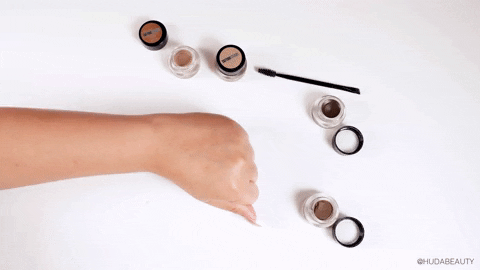 While we didn't wear the formula for 24-hours, it did last from 7 am to 12 pm, and that's pretty much all we need it to do!
Who it's good for: We used this on sparse brows and bushy brows to create both natural and statement looks and the formula worked well for all!
Tips: If you want a natural look, dip the end of the angled brush into the formula and use it to create hair-like strokes. Use the spoolie to blend out the formula. For filling in sparse areas, dip the brush in the pomade and turn the brush on its side for quick and even application.
The verdict: Since we got this product, we've been using it every day – it's our new go-to, and easily beats a lot of the more expensive formulas on the market! If you're in need of a new brow pomade, definitely check this out!