How To Reset Your Tired AF Holiday Skin (For Free)
As much as we love indulging during the holiday season, there's no denying it can take a toll on our skin… Hello, dark circles, sugar-induced breakouts, and puffy eyes! But don't stress – that'll only make matters worse – instead, reset your tired holiday skin with ice facials, brightening DIYs, sculpting facial massages, and of course, plenty of beauty sleep. These five easy skincare rituals will get your skin looking healthier and ready to glow ASAP. Another major bonus? They're all cost-effective or completely free (YAY), because let's be honest, we're all on a budget right now!
1. Tighten Pores & Tackle Inflammation With an Ice Facial
If you went a little too heavy on the eggnog, chances are you're waking up with tired eyes and puffy skin. Our fave way to tackle inflammation is with an ice facial. While cryotherapy is seriously trending right now, if you (like most of us) are unable to book an appointment, a DIY facial will do the job and it's totally free!
In fact, we learned this trick from celebrity facialist, Georgia Louise, who uses it on her celeb clientele ahead of big events. Simply fill a large bowl with ice cubes, then submerge them in cold water and wait for the ice to melt. Once it's melted a little, continuously splash your face with water for up to 60 seconds. The cool water will restrict circulation, instantly tightening your pores, reducing puffiness and revitalizing your skin. It's the ultimate wake-up call!
2. Brighten Dull Skin with a DIY  Mask
After the holidays, our beauty budget is pretty much non-existent, hence why we rely on skin-rejuvenating DIYs like this one. Our go-to? This glow-getting papaya and honey mask. The natural fruit enzymes will gently buff away dead skin debris while providing a surge of restorative vitamins that'll work overtime to brighten your skin. The honey content will help draw moisture into the skin and it also has anti-inflammatory, antibacterial, and antimicrobial properties that'll help reduce puffiness and soothe the skin.
Ingredients:
2 or 3 slices of papaya
1 tablespoon of raw honey
How to: Blend the papaya until it creates a smooth mixture, then add the honey in a bowl and mix well. Apply the mask onto cleansed skin and leave it on for 10 minutes. Wash with warm water and follow with your fave moisturizer.
Posts You'll Love:
3. Sculpt and Tone with a Lymphatic Drainage Massage
After weeks of snacking on gingerbread cookies, turkey, and mac and cheese, our face isn't looking as chiseled as it did pre-holiday season! This is where our fave DIY massage hack comes in to save the day. This simple massage technique will drain lymphatic fluid via your lymph nodes. Lymphatic fluid helps remove waste and toxins from your tissues, however, if the fluid becomes blocked it can lead to a myriad of skin concerns including acne and skin dryness.
By draining your lymph nodes you'll help rid your skin of harmful toxins and enable your lymphatic system to deliver fresh and vital nutrients to your cells. The technique involves using continual strokes to stimulate lymphatic fluid drainage to boost circulation, which will give your skin a healthy glow while creating a subtle lifting effect. Check out how to give yourself a lymphatic drainage massage here.
4. Reset Your Skin with a Steam
When you're looking to reset your skin, make sure you're maximizing the benefits of your skincare routine, which is why steaming is always a great idea as it helps to gently exfoliate pores and hydrates the skin, creating a perfect base. Plus, it's so easy to do and feels like a mini spa treatment.
How to steam: Add boiling water to a pot or bowl then wait a few minutes until it's cooled down slightly, so you don't run the risk of burning your skin. Put a towel over your head and lean over the water allowing the steam to rise to your face – without sitting too closely (we recommend about a foot away!). Sit for five minutes while the steam 'opens' your pores and moistens your skin ready for the next steps! If you have rosacea or very sensitive skin, then it's best to sit this hack out.
5. Give Yourself a DIY Facial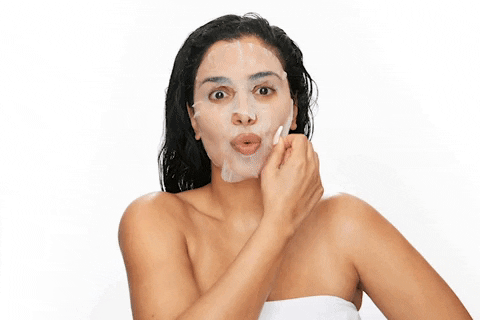 While each of these skincare rituals has its own set of benefits, we like to combine their powers in a DIY facial. Start by cleansing your skin, then exfoliate to allow your masks and serums to better absorb. Of course, we're obsessed with the WISHFUL Yo Glow Enzyme Scrub, $39, which is infused with brightening pineapple and papaya enzymes, detoxifying BHAs and AHAs. We then like to follow with a steam, next, a hydrating mask like the WISHFUL Thirst Trap Cocoon Mask, $9, then finally, lock in moisture with your fave moisturizer and finish with a lymphatic drainage massage. Not only will it leave your skin glowing and refreshed but it's also super relaxing. Check out our full DIY facial routine for more deets.