This New Tool Will Make You Want To Trade In Your Tampons
When we heard about the new tool that would help save the planet, aka the world's first reusable tampon applicator, our head filled with questions. But let's be clear on one thing – it's just the applicator that's reusable! If you're questioning why you'd need a reusable applicator, the answer is simple: The environment. Plastic applicators, plastic packaging, and non-organic tampons cannot be recycled and are just one of the many plastics that go on to pollute the planet; ending up on beaches and poisoning wildlife. DAME offer a solution, and it's genuine and attainable – we've tried Dame's reusable applicator, and we liked using it so much, we're ditching our Tampax ASAP.
For the 411, we spoke with the Co-Founder Celia Pool, so those questions you're wondering about (like is it hygienic? Is it comfortable? What do you do with the applicator in between use?) are answered! Because as great as the idea of saving the planet is, you also want to use something easy and reliable during your period.
The Period Problem
If you're unaware of how problematic period waste is for the planet, now is the time to get up to speed. Over 100 billion period products are thrown away every year; most contain plastic and therefore cannot be reused or recycled and end up breaking into pieces and entering the food chain! Plus, most tampons contain synthetics treated with pesticides and chemicals. Considering the average woman uses 12,000 tampons in her lifetime, just think of how many chemicals and pesticides you absorb? Errr, thank you next.
Everything makes an impact…
View this post on Instagram
The Solution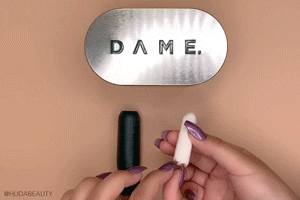 To counteract the plastic and non-recyclable waste caused by tampons, DAME have created a reusable tampon applicator named D. to reduce your carbon footprint. It works exactly like a typical applicator tampon, however, you assemble the tampon each time by placing it into the applicator. DAME also provide organic, recyclable tampons, and they even give you a little pouch to stash your applicator in, made from recycled materials (obvs).
Your Questions Answered…
Is the Recyclable Tampon Hygienic?
Celia tells us, "Each D is crafted from medical grade Mediprene, with inbuilt antimicrobial Sanipolymers. These are natural elements that actively stave off bacteria and germs to ensure your D is safe and hygienic. This self-sanitizing technology is inbuilt throughout the whole of D, not just on its surface, so you don't need to worry about it rubbing off. And as long as D is treated properly (no dishwashers, no boiling water, and no harsh chemicals) then this self-sanitizing technology lasts a lifetime. Unlike other antimicrobial materials, D's self-sanitizing technology is completely free from any chemicals, pesticides or other harmful substances, so there's no risk to your body or the environment."
How should you clean and wash it once it's been used?
Celia says "It was really important to us that we made a product that is really easy to look after. So once you've used your D, you simply rinse it thoroughly under the tap, wipe it dry with a clean paper towel, then pop it in its handy accompanying travel pouch." We can vouch for it – it's super easy to clean, and even if you're not in a private bathroom, there's a cap to the applicator that you can put on it until you can access a sink.
Posts You'll Love:
How long will one reusable tampon applicator last?
Celia explains "We've created D our reusable tampon applicator to last for years because we want to put an end to disposable plastic applicators. We've designed it to be smooth, safe and hygienic so that it's 100% keepable. By making the simple switch to a D, you can save 12,000 disposable applicators from reaching our oceans."

What tampon on the market is it most similar to?
"Unlike conventional tampons, DAME tampons are organic and biodegradable – so they're better for your body and for the planet. We make them from pure natural cotton and nothing else, which means they're completely free from harsh chemicals and synthetics. All DAME tampons are non-applicator in style so that you can use them with our reusable tampon applicator, or solo if you prefer" explains Celia.
Will the applicator fit all tampon sizes?
Celia confirms, "Yes, D fits seamlessly with all standard tampons, from lite to super plus. All Ds come with 6 of our toxin free cotton tampons. While organic tampons are our personal preference, you can use D with any tampon brand."
Is it to safe insert plastic into your body?
"We worked with medical engineers to create D, using medical grade, BPA free materials. And we've put it through rigorous medical testing to ensure it meets the highest safety standards.  We strongly believe that women's bodies, and the planet, deserve the very best." We couldn't agree more.
Our Verdict
As soon as we heard about DAME's tampon we were eager to try them  – we're down to try anything that helps us cut down our carbon footprint. We already loved the idea behind them, but it was important that they were easy to use, hygienic, and the cleaning process wasn't awkward. And TBH, it ticked all the boxes. Because the applicator is made of fairly stiff plastic, we recommend wiggling the end (where the tampon comes out) around a bit to make it more flexible, which helps the tampon to come out more easily. Consider us Tampax converts!
Shop the D. The Reusable Tampon Applicator, $33, and the Organic Cotton Tampons, $5.
Let us know what you guys think in the comments below.