REVEALING Our New Precious Stones Obsessions Palettes
Hey my loves! I'm soooo excited to finally share with you our latest addition to our Obsessions family, the Precious Stones Collection. Since you guys loved our first collection of Obsessions palettes so much, we decided to extend the range with a super luxurious new collection featuring five new shade ranges inspired by precious stones. From bold Sapphire and Ruby stones, sophisticated Topaz and enchanting Emerald to feminine Amethyst, each compact palette fuses vibrant jewel hues with lavish textures to create multiple looks.
Just like the OG Obsessions palettes, each palette has nine super-pigmented, creamy and ultra blendable shades that give maximum color payoff. Matte, shimmer and duochrome shadows work together in perfect harmony or as stand-alone shadows. Whether you want a dramatic, vibrant look or soft glam, each palette can create a diverse range of stunning looks. Rich, bold colored eyeshadows are so hot right now, so whatever your fav shade is, these will keep your look on trend for fall.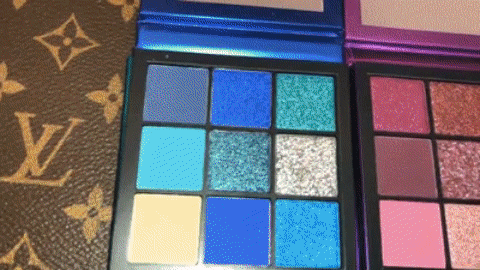 Huda Beauty Emerald Obsessions: I feel like green is such an underappreciated shade, and it's definitely about to make a big come back – green is the new black! With 6 duochrome shimmers and 3 matte, easy-to-wear teal tones, tangy mint, and vibrant peacock shades, you can create so many different looks.
Huda Beauty Amethyst Obsessions: I'm obsessed with this palette, it's just so luxurious yet playful and super feminine. I love to layer the softer pink hues for daytime, while the deeper purple and violet colors are perfect for evening. 3 creamy mattes make the perfect base, while the 6 duochrome shades add a major pop to add depth and glam to your look.
Huda Beauty Ruby Obsessions: Striking ruby red tones have to be one of my fav looks. Whether I'm feeling a sexy sultry eye or a feminine, flirty pink, this palette has me covered. Just like the stone itself, it's super opulent, with 5 vibrant duochrome shimmers and 4 creamy mattes.
Huda Beauty Sapphire Obsessions: If you love creating bold new looks, then feast your eyes on our Sapphire Palette with 5 glistening duochrome shades and 4 buttery mattes. I'm obsessed with the vivid turquoise shades and electric blue is just the coolest pop of color if you want to make a statement.
Huda Beauty Topaz Obsessions: This palette is inspired by the golden tone of the topaz stone: the Firestone. In ancient Egypt, the stone was a symbol of the Sun God, and this fusion of gold, rich browns and amber shades is perfect for creating your very own goddess vibe. Whether you want a neutral or a bold look, these 5 creamy mattes and 4 popping duchrome shades will elevate your look.
The Precious Stones collection will be launching September 14th on ShopHudaBeauty.com, Sephora.com, Harrods, Selfridges, Brown Thomas, Arnotts, Cultbeauty.com, and Feelunique.com. Shop it in-store at Sephora USA from September 20th. ($27USD / £25.00 / €29.95 / AED135.00 / $48.00AUD / INR 2,250.00).
We can't wait for you guys to try these! Let us know which one is your fav in the comments below.