10 Skincare Resolutions That'll Make A Huge Difference
Every January we set ourselves a long list of New Year's resolutions, from working out more often to improving our skincare routine. To help in the beauty department, we wanted to share 10 skincare resolutions that are relatively easy to achieve but will make a major difference. From correcting simple (but major) skincare sins to welcoming helpful skincare rituals, these resolutions will deliver that 2021 glow up we all need RN.
1. Clean Your Makeup Brushes Weekly
If you have to ask yourself when was the last time you cleaned your makeup brushes, the answer is too long. Not only can makeup brushes harbor oil, dirt, and bacteria from your face, which can lead to breakouts, but the old makeup trapped on your brush will also prevent you from achieving a flawless finish.
In an ideal world, you should wash your makeup brushes after each use, but a more realistic expectation is once a week. With that said, be sure to clean your makeup sponge daily, so it's clean, damp, and ready to be used. Check out how we wash our brushes here.
Pro tip: Let's not forget that our phones are pretty dirty too… Hands up if you've finished a phone call only to see half your makeup clouding up your screen (#guilty!). So, don't forget to wipe your phone down with sanitizer or alcohol spray regularly too!
2. Wear SPF Every Day
Ask any dermatologist, and they'll tell you the best thing you can do for your skin is wear SPF daily. While products that contain SPF can offer adequate protection during the winter months, we recommend using a stand-alone SPF product with a high SPF (30 or above) and a 5-star UVA rating to protect your skin from UVA rays. Find our fave sunscreens here.
Application tip: Apply your sunscreen after all your other skincare products but before you apply your makeup. Also, keep in mind it takes sunscreen around 20 minutes to activate. Check out these sunscreens that work perfectly under makeup here.
3. Ditch Makeup Wipes
The truth is, a makeup wipe just isn't very effective at removing makeup. Sure, it'll take off that top layer of makeup, but it won't all be gone, and it certainly won't be able to get rid of all the grime and pollution that has settled into your pores during the day *ew*. The best thing to do is double cleanse by starting with an oil-based cleanser, then finish with a detoxifying water-based cleanser…
4. Double Cleanse
We swear as soon as you start double cleansing, you'll notice an improvement in your skin within weeks. Double cleansing, AKA when you cleanse first with cleansing oil and then again with a water-based formula that suits your skin type, will ensure all of the makeup, bacteria, oil, and pollution is removed from your skin. If this sounds excessive, just trust us and try it – you'll be surprised at how much is removed on the second cleanse. For more details, check out how to double cleanse here.
5. Don't Attack a Pimple
While we totally understand the temptation of popping a pimple, it's never EVER a good idea. By attacking a breakout, you'll aggravate and inflame the skin, and if it does eventually pop, the bacteria is likely to spread and could trigger more pimples in the surrounding skin.
Instead, the best thing you can do is to apply a hot compress (not too hot), as this will help soften the sebum and encourage the pimple to drain itself. Celeb dermatologist and Founder of Lancer Skincare, Dr. Lancer, told us the best remedy is to apply a "warm cloth compress to the affected area for one minute, then a new compress a minute later. Repeat every minute for six minutes every hour, for two or three hours to soften and convince the blemish to drain itself."
Posts You'll Love:
6. Cut Back on Sugar
Of course skincare is important, but you should also evaluate and be mindful of what you're putting into your body. One of the biggest culprits of unhealthy skin is, in fact, sugar. Not only can sugar cause inflammation in the body, but this can lead to a myriad of other skin concerns. Most notably, it can worsen breakouts and cause glycation, a process that sugar triggers, which basically breaks down collagen in your body. It can even trigger rosacea breakouts.
While we're not suggesting that you cut out sugar from your diet completely, cut back wherever possible. Try swapping soda for a warm lemon water drink or cut back the sugar in your daily coffee. If you're snacking on sweets and chocolate as regularly we were over the holidays, try to replace it with a healthier, less sugary option.
7. Never Sleep with Makeup On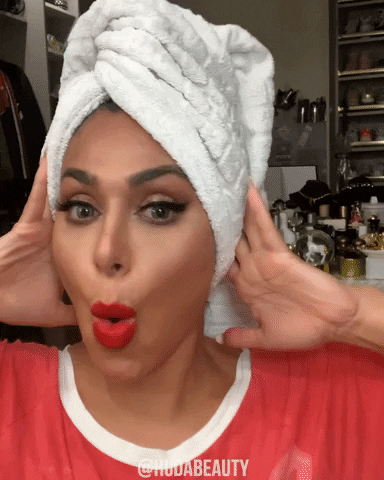 When it comes to skincare sins, there are few things worse than sleeping with your makeup on. While our skin cells renew and repair constantly, nighttime is a time for uninterrupted body repairs, and you should let nothing stand in its way. Add to that, giving your skin no break from makeup means you'll constantly have makeup, dirt, bacteria, and pollution lingering in your pores, which is just a recipe for breakouts, dull skin, and fine lines. We know it can be annoying when you're tired and just want to catch some zzzs, but your skin will thank you for it.
8. Exfoliate Twice a Week
If there's one skincare step that'll make a huge difference to your skin and have an instant brightening effect, it's regular, gentle exfoliation. By sloughing away dead skin, you'll not only remove dirt and impurities that could be clogging your pores, but you'll also reveal brighter, more radiant skin.
Our go-to exfoliator is the WISHFUL Yo Glow Enzyme Scrub, $39, which combines the powers of fruit enzymes and AHAs, and BHAs to gently buff away dead skin, leaving your skin with a stunning, natural glow. While Yo Glow is gentle enough to use daily, in general, two to three times a week should be plenty for most skin types.
9. Add Vitamin C into Your Daily Routine
If you want luminous, glowing skin, a vitamin C serum is a surefire way to get you there. The supercharged antioxidant will work overtime, brightening your skin while helping to boost collagen levels for firmer, supple skin. It'll even help protect your skin from environmental aggressors that can lead to premature aging. Just be sure to slot one into your morning routine after you've toned and before you moisturize. Another major bonus is that vitamin C has even been shown to improve your sunscreen's efficacy, so make sure you layer it in. Check out some of our fave vitamin C serums here.
10. Be Kind to Yourself
Possibly THE most important thing to remember, which applies to any form of resolution, is to be kind to yourself. Instead of critiquing yourself or your skin, or focusing on what you don't like, speak to yourself as you would to your BFFL: be encouraging and focus on the positives. And remember that all the images you see on social media aren't the 'norm' when it comes to skin, and they certainly should not be the standard. So just go easy on yourself and focus on loving the skin you're in.
Another new years resolution? Unfollow anyone who doesn't make you feel good. It's 2021 and we definitely don't have time for negativity. 2021 should be about self-love and self-care. Period.
For more skincare tips, check out 21 skincare tips everyone should know.
Disclaimer: Every product we review has been independently selected and tested without bias by our editorial team. We never take payment to review products, however, some brands allow affiliate links, so we may earn a commission if you purchase a product by clicking on one of our links.