The Best And Worst Things I've Done To My Face For Hair Removal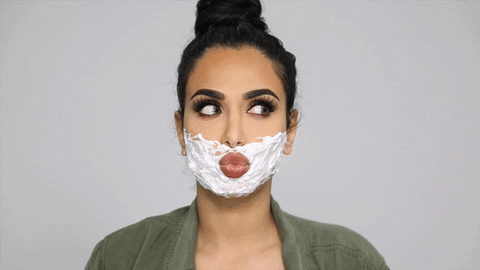 I'm naturally a very hairy person, I think by the time I was four I had a unibrow and a mustache – just kidding, but kinda serious – honestly, I've naturally got it all; the goatee, sideburns, mustache, and the occasional chin hair. Annoyingly, the only hair on my face that isn't thick and dark are my eyelashes! So, other than the one place I want hair, I've had hair everywhere, ever since I was very young, which means I've tried literally every hair removal technique possible!
The first thing I tried was waxing, it just seemed like the easiest thing to do to get rid of the hair. There are lots of different types of waxes you can use, but I tried a few, and none of them ended in baby-soft skin, for me! This was probably one of the worst things I ever did to my face; so even though it removed all the hair on my sideburns, it immediately broke me out in tiny little pimples, so I can't even imagine doing that on my cheeks. It was the same for my mustache; if it didn't occasionally rip some of the skin off, I would get tiny little white heads appearing the next day. If your skin is acne-prone, sensitive, irritated or just dry, there're a million reasons why waxing won't be good for you – not to mention, frequent waxing is rumored to cause facial sagging over time.
Then there's threading, which is definitely better than waxing, as it's less likely to cause facial sagging and irritation to the skin, but it does still cause a lot of irritation. In my opinion, because of the rigorous pulling of the hair, it inflames and opens up the hair follicle and pore, making it more susceptible to bacteria, dirt and oil to get inside, and this makes pimples far more likely.
I finally got around to trying lasering, and this was honestly the best thing I did to my face – I know it's expensive – but honestly, after laser hair removal, my facial hair basically doesn't exist anymore! I had it done on my sideburns, chin, and mustache, which was great for targeting dark hairs – honestly, I had Elvis Presley sideburns. However, you might have really furry cheeks, but if the hair is fair, this is something laser can't target – this is where my love for face shaving came in, and it was literally the best thing I ever did.
For peach fuzz, or general facial hair, I cannot recommend face shaving more highly, and it's honestly something I've been obsessed with ever since I began – it even helps with exfoliation. The best way to shave is completely dry using a Japanese or Korean razor, but just be gentle and don't apply too much pressure. Most people think you'll get more hair if you shave your face, but over time I've actually noticed the opposite.
For my brows I always tweeze, it's quick and easy to do it at home, and once you've got a great pair of tweezers – I've been a dedicated to my Tweezerman tweezers since I was like 16 – then it's basically free!
So, if you want to remove hair on your face, I would recommend laser hair removal. I know this is expensive, but after the initial cost, you never have to worry or spend money on hair removal again – which is the dream! For peach fuzz, or if laser isn't a route you want to go down, I always recommend face shaving – you can watch exactly how I shave and get all my tips here.
I've also been using the Philips Lumea Prestige, which uses IPL (intensed pulsed light) to put the hair into a resting phase, in a similar way that laser works. I absolutely love this machine, and the best thing about it is you can use it all over your body as well. Stay tuned for my full review!
I hope you guys found something useful from my experience with hair removal techniques. Different people will always prefer different methods, so it's about what works for you, but for me, I cannot recommend laser hair removal or face shaving more highly. Let me know in the comments below your experiences with hair removal techniques, and what you find works best for you.