Hair Removal 101: The Best Ways To Remove Unwanted Hair For Summer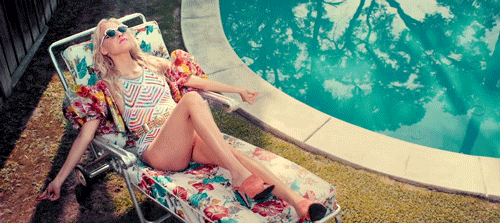 Skimpy swimsuits, short shorts, strapless tops, and barely-there dresses – when it comes to the sunniest season of the year, less is cooler, both wardrobe-wise and hair-wise, when it's hot AF out. Yet, with so many fuzz-free solutions available to beauty-savvy babes nowadays, deciding which hair removal technique is right for you can be confusing. Shaving is easy, but you have to do it all the time; waxing hurts like hell, but it lasts longer, and laser can leave a dent in your bank account, but it's permanent. Don't worry; we researched the pros and cons – and consulted the experts – to break it all down for you. See you at the beach!
SHAVING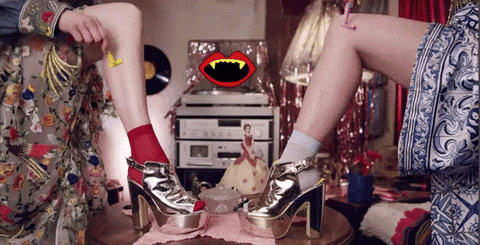 The Pros: Shaving is by far the easiest and cheapest way to get rid of unwanted fuzz. You don't need a professional to help you; it's quick and can be done pretty much anywhere there's running water (but please refrain from shaving in public), and you can stock up on supplies like razors and shaving cream at just about any pharmacy or gas station.
The Cons: It can be super annoying to repeat all the time – especially if you have thick, coarse hair that grows back quickly. Shaving can also cause ingrown hairs to sprout up around the bikini line and under your arms if you're irritated and shaving more frequently… AKA in the summer when you're showing more skin.
The Pain Level: Mild
Advice From the Pros: "To help you get a razor burn-free shave, the first thing you should do is exfoliate," advises Karen Young, Founder of Oui Shave. You can either DIY one out of salt or sugar with a little shower gel or oil, or try an exfoliator like COPPER+CRANE Charcoal Body Polish ($24) before shaving, which will slough off dead skin and rinse away pore-clogging oils, bringing the hair to the surface for a closer shave.
Next, you need to invest in a better razor. Young invented a double-edged safety razor, the Oui Shave Rose Gold Razor, $75, specifically for women, which handles your curves and edges at a 30-degree angle. It also removes hair by gliding across your skin rather than tugging and pulling them from beneath the surface, causing irritation. "Oui Shave uses a stainless steel blade that lasts longer because you can use both sides," she says. (Not to mention, it's an eco-friendly razor for the environment, as opposed to all those plastic razors you're constantly throwing away.)
How to deal with razor burn and ingrown hairs: "In the event razor burn or ingrown hairs do occur, be sure to stop all hair removal attempts at once so you don't make it worse or cause an infection, then apply a washcloth soaked in warm water to the area," adds Young. Once calm, gently exfoliate once more to bring any ingrowns to the surface, and if you can see the tip of the follicle, you can try to extract it with a tweezer, but if it's deeply buried (damn you, ingrowns!) you should whip out the big guns. Shobha Ingrown Relief Lotion ($22) incorporates glycolic acid to exfoliate, tea tree oil to protect, chamomile to soothe, and glycerin to moisturize while preventing future bumps from forming.
WAXING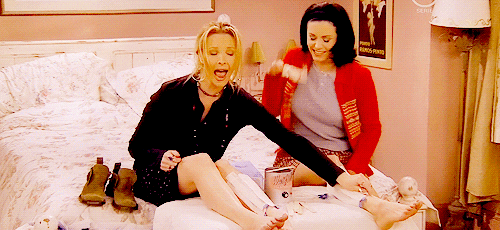 The Pros: While shaving works as a short-term solution, waxing is much more suited to long-term (hair-free) goals. Not only does it keep you from turning into Sasquatch for weeks instead of days, but it also protects you from annoying nicks and cuts that are far too common with shaving, plus it's less irritating to the skin.
The Cons: Let's be serious: Waxing is a b*tch. Having your hair ripped off your body (and intimate parts) via hot strips of wax feels like something out of a medieval torture chamber, and you still have to repeat the process every few weeks. Or, if you're lucky, you might be able to stretch it to every month. Waxing (much like shaving) can also cause ingrown hairs, although razor burn and bumps aren't as much of an issue. The other problem is you have to wait for your hair to grow back before you do it again, which means at least a week of fuzz before you can wax again.
The Pain Level: Medium to Intense
Advice From the Pros: Just like the aforementioned pre-shave process, the pre-wax process should start with exfoliation. "Exfoliation before waxing is best for smooth, optimal results and hydrating after is equally important," advises Stalina Glot, Esthetician at Haven Spa. "Someone who is prone to ingrown hairs may need to exfoliate with an exfoliating glove or loofah every day and using a product such as Crystal Peel Microderm Soap ($28) will help with exfoliation, but how often one can use this will depend on how sensitive the person's skin is."  Since your skin will be dry post-wax, you'll also want to hydrate with either a gel or cream. Try Koh Gen Do All In One Refresh Spa Aloe Gel ($55) or Shaveworks The Cool Fix Lip & Brow Formula Post-Wax Rollerball ($21). Hydrocortisone is another lifesaver to soothe.
And if you're thinking about shaving it all off to get the party started early, think again. "You actually need to grow your hair out a bit before waxing," says Glot. "It should not be shorter then 1/4 inch. "It's also good to take a painkiller two hours prior to the procedure to help reduce inflammation and not to wax five days before or after your period. Another no no? Working out after waxing since Glot says this causes friction. "You should also avoid the pool or ocean for at least three days after waxing because chlorine and salt water will irritate the skin," she explains.
Another thing to note is the more you wax, the less thick the hair grows back. "Waxing every four weeks consistently will significantly reduce the amount of hair coming back, and in few months 40% of the hair will not come back," she says.
LASER
The Pros: Laser is a dream come true if you're looking to remove hair once and for all, and although it can be slightly uncomfortable, the discomfort only lasts a few minutes, and there's less downtime than with waxing. As for how long it takes for permanent results to settle in? Usually, six to eight sessions are recommended, spaced 6-8 weeks apart, but then you're done with no maintenance or added visits needed in the future! Another plus? You'll be spared from ingrown hairs and irritation once you start to laser. Well, amen to that.
The Cons: Laser is expensive, so get ready to shell out some serious coins (pricing ranges from as little as $75 per session for the chin/upper lip area to $700 for full legs or back). You're also limited to when you can go in for appointments. If you are already tan, you can be treated approximately two weeks after being in the sun, but if you are freshly tanned, red, or peeling, you shouldn't laser at all.
The Pain Level: Mild to Medium
Advice From the Pros: According to Christian Karavolas, Owner of Romeo & Juliette Laser Hair Removal, the advent of new lasers in the market has also brought some much-needed advancements like bigger spot sizes (to cover more ground in a shorter amount of time) and various cooling mechanisms. "Basically laser treatments have become faster and less painful," he explains. "One laser that we absolutely love and feel is the best for permanent results is the Synchro REPLA:Y Excellium 3.4 by DEKA Medical.
Its unique homogeneous beam profile – coupled with the largest spot sizes and speeds up to three pulses per second – makes the results truly permanent. It also has an optional Zimmer Cryo Cooling attachment that blows cold air and makes the treatment even more tolerable."
Consider us sold. As for how much time you should be expecting to commit to the cause (should you decide to get lasered), legs take around 20-30 minutes, chin and upper lip five minutes, underarms 5-10 minutes, bikini line 5-10 minutes, and a full bikini around 10-15 minutes. The entire treatment process will take roughly nine months from start to finish (based on six treatments spaced six weeks apart), so we recommend starting at the end of summer so you're less likely to be in the sun during the treatment period and ready for summer at the end of the course of treatments.
Laser works best on people with fair skin tones and dark hair, but there are also many new lasers for deeper skin complexions – the only exception is people with white, red, and light blonde hair pigments, who laser will not work on. Alas, you may have to stick to waxing and shaving. Check out our full post on how laser hair removal works here.
IPL HAIR REMOVAL – At Home!
The newest tech to hit the hair removal market is the Philips Lumea Prestige, which is a bit like laser, and uses intense-pulsed light to damage the hair follicle and prevent hair regrowth.
The Pros: Like laser, IPL is a semi-permanent solution to removing your hair (up to 6 months of no regrowth after the initial treatment phase), yet it's slightly less painful than laser. The biggest pro is it's a one-off purchase! The Philips Lumea Prestige, $765, (here for $531) is the newest IPL machine from the brand and has four different attachments so you can remove hair from your legs, bikini line, face, and underarms. It's undoubtedly the most cost-effective hair removal method in the long run. Unlike laser hair removal, the IPL machine should be used every two weeks for the first 4-5 treatments, and then follow-up treatments should be done every 4-8 weeks.
The cons:  This will only work on fair to tan skin tones with medium to dark hair. IPL shouldn't be used on tanned skin, so if you're doing your legs, we recommend doing this in the cooler months when you won't be in the sun. With IPL, you can get no hair regrowth for up to six months, so it's likely that you will only have to redo a treatment every 3-6 months, but considering doing a half leg takes less than five minutes, this works out the same as shaving, plus, any hairs that do grow back are so fine you'll hardly notice them.
The Pain Level: Mild to Medium
We'll be testing the Philips Lumea Prestige over the next few months, so stay tuned for our full review! UPDATE: Check out the full review of the Philips Lumea here.
Let us know if you would be keen to try the Philips Lumea Prestige in the comments below.