The Best Sunscreens That Won't Ruin Your Makeup – Or Your Skin!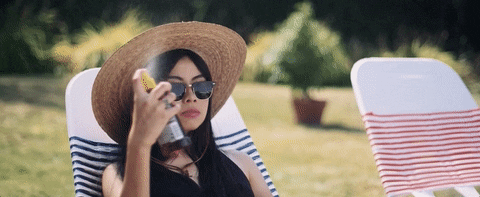 We all know we should wear sunblock on a daily; it's the key to maintaining healthy and happy skin. The thing is, we've all had those experiences where we're either left shiny AF, with balls of white product in our hair, or our makeup just sliding down our face through the day. Sooner or later, those annoying SPF fails are enough to put you off, but wearing sunscreen daily is SO important – if you don't believe us, check out these SPF myths! So, we've tested tons of SPFs to find the ones that come drama-free and actually help your makeup look and last longer through the day. Plus, there're some awesome new SPF formulas that you can use to top up your sun protection throughout the day without ruining your cake face – amen to that!
Remember, SPF should always be the last step in your skincare routine, after your serums and moisturizers, before your primer or makeup – although some of our favs actually double up as amazing mattifying primers. Always look for a facial SPF with factor 30 or higher, and they should either state that they're broad spectrum (they protect against UVA and UVB rays) or have a 3-star UVA rating (or PA+++) or greater. Here're our top sunblock picks, which all fit our sun cream guidelines: they look flawless under makeup, do good things for your skin, and provide full protection from the sun.
Mattifying and anti-aging: Filorga UV Bronze Face SPF50, $30
If there's one thing we need during summer, it's high SPF and mattifying finishes, and this provides exactly that. This formula not only layers beautifully under makeup, but it also contains smoothing and firming active ingredients – it's enriched with sulforaphane, which acts on the formation of wrinkles for smoother skin when it's exposed to the sun. If dark spots are a concern for you, this formula unifies your skin tone and even out your tan. Shop it here.
Hydrating and non-comedogenic: Shiseido Urban Environment UV Protection Cream SPF 40, $34
There's a reason this SPF has won awards; not only does it give high protection from the sun, but it also protects the skin from damaging environmental factors. It's also tested so it won't block your pores, plus it balances the over-production of sebum to control shine through the day. It applies super evenly and feels weightless under foundation – although it does leave a shiny finish (which you can't see under makeup), so you may prefer something more mattifying if you plan to wear it alone. Shop it here.
Priming and mattifying:
Supergoop 100% Mineral Smooth and Poreless Matte Screen, $38
Super lightweight, easy to blend, and with a very light universal tint, this SPF feels more like a silicone primer than an SPF. It literally glides on and keeps makeup looking fresh all day, plus it's very mattifying, so even the shiniest T-zones will be kept under control. Shop it here.
Supergoop Unseen Sunscreen, $32
This serum-like gel literally disappears into your skin and has no irritating fragrance or oil; it just feels super smooth and looks completely matte. Packed with antioxidants, shea butter, and rejuvenating meadowfoam, this is like a protecting hydrating primer for under makeup – and a little goes a long way. Shop it here.
Oily and acne-prone friendly: EltaMD UV Clear Broad-Spectrum SPF 46, $33
This cult high-protection sunscreen is a fav among dermatologists and is actually designed to calm and protect acne-prone skin. It contains skin-soothing niacinamide, an antioxidant with anti-inflammatory properties, lactic acid, to clear pores, and sodium hyaluronate aka hyaluronic acid, which plumps and hydrates skin. This formula is a little thicker than the others, so we recommend applying a little at a time and thoroughly rubbing it in, otherwise it can leave a slight white-cast. But the main thing is this does work well under makeup, just be sure not to use too much, and let this sit for around 10 minutes before applying your foundation. Shop it here­­.
The on-the-go SPF top-ups:
SPF 45 Powder: Supergoop 100% Mineral Invincible Setting Powder, $30
This portable setting powder is actually genius, plus it comes in four shades (translucent, fair, medium, and dark). Combining a loose powder and a brush, this clever tool not only helps you mattify shine through the day (completely mess-free), but it also contains SPF 50, so you can top up your sunscreen without disturbing your makeup. We also recommend using a cream sunblock as a base at the beginning of the day, as well as the powder, to ensure you're fully protected. You can also buy a refill of the powder for $20. Shop it here. 
SPF 50 Mist: Filorga UV-Bronze Mist SPF50+, $33
This high-performance mist contains a powerful antioxidant that's activated by the sun's rays to give your skin protection and hydration, all while softening premature signs of aging. Not only does it smell INCREDIBLE, but it also contains tan-enhancing polysaccharide combined with skin-plumping vitamin H. It's also water resistant, invisible, and completely compatible with makeup. The mini bottle is the perfect size to top up your makeup on the go, and the mist is so gentle you hardly even feel it. Shop it here.
SPF 50 Mist: Supergoop Defense Refresh Setting Mist, $8 to $28
Not only will this set your makeup flawlessly through the day (we've tested this in Dubai temperatures!), but it also contains an SPF 50, so you can top up your sun protection throughout the day without disturbing your makeup. We also love that you can buy this in different sizes. Try the mini version ($8), which fits perfectly in your handbag – if you love it as much as we do, you'll be on to the bigger bottle in no time. Shop them here.
Our Fav SPFs for Body:
If you're looking for amazing sun creams for your body, we're obsessed with how easily the Filorga UV-Bronze Body SPF50+ and Anti-Ageing Tan Accelerating Sun Oil SPF 30, rub into our bodies, and not to mention they smell divine. We also love the Nuxe collection of SPFs, especially their After Sun formula, which feels so good we use it as a regular moisturizer! Finally, check out Supergoop for some innovative sun protection formulas (like mousses that take seconds to apply), and the purse-friendly Soltan Once collection for long-lasting waterproof sunblock.
Let us know your fav SPFs or any questions you have about SPF in the comments below. Don't forget, you should reapply sunscreen every two hours when you're in the sun, and wear a hat whenever possible – it's the chicest way to ward off wrinkles!
And one last thing, this is what not wearing SPF can do to you:
This 69-year-old truck driver, which due to the nature of his job, meant that only one side of his face was consistently exposed to the sun, and it shows just how strong the impact of the sun can be. Make sure you read our ultimate guide to SPF so you can be safe in the sun this summer.