This Genius Hair Product Is Here To Save Your Hair And Your Time – We're Shook!
If there's one thing we hear from every celeb hairstylist and hair expert, it's 'avoid heat styling.' Heat styling is essentially a catalyst for causing split ends and dull, damaged hair that's prone to breaking. Naturally, when we heard cult haircare brand IGK was releasing a product that would cut hair drying time in half, and it didn't involve a blow dryer, we were desperate to get our hands on it. After all, we love to let our hair dry naturally – the problem is, not only does it take hella long, but our hair often frizzes up. Even when we do decide to use our blow dryer, sometimes the situ is just as bad – it's tricky!
The IGK No More Blow High-Speed Air Dry Spray, $29, is basically meant to be a blow dryer in a bottle – were we skeptical? Yes – it sounded too good to be true. Did we want it to work and be the next best thing for our hair? Hell, yes! So, of course, we diligently tried this among the many hair types at HB HQ to see if this might just be our new hairly grail…
What it is: An innovative spray that air-dries hair 46% faster by using an Advanced Flash Cooling Technology that's clinically proven to dry hair faster, while invisible starches absorb moisture and speed-up airdrying.
What it does: The lightweight formula keeps frizz and breakage in check, helps add volume, and if you have curly or coily hair, it actually helps to define the curls. The formula also provides UV protection, so it'll also help to prevent sun damage daily.
What we thought: We SO wanted this to work, and honestly? It really did! We actually couldn't believe how quickly it dried our hair, and it didn't just dry it, it made our hair look great. It's super easy to use too! Once you've washed your hair, just roughly towel dry it – we like to use an old soft T-shirt, which helps with breakage, especially if you have curly hair. Then, in sections, spray it into your hair from root to tip. It's really important that you coat all of your hair properly for it to work effectively.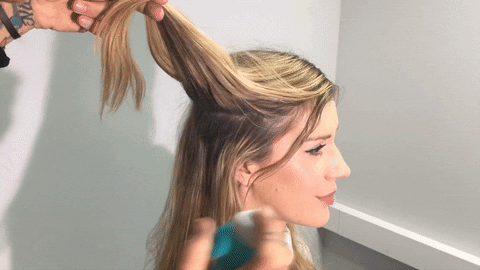 A couple of minutes later, when we're done spraying and scrunching (if you have curly hair, scrunching and twisting help your curls to form), we could literally see our hair was beginning to look drier.
On straight hair: Okay, so we know we shouldn't use heat every day, but often we like to blast our hair with a hairdryer for about 10 to 15 minutes to get rid of that soggy wet feeling, then it's another few hours before our hair is fully dry. With No More Blow, in less than an hour, our hair was virtually dry. We also noticed that our hair didn't get greasy as quickly, and it didn't make our hair look dull or dry either.
On curly hair: For curly hair, this was pretty revolutionary. When our colleague came in the next morning with super-defined curls, we instantly noticed how good her hair looked. Her thick curly hair took less than two hours to dry, and the result was insanely beautiful curls, no frizz, and bounce that looked like it was fresh from the salon.
The ingredients: Sadly, we didn't see any amazing hair oils anywhere on the ingredients, and this does contain quite a lot of alcohol. Although we didn't feel like this dried our hair out, we recommend using a hair oil alongside any styling products when your hair is 80% dry to ensure it stays hydrated.
The verdict: This little bottle of goodness not only dries your hair super quickly, but if you have curly hair, it basically styles it as well, and there's no sticky feeling or nasty residue. The only downside is at $29 for a can; this is certainly more expensive than air-drying or blow-drying at home. You also have to use plenty of product, and if you're using this a few times a week, it might only last a month. For short hair, this will probably last you a long time, but for thick, long hair you could get through a bottle more quickly. That said, we're still raving about it and still desperate to get our hands on another bottle. We're No More Blow converts!
Shop it here.