This Rubber Mask Made My Skin Glowy AF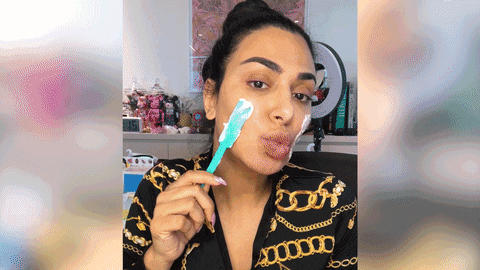 These freaky-looking rubber masks are like your next-gen sheet mask. It turns out slathering your face in a thick layer of rubber is the next step up from sheet masking (they've been an essential beauty ritual in Korean spas for years now), and will leave your skin looking glowier than ever. I was recently sent Dr. Jart's new Shake and Shot Rubber Masks, and I had to see how they would compare with my fav Tony Moly sheet masks.
You're probably wondering how the weird rubber formula actually works. Well, it's made of two elements, a gel or powder, and a liquid, and when combined they congeal and set. The powder/ gel is usually a blend of diatomaceous earth, calcium sulfates, vitamins and mineral powders, and alginate. When you add water, the ingredients react and rubberize. This means when you're making a rubber mask at home, you need to quickly mix the formula together before thickly applying it all over your face – this is one of those masks you can't save to use later!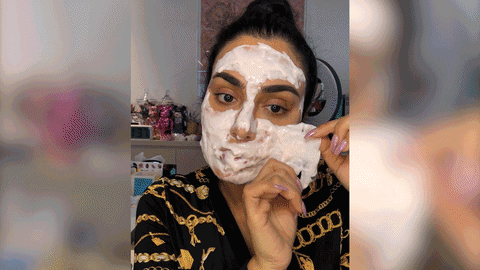 The difference? The rubber creates an evaporation barrier between your skin and the mask, and because it's able to mold to every curve and crevice, the ingredients are delivered into the skin more effectively, without the risk of evaporation. Unlike a peel-off mask, when these set, they can be easily removed, so there's no tugging on your skin – a core aspect of Korean beauty is to be gentle.
The Dr. Jart Shake and Shot Firming Mask:
What it is: A rubber mask mixing set packed with active ingredients that when combined, turn into a super hydrating rubber mask. There are four formulas: hydrating, smoothing, brightening, and firming.
How it works: Empty the two sachets into the cup and just put the lid on and shake it to combine the mix. Applying it with a spatula is easy, but you need to get a thick layer, so it's easier to peel off.
The result: It feels amazing on – it's like a cooling wrap for your face. When I removed the Firming mask, my skin felt really plump and hydrated, and looked super glowy – I can't even imagine how glowy the Hydration mask will make you look. I didn't notice a huge firming effect, but my skin looked much healthier.
My verdict: These are super fun for doing at home (or in my case, the office), but although the containers are very cute, they aren't very travel-friendly. I will definitely be using these again, but until they're easier to use and more travel-friendly, they're not going to be completely replacing my sheet masks anytime soon.
Shop the Dr. Jart Shake and Shot Masks, $12, here.
You can find other rubber-mask options (for between $6 to $9) at our fav new destination for Korean beauty, the GlowRecipe.com. Although you can also buy pre-made rubber sheet masks, these don't offer the same in-spa, Korean technique, and are not quite as effective. Let me know if you've tried mixing your own rubber mask in the comments below.