We Tried Morphe's 60-Shade Fluidity Foundation Collection – We're Shook AF
60 shades of foundation, 31 concealers, and 15 setting powders…
When Morphe revealed they were launching a 60-shade foundation collection, 31 shades of concealer, and 15 shades of setting powder, the beauty world did a collective squeal. 60 shades has to be a record shade collection for foundation, and we're very much here for it! Morphe is a brand that I really love; it's great value for money, good quality, and generally always performs really well. Obvs, I'm psyched to see if their new complexion collection lives up to the standard of their brushes and makeup palettes. Here's my full review of the entire collection.
Fluidity Full-Coverage Foundation, $18
What it is: A full coverage matte foundation that swears to last 24-hours. It claims to be sweatproof, transfer-resistant, and water-resistant. It comes in 60 shades, which are divided into five shade brackets: Rich, Deep, Tan, Medium, and Light, and each range covers multiple undertones (warm, cool, neutral, and olive).
The shades: Having 60 shades is absolutely amazing, and I love that there are so many shades in the deep end of the spectrum too. I found my shade easily as I'm used to shopping online(my shade is F3.30). However, as there are so many shades and undertones, it is a little tricky to know if you're not VERY experienced. I highly recommend going into a store to find your shade, as 60 shades is a little overwhelming to choose from.
What we liked: It's full coverage and super matte, but not in a thick or uncomfortable way; the texture is lightweight and blends like a dream! I think this makes an amazing everyday foundation because it's so easy to use; you don't have to spend ages blending it out, and it's full coverage, so you don't have to spend loads of time on concealer. It also sets matte, so if you don't have oily skin, you won't need to set it with powder. It lasted a really long time (I didn't test it for 24 hours, ew), although by the end of the day, I did notice that it settled into my pores, so I recommend using a primer first.
I love the name! I think it's very relevant right now, as it insinuates that this (and makeup in general) is a product for everyone, that anyone can wear. I've been trying to get the men in my life to wear makeup for ages! I also love that this is made in the USA, which makes me trust the quality.
What we didn't like: It moves a little bit into fine lines, but not any more than most foundations. It is a little on the drier side, so I do recommend using a hydrating mist or primer. I also noticed that it doesn't photograph as well as my fave foundations, but it does look really great on the skin, in person. I'm also not super keen on the smell, but it's not overpowering, and these things are totally personal.
It claims to be completely transfer-resistant, and although it is very long lasting, you may still get a little transfer if you touch it.
Posts You'll Love:
My tips: You don't have to set it, but if you have oily skin, I would recommend dusting your face with powder, especially on your T-zone. If you have dry skin like me, I definitely recommend using a hydrating, smoothing primer or a face oil first, and then setting it with a shimmering setting spray to get a dewier finish. If you're not a fan of a matte finish, then mix this with a pump of cream highlighter for an instant glow-up. If you have large pores like I do, I also recommend using a pore-blurring primer, as without one, it did make pores look a little more noticeable.
The verdict: For $18, you can't go wrong. It's easy to use, lasts a REALLY long time, it's good for beginners and experienced makeup users, and there is 100% a shade for you. This is definitely the start of something great for Morphe.
Fluidity Full-Coverage Concealer, $9
What it is: A full-coverage soft matte concealer that promises to be sweatproof, water-resistant and give 16-hour wear. The collection has 30 color shades and one white shade for you to get creative with.
What we liked: This has a nice creamy texture and is very full coverage, but without being cakey. It blends out beautifully with a brush and a sponge, and even with a sponge, the coverage remains really good. It did settle into fine lines by the end of the day, so I recommend baking this to keep it looking flawless from dusk til dawn, but if you don't have fine lines, a light dusting of powder should be fine to set it in place.
Posts You'll Love:
The verdict: This is probably the most full coverage concealer we have ever seen at this price point. If you need a concealer to cover dark circles, pigmentation or any marks, this will do it in seconds.
Filter Effect Finishing Powder, $12
What it is: A matte finishing powder that comes in 15 shades from fair to deep, plus one translucent shade.
What we liked: The pressed powder feels really silky and definitely helps lock in the foundation. I LOVE that there are 15 very diverse shades, and tbh, I was so glad there were only 15. The packaging makes this a great powder to keep stashed in your purse, as it comes with a mirror and a puff for touch-ups while you're on-the-go.
What we didn't like: This definitely helps set makeup, but if you have large pores like I do, it will emphasize them, so I recommend this mainly for mattifying shine throughout the day, or if you have tight pores – lucky you! I also noticed a little flashback, so this may be better for daytime.
The Fluidity collection also has two primers, both $12; the Equalizer and the Revitalizer. I wouldn't say either formula was revolutionary, but they both prepped skin nicely and helped with the longevity of the foundation. The Equalizer has a silicon texture and helps to smooth skin, so this is great if you have pores and fine lines. The Revitalizer is ideal if you have dry skin, and works especially well with the foundation, as it helps to hydrate the skin.
The final verdict on the Morphe Fluidity Collection: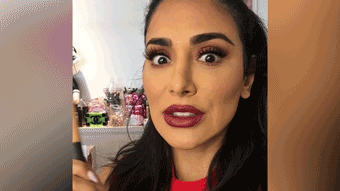 I definitely think this is a strong complexion collection and I'm so pleased to see such a HUGE shade range that truly covers both ends of the spectrum. My fave products are definitely the foundation and concealer; I think both are very easy to use and give a great finish, and for the price, I'm really impressed with the quality, finish, and the wear. This isn't my absolute fave foundation, but I think for many it will be. Everything is very matte, so my top tip is to hydrate, highlight, and set with a nourishing setting spray.
You can shop the full collection online at Morphe.com from January 17th.  Are you guys planning to try it? Let me know in the comments. X