Don't Go In The Sun Until You've Read This SPF Guide
Sunscreen is one of the most undervalued and underused skincare products on the shelves. We're not overexaggerating when we say literally every single dermatologist we've ever spoken to tells us it's the must-have skincare product. This is because the sun is one of the biggest contributors to skin damage; from wrinkles and collagen destruction to dark spots and pigmentation.
Since you guys are always asking us questions about SPF (because we mention it all the time), we're giving you guys the full lowdown from the senior dermatologist, Dr. Friedmann, from the Harley Street Dermatology Clinic. Here's everything you need to know:
How to find a sunscreen for your skin type
"It's important to select a sunscreen that blocks enough UV rays to protect your skin type. Make sure you choose one that not only has a high SPF (to protect against the burning UVB rays) but one that also has at least a 4-star UVA rating, preferably 5 stars. We know that UVA rays can cause skin cancer, and so sunscreens that protect against UVB only, are not good," Dr. Friedmann told us.
Sunscreen for deep skin tones
There's a common misconception that the deeper your skin tone, the less necessary SPF is, but this is NOT the case! Even if you have a deeper skin tone and don't often burn, your skin will still be damaged if it's left unprotected – the damage that we don't see is actually the most powerful and dangerous. Although Dr. Friedmann does say, "A lower SPF is okay in people with richer skin tones." However, we have to say, what's the harm in extra protection? We recommend a minimum of SPF 30 with a 4-star UVA rating to everyone, no matter how rich your complexion.
Sunscreen for fair skin tones
"I would usually recommend a factor 30 as a minimum, but it does depend on skin type. At least SPF 30 for pale skin, preferably SPF 50." Dr. Friedman explains that "Fair skin (i.e. northern European Caucasian skin) does not tan very much. Therefore, repeated exposure over time will not change the color but will cause damage and increase the risk of skin cancer. It is much more likely that skin cancer will develop in people with fair skin, so I would recommend not trying to tan through conventional measures (spray tan/fake tan tends to be the safest option). However, if being out in the sun is unavoidable, a high factor sunscreen is recommended at all times and to avoid burning consider covering up any exposed skin when in direct sunlight."
Sunscreen for sensitive skin
"Anyone with sensitive skin also needs to consider their sunscreen carefully – whether this is because they have irritant contact dermatitis (generally sensitive skin) or an allergic reaction to an ingredient in the sunscreen – such as a fragrance or chemical. Chemical sunscreens will, on the whole, be the main offenders for those with sensitive skin and should, therefore, be avoided: ingredients such as Oxybenzone and octinoxate. Mineral/natural/physical sunscreens (whatever you want to call them) are the sunscreens you should be using." Dr. Friedmann explains. Here's what that actually means…
Chemical VS Mineral Sunscreen
If you've ever been confused about the mineral vs chemical sunscreen debate, you're not alone. Dr. Friedmann has all the info:
Chemical sunscreen
"A chemical sunscreen contains ingredients that aren't natural and are chemical compounds such as Oxybenzone, Avobenzone, Octinoxate, Homosalate, Octisalate, and Octocrylene. How chemical sunscreens work is that the active ingredients absorb the UV rays and a chemical reaction takes place which disperses them."
Recommended chemical sunscreen: The Supergoop Unseen Sunscreen, $32, has a serum-like gel that disappears into your skin and has no irritating fragrance or oil, it just feels super smooth and looks completely matte.
Mineral sunscreen
"Just as the name implies, a mineral sunscreen contains minerals as their active ingredients – zinc oxide and titanium dioxide – that act as a physical barrier to exposed skin. It works by sitting on top of the skin, reflecting the sun's UV rays like a mirror before they can do any damage to the skin."
Recommended mineral sunscreen: EltaMD is an industry fave and has a huge collection of sunscreens for different skin types; check out their full collection for face and body here.
"Mineral and chemical sunblocks fundamentally work differently as chemical sunscreens are absorbed by the skin and are effective by dispersing the UV rays, while mineral sunscreens lay on top of the skin's surface and reflect the UV rays away from the body. Naturally, derived ingredients used in mineral sunscreens are kinder to the skin than chemical ones. When chemical sunscreens are absorbed into the skin those with sensitive skin may find they cause irritation. Also, because mineral sunscreens are not actually absorbed into the skin you will find these harder to rub in and they may leave a slight residue."
Our fave SPF: Thank You Farmer Sun Project Water Sun Cream SPF 50, $23 – with a combination of mineral and chemical sun blockers, this non-irritating, water-like formula blends into the skin seamlessly and provides a flawless, non-greasy base for makeup with no white cast. It's the ideal everyday sunscreen.
Posts You'll Love:
So which sunscreen should you use?
Mineral sunscreens are the ones that leave that annoying white cast after application. So, if you're wearing makeup, mineral sunscreen is still a good option, but if you have a richer skin tone or don't want to wear makeup, then you may want to either look for a tinted version or opt for a chemical SPF. Chemical sunscreens tend to feel and apply much more easily, and most of our fave SPFs are chemical. However, if you have sensitive skin or acne, a mineral sunscreen might be better suited to your skin type.
How do you tell if a sunscreen has expired? 
"There are two components in most sunscreens, chemical components and physical barriers. As stated previously, Zinc oxide, for example, is a physical barrier (hence the white appearance), and this keeps out the sunshine. In transparent sprays, it is predominantly chemicals that keep out the sunshine. These are likely to go off more quickly than the physical barriers, so it's best to stick to the expiration date as a good guide on when to replace your sunscreen." Dr. Friedmann says. This means you should look for the little symbol that tells you how many months you can use the product for from when it's first opened. If it says '12m' on the bottle and it's been open more than 12 months, then it's past the date you should use it and it should be thrown.
Another important thing to consider is storage: When sunbathing, try to keep sunblock in a cool, dark bag, as the heat can damage the efficacy of your sunscreen if left in the heat.
How often should you apply sunscreen?  
Dr. Friedmann says that "I recommend at least SPF 30 reapplied every two hours as a minimum, as we tend to apply it much more sparingly than is done during lab testing, so an SPF 30 will offer you only SPF 15 in most cases." Also, make sure you apply it 20 minutes before you enter the sun as it takes roughly 20 minutes to activate. It's also important to remember that it should be the last step in your skincare regime before you start applying makeup.
"Dermatologists will always advise using a high factor SPF such as SPF 50 and UVA blockers. You may be able to reduce your factor a little towards the end of the holiday but always reapply often (especially after swimming) and moisturize regularly." 
Do you need to wear sunscreen in the winter?
Dr. Friedmann assures us during the winter months, "It isn't necessary to wear sunscreen every day. In the winter months as the earth moves on its axis, the days are shorter, there's more cloud cover, and the sun isn't as powerful. The sun's rays are coming at an oblique angle, so the intensity of the sun is less, and hence it's much colder in the winter. In summer, it's worth wearing sunscreen even if it's cloudy; although a lot of the UV will still be absorbed by the clouds, one can still burn." We still say SPF 20 every day in winter!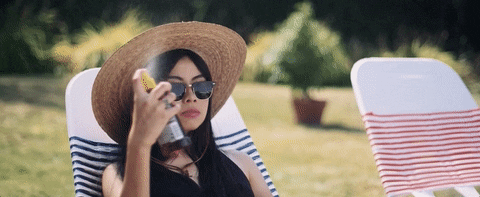 Can sunscreens harm your skin?  
"There has been a suggestion that sunscreens can cause harm but the evidence for this is very limited. It's best to use common sense and follow your skin type. Perfume is an obvious ingredient to try and avoid. There are other chemicals in sunscreen thought to be potentially harmful such as oxybenzone, avobenzone, octisalate, octocrylene, homosalate, and octinoxate.  These chemicals can enter the bloodstream in small amounts after application of sunscreens, but there is little evidence to date that they cause harm. The fact that sunscreens have been around for many decades and no harm has been reported from their use amongst millions of people is reassuring, and the benefit in preventing skin cancer is immeasurable" notes Dr. Friedmann.
To find out more about the power of sunscreen and SPF myths, read this.