Why You Have To Try This Tightening Eye Mask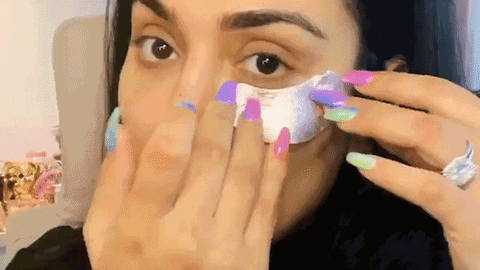 I've never been one of those people that gets into bed at 10 pm and sleeps for 8 hours. I sleep 5 hours a night, and I'm good to go. But I'm also someone who easily gets puffy eyes and dark circles, so I'm always searching for the best remedies to get rid of them FAST! Anyone who knows me knows that I love a good cucumber DIY to soothe and depuff, but when I'm in a hurry I always turn to an eye make to brighten my under eyes and help smooth out my smile lines. My latest obsession is the Wonder Baggage Claim Rose Gold Eye Masks, $25 (for six). Here's why:
What it is: Six individually packaged eye masks ($4 each). Each eye mask has three layers to intensify performance: The rose gold foil helps retain heat and prevent serum evaporation, the middle layer is elastic to keep it in place, and the third cellulose layer sits next to the skin and helps deliver key ingredients. They also look cute on, which is a nice bonus!
What it does: Hyaluronic acid (our fave hydrating ingredient) intensely hydrates and gives a plumping effect, aloe leaf extract soothes, calendula extract provide anti-inflammatory properties, while Camu Camu extract from Peru contains brightening vitamin C.
What we liked: This definitely made me look more awake, and I feel like it helped open up my eyes. I had a little bit of tingling on first application, and it felt super cooling and soothing while on. I really like how thin these are, as most eye masks are thick and tend to feel quite heavy and they slip about, but these really stay in place and don't move about too much. These are also quite wide for eye masks, and where they also reached my cheeks, it helped tighten up the pores there. My tip is to put them in the fridge for 20 minutes before you want to use them, for extra depuffing-power!
The results: After 15 minutes of wearing them, I honestly saw a big difference! There was a lot of hydration and tightening, and my eyes looked refreshed and awake. I used mine while I did my eye makeup before my foundation, and it really helped smooth out fine lines around my eyes, which made a great base for makeup.
The verdict: At around $4 a mask, these are a good price point and a great addition to your beauty kit for big events.
Shop them here.