Release Your Inner Animal With Our Fiercest Palettes Yet!
Hey my loves! I am so psyched to introduce you guys to our sexy AF, WILD Obsessions Palettes! When we started working on this collection, I was really inspired by these beautiful animals, but it was more than just the colors and prints I was drawn to. I wanted to focus on powerful, bold, and fearless animals that are a source of inspiration during these wild times: the Python, Jaguar, Chameleon, and Tiger. So, we created the fiercest palettes inspired by these dope animals, with vivid pops of color, dreamy textures, and subtle transition shades that empower you to express your wild side or tame your inner feline.
Our four new limited edition Wild Obsessions Palettes are all SO beautiful and fun, and we really went all out to create playful packaging, luxe formulas, and cohesive yet creative color selections for you to play with. We packed these with insane shimmers, stunning new 3D duo-chrome finishes, and creamy mattes that make a super smooth base for any look.
These four animals, the Python, Jaguar, Chameleon and Tiger, are not only magnificent to look at but absolute icons in the animal world! Check everything you need to know about the shades and the formulas:
Meet the Wild Obsessions Python Palette
The python is such a stunning animal, bold, self-assured and known to transition and transform over its lifetime, shedding its skin when it needs to grow. So, of course, we wanted to channel that fierce python energy with a python color-inspired palette that lets you get your creative juices flowing. The palette is packed with metamorphic gold and green duo-chromes, mixed earthy tone bases, and a dash of exotic blue-greens that flash wildly as you wear them – yasssss!!
Meet the Wild Obsessions Jaguar Palette
I am absolutely obsessed with this animal! The jaguar is the ultimate symbol of power, and they're so sleek, mysterious and sexy, and I really got inspired by their stunning yet low-key print. Like the animal, our Jaguar palette commands attention with its smoky color scheme. A mix of blacks, greys, bronzey and purple hues in different finishes allow you to create dramatic looks that will make you feel fierce AF!
Meet the Wild Obsessions Chameleon Palette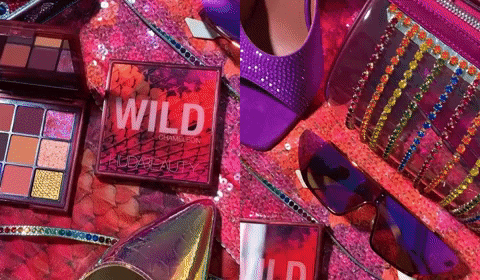 The chameleon is such a genius animal, unlike any other! Cunningly intuitive, the chameleon knows when to change its colors, when to blend in, and when to stand out. We channeled this concept into our Wild Chameleon palette, which is made up of contradictory yet complementary pops of vivid color, including vibrant purples, glamorous golds and earthy oranges, as well as more neutral shades, giving you the choice to stand out and be seen, or stay beautifully subtle in the shadows.
Meet the Wild Obsessions Tiger Palette
Who isn't obsessed with tigers?! They're stunning, distinctive, and courageous animals. Tigers have unique instincts, an abundance of strength, willpower and conviction, and don't get us started on how incredible their fur print is! For our Wild Tiger palette, we created a sumptuous champagne gold palette that includes a roar of animalistic, taupe neutrals and a stroke of feline terracotta shades, allowing you to be beautifully brave with your look!