The 10 Best Beauty Products I Tried In 2019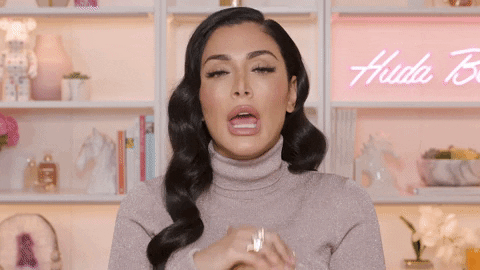 Ever since I started my blog 10 years ago, my job has basically been to test beauty products! I have literally tried thousands of products, and during that time my knowledge of makeup and skincare products has become like an encyclopedia. In 2019, I've tried hundreds of new beauty products, but these are the 10 beauty products that really stood out for me.
This super lightweight serum by K-beauty King, Dr. Jart, is one of my go-tos at the moment. I love how it plumps and firms my skin. The formula is packed with peptides and borage flower extract that help to replenish and recharge the skin. I love the silky texture of this, the brightening effect it gives, and how well it layers with other products.
You guys know I love me a good full-coverage concealer, and this $5 formula from e.l.f. gives ahhhmazing coverage! The formula (which comes in 18 shades from fair to rich) feels really creamy and blends out beautifully with a damp makeup sponge – be warned a little goes a long way, so you really don't need to pile this on. I set mine under the eyes with a quick two-minute bake to ensure there's no creasing and it stays in place all day without fading. Read our full review here
I'm obsessed with brow products and the Brow Pro Pencil from new brand Brow Queen (created by beauty expert Nilam Holmes) is a new fave. The formula is super creamy so it glides on to the skin easily, which makes it ideal for creating tiny hair-like strokes at the front of your brow. The formula wears really well without fading and it also comes with a spoolie at the other end, which for me is an essential for any brow pencil.
To think this is Victoria Beckham's first makeup collection is pretty insane – everything from the packaging and the shades to the quality of the formulas has been executed so beautifully. One of my fave pieces from her new makeup collection were these rich and creamy metallic eyeshadows that give a super high-shine finish.
The pigment really pops and picks up easily with your finger or a densely-packed brush, giving a high-impact finish with subtle shimmers that don't look glittery but diffuse the light beautifully. Read my full review of the collection here.
I'm so impressed with this hair loss treatment by Aveda that helps to make your hair look and feel thicker and fuller. The formula uses an innovative blend of tangerine peel and Japanese knotweed to help support hair's natural keratin while a patented bio-fermented and Ayurvedic herb blend with ginseng and certified organic turmeric invigorate the scalp. The formula is really easy to use and apply and has already made a big difference to the vitality of my hair since I started using it a few months ago.
This drugstore foundation really impressed me! I love that it has SPF 50 but doesn't give flashback, and the formula feels super lightweight but gives great coverage without looking cakey. The formula wears well through the day – I set mine with powder – and it doesn't dry out or irritate my skin. For me, it makes a great summertime foundation!
Okay, I know I created this product with my team, but it really is so unique and such a huge game-changer that I couldn't not include it. I love how it smooths the skin and gives a stunning glow – I use it whenever I wear skirts and all over my chest, shoulders, and arms when I have an event or if I'm going to the pool (it's water-resistant and transfer-proof). It also makes the ultimate primer for foundation as it blurs your skin, gives it an insane glow, and grips your makeup in place all day. I literally use this every time I do my makeup!
If you hadn't noticed, one thing that's really important to me is products that last a long time, which is why tons of Huda Beauty products are water-resistant. This brow pomade by Maybelline has incredible staying power, and once it's on, it's on – the formula is waterproof, smudge-proof, transfer-proof, easily buildable, and will last up to 24 hours.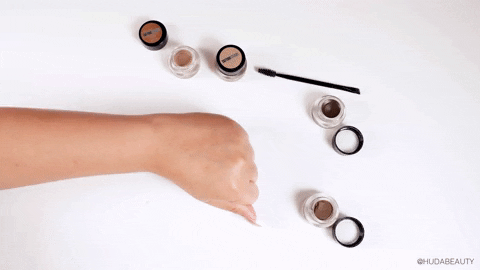 The formula is waxy enough to sculpt the brow, and wet enough to apply easily and blend before it sets for the day. The pomade is accompanied by a double-ended tool – a spoolie to groom and blend, and an angled brush to fill and sculpt your brows with. It also comes in eight shades that range from light blonde to a deep brownish/ black shade.
I'm not usually one for a light-coverage foundation, but this foundation is actually so gorgeous, and if you like the no-makeup makeup look, you should definitely try this out. The lightweight formula gives a super dewy, glowy finish while evening out skin tone and adding major hydration. I love to use this at the weekend when I just want to go with a simple makeup look that looks natural and gorgeous.
This is definitely the most boujee hand cream I've ever used, but I really think this is worth it! Not only does this feel amazing when you rub it in (and it doesn't leave a sticky or greasy feeling that so many hand creams do), but it also gives amazing results with continued use. It helps to brighten my hands and keep the skin here looking and feeling more supple – as we all know, the hands are one of the first places to show signs of aging!
This isn't new but I can't help adding it in because I love this formula so much – I can literally tell a difference in my hair and scalp if I stop using it. The thing is, healthy hair starts at the scalp (and with a good diet – of course!), this serum is packed with plant-based extracts rich in vitamins, proteins, and minerals that help strengthen the hair root. I also love that the water-like formula doesn't leave hair looking greasy, so you can use this every day. I like to apply mine in the evening before bed, focusing on thinner areas of my hair, and gently massage in.
Which new products did you try and fall in love with in 2019? Let me know in the comments below – I want to try them!