5 Things You Should Never Do To Your Fro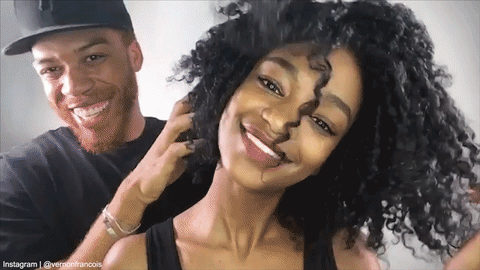 If there's anyone who should be giving advice about how to look after natural hair, it's award-winning stylist Vernon Francois. Just some of his famous clientele include Solange Knowles – yes, that Evening Standard cover – Lupita Nyong'o, Serena Williams, Willow Smith, and Kerry Washington. And it comes as no surprise, considering he's been doing his hair since he was 8 (he wasn't a fan of his mum's styling). Since finding his passion for hair styling and care, Vernon has gone on to win countless styling awards, plus worked on covers for Vogue, Essence, Harper's Bazaar and tons more, he's basically the ultimate natural hair guru. His Instagram account is filled with genius hair hacks, tips, and some hilarious videos you really should see. So if you want hair as gorgeous and flawless as his celeb clients, here's Vernon's five tips for taking care of your afro hair:
1. I never cut kinky, coily or curly hair when it's wet. Kinky hair can shrink up to seventy-five percent when it's dry, so dry-cutting avoids any surprises; you can realistically monitor how the end-result is going to look as you go. There's no hard and fast rule for when to get a cut, but you'll know one's due when your ends tangle together easily.
2. Don't dry hair with a bath towel, because this pulls on your hair and makes it more likely to break.  Kinky and coily hair is usually delicate and tends to break easily, plus hair is most fragile when it's wet.  It's much kinder to gently squeeze dry using a microfibre towel.
3. Never forget that your hair needs plenty of moisture to look and feel soft and healthy. This doesn't mean coating it with thick heavy creams, in fact, quite the opposite. I designed my lightweight spray-on rinse-out conditioners and moisture sprays with this in mind – goodness gets right into the strands, hair is never weighed down, it moves and bounces.
If you don't fancy trying Vernon's genius iron hack in a pinch, you can make a DIY moisture mist by combining 2 tbsp of aloe vera juice, 1 tbsp of apricot oil/ castor oil, and 1 tsp of glycerin with half a cup of water. Put the mix in a spray bottle, shake well, and spritz into your hair.
4. Never go to bed without preparing your hair first. Cotton pillowcases absorb moisture from hair, dehydrating strands making them likely to tangle and break. Silk is the best material for wearing close to your hair because it keeps hair in great condition, so always sleep with hair covered in a silk bonnet, scarf or on a silk pillowcase. Styling hair first in Bantu knots (check out this tutorial) or braids is useful for keeping hair detangled and to maintain a nice curl pattern.
5. NEVER think that your hair isn't good enough or that it needs to be changed. The most important thing with having a positive relationship with your hair, no matter the texture, is understanding what can be achieved with it, which may mean re-setting your expectations. Confidence, the right tools, guidance, and discipline are essential ingredients.
Stay tuned on Vernon's IG for all his styling tips and check out his amazing new hair care collection on Sephora.com here.