My Easy Tips For Makeup On The Go (Or In The Elevator!)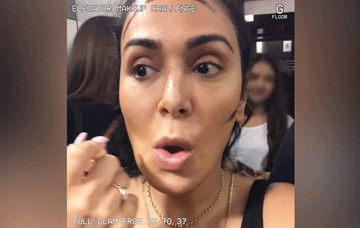 If you're anything like me, you're constantly on the go – if I'm not running HB HQ, I'm at a work event or I'm trying to spend some much-needed downtime with my family. And because my regular day is hectic AF, somedays I just don't have the time to do my full glam in the comfort of my own home. Just like you guys, I've done my makeup in the car, at my desk (most days), even in the elevator, which I've got to admit, was slightly awkward! So, I thought I'd let you guys in on my ride or die products for when I'm doing my makeup on the go. By using these five products to their maximum capabilities, you can pretty much do your whole face in less than ten minutes with minimum fuss.
Never underestimate the power of a beauty blender
A makeup sponge has to be the most diverse beauty tool! I use it to apply my foundation, to blend in my contour or concealer, and if you ever go overboard on the blush, you can just dab your damp beauty blender over it to erase and blend the excess. I even use it to apply my baking powder as it picks up the product and packs it on so quickly – yes, I have been known to bake in the car! My fav makeup sponge (Real Techniques Miracle Complexion Sponge, $7) also comes with a super handy travel case, so it won't get dirty floating around your makeup bag.
Find a good brush
Without the right beauty tools your makeup will never be flawless, so finding a good brush is essential, plus it's one of the most versatile items in your makeup bag. A good dense brush can be used for literally any powder, from bronzer to baking, to just a setting powder to seal in your look. Even if it's a large fluffy brush you can mold it for different purposes. If you just grab a curby grip you can turn it into a fan brush for a light touch of highlighter or even use it to do your eyeshadow. Like I said, a good brush = essential.
Highlight everywhere  
A good highlighter palette can be used on so much more than just your cheekbones. It's basically a quick ticket to looking glowy AF and I live for it. From my Cupid's bow and my nose, to underneath the brows. It's also an amazing eyeshadow palette; just use the lightest color as a base, intensify the crease with the mid shades then line the upper and lower lash line with the darkest shade. And never forget to add a little to indent of your eye – it seriously brightens your eye. Et voilà, you're a golden goddess.
Don't limit your liquid lipstick
Ever since we created our liquid matte, I never leave the house without one. I constantly have a couple in my bag for constant retouching. I love them because they genuinely do not budge for hours and they don't really bleed so you can apply them without a lip liner. They can also double up as a little blush if you ever need to add some color to your cheeks. I also use them on my lids for an intense, statement eye.
Remember brows are everything
Anyone who knows me knows how serious I am when it comes to my brows. They make such a difference; they frame your face, make your eyes look so much bigger, and genuinely shave years off. That's why I always have a good brow pencil handy, usually a twistable pencil as let's be real, who can ever find a sharper?! I also use it on my eyes, on the lower and upper lash line to add some more definition. If I'm majorly lacking products you can even use a little as your contour.
For more makeup tips, check out our post on how to do the "no makeup" makeup look.