15 Beauty Hacks That Will Save You Time, Effort & Money
Thanks to the ever-rising popularity of TikTok, beauty hacks are a hot topic of conversation RN. However, here at HB HQ we've been obsessed with discovering and sharing new beauty hacks since day one. So, we thought we'd share 15 of our fave money and time-saving hacks that have come to the rescue during quarantine. Because let's be real, self-isolation has forced us to be more creative with our budget and beauty routine than ever before. Whether you need help in the DIY manicure department or an affordable eye brightener, these hacks have you covered.
Beauty Hack #1: For Dewy, Glowing Skin
Aquaphor Healing Ointment, $7, is a fave among A-listers, and each celeb has their own unique way of using the formula. Zendaya's hack is our current fave: She uses it to create a dewy glow by layering the formula with a powder highlighter. Just dab the ointment onto your cheeks, Cupid's bow, and brow bone, and finish with a dusting of your fave highlighter. It's perfect for a Zoom date when you want to look glowy without looking overdone.
Beauty Hack #2: For A Golden Glow All Over
If self-tanning has become one of your fave self-care rituals in isolation, then you might have found that your back is proving difficult to reach by yourself. The hack to fix the issue? Slip your tanning mitt over a long body brush or hair brush then secure the mitt with a hair tie. It'll help you reach those awkward areas in seconds. For more tanning tips, check out our self-tanning guide.
Beauty Hack #3: For Fuller Lips
If you're looking for soft, plump lips, the answer could be in your bathroom! For an instant plumping effect, exfoliate your lips using your go-to scrub, then apply a thick layer of toothpaste. Leave it to sit on your lips for around 30 seconds – the mint will have a natural plumping effect – then wipe it off, et voila! Finish with some lip balm to hydrate the lip or for a fuller pout, lightly contour your lips.
Beauty Hack #4: For Lightweight  Coverage
Staying safe indoors is the perfect opportunity to cut back on your full-beat routine in favor of a more lightweight regimen that allows your skin time to detox. However, instead of splurging on a new lightweight formula, mix one drop of your regular foundation with a drop of moisturizer or for a dewier finish, face oil or serum, and apply as usual. It'll create a sheer layer of coverage with a healthy skin finish – we're obsessed!
Beauty Hack #5: For Clean Beauty Blenders
Want a quick and effortless way to clean your beauty blenders? Place them inside a sock, secure it with a hair tie and throw it into your laundry machine (with darks or by themselves). When you take them out they'll be as good as new.
Beauty Hack #6: For A Quick Root Touch Up
With salons closed our roots are worse than ever before. And while in the grand scheme of things it's NBD, if you're looking for a quick solution for turning lighter roots darker, grab your eyeshadow palette and a dense brush and get to work! Using a small stippling motion, dab your brush into an eyeshadow shade that matches the color you want your roots to be and gently press the formula onto your roots – it's an old school hairstyling hack but it works.
Another effective root cover-up is the L'Oreal Paris Magic Root Cover Up Gray Concealer Spray, $10, which Eva Longoria demonstrated on her IG story earlier this week – the results were insane!
Posts You'll Love:
Beauty hack #7: For Old, Flakey Mascara
To rejuvenate an old mascara, add a drop of saline solution or sweet almond oil to re-wet the formula. Be careful to rotate the wand to mix the formula, because if you pump the wand will push air back into the bottle and cause it to dry out further.
Beauty Hack #8: For Dark Circles
If your eye cream is running low or you're looking for an affordable alternative, sweet almond oil is the bomb. The oil is packed with vitamins that help encourage blood flow and minimize dilated blood vessels that make your under-eye appear darker. It also contains anti-inflammatory properties that'll help reduce any morning swelling. As always, try to find a good quality oil to enhance the benefits: look for a raw, cold-pressed, unrefined oil that's organic and hexane-free like this Organic Sweet Almond Oil, $15.
For more kitchen solutions to dark circles, check out our video below.
Beauty Hack #9: For Long-Lasting Makeup
J.Lo's MUA Scott Barnes revealed instead of using a setting spray to lock in J.Lo's signature glow, he uses an SPF mist: the Neutrogena Ultra Sheer Body Mist Sunscreen SPF 30, $8. He insists that you should "Forget the M.A.C. setting spray," and opt for this skin-protecting formula as it has a "gorgeous" finish. We're sold on any formula that's budget-friendly and offers SPF protection, AKA the skincare holy grail!
Beauty Hack #10: For A Fast Drying Manicure
With nail salons shut, we're relying on our own  mani skills to keep our nails looking cute and colorful. To speed up the drying process, once you've applied your polish and it's just dry, dip your nails into a bowl of ice water. This will help the polish dry faster and prevent smudging.
Beauty Hack #11: For A Quick & Easy At-Home Facial
At-home facials have been keeping our skin in check during isolation, and one of our favorites is an ice facial. While this may not sound enjoyable, it provides instant results: our skin looks brighter, our pores are tighter, and we feel and look more awake. Plus, it's so simple and cost-effective. All you have to do is fill a large bowl with ice and then add enough water so that all of the cubes are submerged. Then, scoop the water into your hands and splash it onto your face for 30 seconds. If you're not feeling that adventurous, here's another soothing DIY.
Ice Facial DIY: Whisk together 3 tablespoons of olive oil and 3 tablespoons of honey, then pour the mixture into an ice cube tray and freeze overnight. In the morning, massage the ice cubes onto your face until they dissolve and then wash your face with cool water – this will give intense hydration, toning, and nourishment. For more details on the benefits of an ice facial, read this.
Beauty Hack #12: For Skin Rejuvenation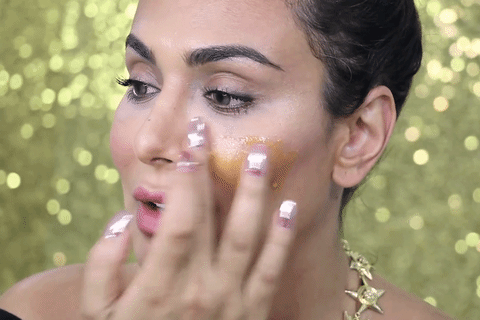 Just because botox is out of the question RN, that doesn't mean you can't try some other anti-aging solutions at home. Take matters into your own hands with easy, at-home anti-aging solutions like this DIY face mask.
DIY Yoghurt and Banana Botox Mask:

Mix together:
2tbsps of yogurt
1/2 mashed ripe banana
1 teaspoon of honey (not essential but super hydrating and has anti-inflammatory properties).
Leave the mix in the fridge to chill – the cool temperature will feel fresh and also help temporarily tighten your skin when it's applied. Spread the mix all over your face with a brush and let it sit for 15-20 minutes before rinsing with lukewarm water. Continue with your serums and moisturizers and you're good to go. We like to do this mask once a week.
Beauty Hack #13: For Sculpted Glam
This TikTok beauty hack is actually kinda genius! Instead of applying a contour powder or crème each morning, for a naturally sculpted look, apply fake tan where you'd usually contour. Although to avoid any tanning mishaps, use a gentle, gradual tanning agent to perfect your technique.
Beauty Hack #14: For Brows That Last
Feathered, laminated brows have taken over 2020, and if you're looking for an easy way to fake laminated brows, use Beyoncé's unorthodox beauty product. According to Beyoncé's MUA, Sir John, he shapes and sculpts her brows with an Elmer's Glue Stick. If you want to sample this hack for a lion brow finish, we'd recommend coating a spooley in glue rather than applying it directly to your skin to avoid irritation.
Alternatively, the Benefit Cosmetics 24-HR Brow Setter Shaping & Setting Gel, $24, is another great solution. The long-lasting formula keeps the hairs locked in place, without flaking or feeling like glue. Read our full review here.
Beauty Hack #15: For Bright Underyes
If isolation is wreaking havoc on your beauty sleep, this green tea DIY is here to save the day. So, stop spending money on eye masks and steep two green tea bags in boiling water. Leave them to cool or refrigerate them for 10 to 20 minutes. Squeeze out the excess water and apply the tea bags to closed eyes for 15 to 30 minutes. The antioxidant and anti-inflammatory properties of the green tea will work to brighten the eye and reduce inflammation.
Have you guys tried any of these hacks? Let us know your go-to beauty hacks in the comments below.