Exactly What You Shouldn't Do When You Fake Tan Your Face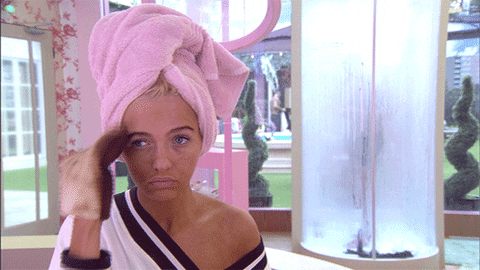 A golden glow really is the ultimate summer beauty look, team it with some beachy waves and you're basically a bond girl in the Bahamas. But, sometimes that beachy glow can be a lot harder to achieve than it looks. Or, perhaps you just don't really fancy exposing yourself to the dangers of sun damage (find out why here). This is where fake tan comes in to save the day, well almost – if we're being honest, fake tanning is a skill that can take time to perfect. It's a minefield of streaky legs and orange hands, and fake tanning the face is no exception – it may be even harder! To help you avoid looking like an Umpa Lumpa, we've compiled the ultimate list of dos and don'ts.
DOs:
Exfoliate before you tan: Exfoliating with a gentle oil-free scrub will help buff away any dead skin for the patch-free coverage.
Do an ice facial: By giving yourself a quick ice facial you'll close your pores and tighten your skin, which will create a smoother surface for application. Find out how to give yourself an ice facial here.
Buy a specific product: Finding a fake tan that's targeted specifically for your face isn't essential but it'll definitely help if you're a beginner! We love using St. Tropez's Self Tan Untinted Classic Bronzing Face Lotion, $30, in the evening and waking up looking flawless.
Mix in your moisturizer: If you're feeling a little nervous about fake tanning your face, try mixing a pea-sized amount of product with your moisturizer and apply to your face as normal. This will allow you to build up your tan daily, giving you a more natural look.
Protect your brows: Is there anything more horrifying than fake tanning your eyebrows? Seriously, when we spend so much time grooming them, having them turn orange is actually heartbreaking! To avoid it, apply a little moisturizer on to your brows before you tan.
Moisturize before: By moisturizing the morning of application you'll give your fake tan a more polished finish. This means you need to pay special attention to your eyes and your hairline, not just your T-zone.
DONT'S:
Don't forget your ears: Just use any leftover product on your hand or your mitt. Otherwise, your ears will be a total giveaway!
Don't stop at the hairline: If it's a tanning lotion continue to spread the product onto your hairline using a cotton bud, as there's nothing worse than a thick orange line framing your face.
Don't move: If you constantly move your face while fake tanning, the product will gravitate toward the natural lines of your face emphasizing your expression marks or wrinkles. This also means you shouldn't really drink or eat straight after, but if you do need a drink, use a straw!
Don't go heavy on your neck: As you wash and cleanse your face twice a day, your fake tan will fade a lot quicker compared to the fake tan on your body. This means you don't need anywhere near as much product on your neck, otherwise your neck will be a shade darker than your face. If you do use too much product, simply wipe your neck with a face wipe until it matches the shade of your face.
Don't forget to wash your hands: By washing your hands right before and straight after you tan it'll help you avoid having majorly orange hands – it's the ultimate fake tan giveaway!
If you don't fancy fake tanning and prefer to hit the beach, check out this post for our beach essentials.