What Concealer To Use And The Best Concealer For You
If you've ever wondered if you're using the right concealer, you're not the only one. The 10th most Googled beauty question this past year was "what color concealer to use" and considering cosmetics brands are releasing more hues in the spectrum than ever before (yay!), picking the correct color and coverage isn't just a grab and go situation anymore. So, we called in a few experts to help us narrow down the options and teach us a trick or two about applying this makeup must-have. Check out their advice before you check out at Sephora.
How to Match Your Concealer Color
Darker, lighter, in the middle – the list of questions about concealer shades goes on and on, but leave it to the pros to help you find your fit. "If you want your concealer to blend in with your foundation for a natural look, I recommend matching the concealer with your foundation," says glam master to stars like Khloe Kardashian and Shay Mitchell, Ash K Holm. "And if you want to use your concealer to highlight, I like to go one to two shades lighter than your foundation shade – highlighting will lift the face and reflect light," she adds.
As for undertones, Bodyography Professional Cosmetics creative director Lori Leib says a peach-based concealer works wonders to cover dark circles, while "anything with an olive tone will help to hide redness and blemishes."
Posts You'll Love:
How to Choose the Right Coverage 
A bit confused by all the different types out there? We hear you, which is why celebrity makeup artist Kira Nasrat clarified the differences for us. "Creamy concealers are going to give you a bit more coverage while liquid can give you lighter coverage," she explains. "I tend to use the liquid formula to even out a tone or slightly conceal and I like creams for more heavy duty concealing."  
How to Apply Concealer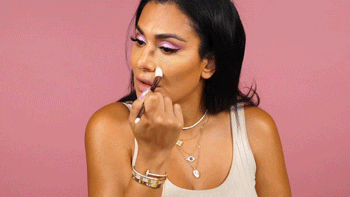 When it comes to applying concealer, Gemma Chan's MUA Quinn Murphy recommends using a stiff brush (try the Huda Beauty Conceal & Blend Dual Ended Complexion Brush, $25) to place the concealer where you want it, and blend with your finger or a sponge afterward. "The key for a natural look is to only apply the concealer where needed, like dark or red and leave the rest of your skin alone – doing the full '80s half moon under the eye looks too heavy," he says. Although, if you're a cake face like us (or very tired), you might prefer the brightening and lifting effect of this type of application – it's a personal choice, after all!
How to Fix Cakey Concealer
If you were a little too heavy-handed in your application, don't freak and wash your face, simply use Urban Decay global makeup artist Steve Kassajikian's trick to correct it. "I spray Urban Decay Quick Fix Hydra-Charged Complexion Prep Spray, $32, onto my brush or beauty sponge and blend or press the concealer to add hydration and smooth it out," he says. Not only will this save you time starting from scratch, but this primer reduces the appearance of fine lines and replaces lost moisture. Double bonus.
Check out all our concealer tips and tricks below:
Let us know what makeup application tips you'd like us to write about next.