EVERYTHING You Need To Know For Perfect Brows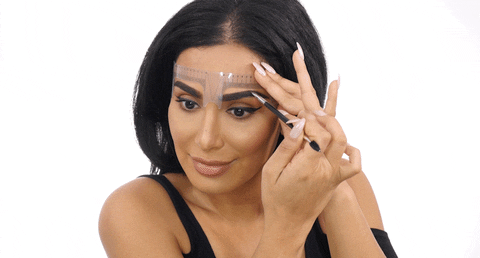 Being able to fill in your brows is a legitimate skill: it's essentially a mix of artistry and geometry. Because if you think about it, finding the perfect arch is all about the angles and proportions of your face shape, and when it comes to filling them in, getting the technique right is just as important. Good brows actually help balance your face and can make you look a lot younger. So, to help we've got all of the info on everything brow related: from your ideal shape, to grooming hacks, and of course, our go-to products. Here's our super easy 101 on how to let your brows live their best life:
Work out your brow shape:
The shape: Finding the correct brow shape is possibly one of the hardest aspects of brow grooming as it's about achieving the perfect harmony between your natural brow shape and your face shape. When it comes to the most flattering shape, you can use your brows to enhance your face shape. For example, if you have a round face, high angled brows can help create the illusion of a longer, slimmer face. For a breakdown of what brow shape will best suit the dimensions of your face, take a quick look at this post.
Don't try and create perfect twins: Just remember this brow mantra: your brows should be sisters, not twins. Unlike a lot of beauty rules, this one is not a myth! Often when you try and make sure they're a perfect match you can over tweeze them, and they'll end up looking too thin. So, try not to stress about making them identical, and remember it's only you that spends all day staring at them.
How to tweeze like a pro:
Never tweeze in direct sunlight: We know this sounds crazy, but if the lighting is too bright you can end up over-plucking your brows. The best lighting is in the morning after you've showered, as your pores will be more open so it'll be less painful.
Don't be afraid to pluck above the brow: This is a highly debated topic as many people believe you should never pluck above the brow. But, if there are any stray fine hairs, feel free to tidy them up.
Don't pluck grey hair: If you pluck a grey hair, your brows can end up looking patchy. Instead, reach for the brow gel, or you could consider getting your brows professionally tinted.
Know when not to tweeze: Sometimes when your brows are looking a little wild, the best solution is a trim rather than plucking them. When it comes to trimming, always use a spooley to brush the hair up straight and then only trim the longest hairs.
How to fill them in like a pro:
If you love a bold brow as much as us, here's our full routine:
Start with the arch: Generally, we like the start at the arch as this should be the darkest point of the brow.
Use two shades: To get the perfect gradient, it can help to use two brow shades: you don't want the same shade throughout your brows as this can make them look too harsh. So, use a lighter powder for the front of your brows and a darker color for the arch and tail.
Use concealer to correct: Once you've finished your brows, outline them using concealer to give them more definition. You can also drag some concealer through the inside edge of your brow to lighten it, perfecting the gradual gradient.
Don't neglect the spooley: With most brow kits or brow pencils, there will be a spooley attached. You should use this once you've finished your brows to remove any excess pigment and help blend the product. It's also a really good setting tool if you don't like using a gel; just spray it lightly with hairspray and brush through your brows.
Our top brow products: