How To Recreate My Classic Hollywood Glam Look
Hey my loves! As the Oscars are nearly here – and I've always been obsessed with them – I thought I'd do the ultimate, classic old Hollywood glam makeup tutorial for you guys. Even if you're not going to the Oscars, I love this look for events or parties. I'm going to show you guys how I do the full look, from the classic Hollywood curls and makeup to the beautiful body glow.
My Step-By-Step Guide For Recreating My Old Hollywood Glam Makeup Look:
Brows:
For Oscars glam, I'm doing a bold brow with a strong arch, inspired by the stunning Sophia Loren – she always rocks the bushy brows, and this will help balance a strong red lip.
Prep: Start by brushing the brows up to see the shape. Then brush through with a spoolie and a little soap – this is the best thing to hold brows in place.
Define: Fill in any sparse areas and define the shape with a brow pencil – I love the Benefit Precisely My Brow pencil, $24, and I use shade 3.5.
Posts You'll Love:
Eyes:
This look is all about the lip, so I'm doing a sexy, sultry eye that doesn't steal attention away from the lips.
Prep: I always like to conceal my lids with concealer to hide any pigmentation and create a clean canvas. I then set it with a nude powder shade.
Crease: Apply a brownish-mauve shade in the crease to define the shape of the eye. I'm using Secret from our New Nude Palette, $65.
Lids: Pat a gold shimmer shade (like Crave from the New Nude Palette) onto the lid – it doesn't need to be super defined.
Define: Use a warm brown shade – I'm mixing Raw and Teddy from the New Nude Palette – onto the outer corners to create a shadow.
Liner: As the lips and brows are the main focus, draw a very thin cat eye, focusing the drama at the outer third of your eye. I love how precise the Maneater Liquid Liner, $20, from Tarte is.
Lashes: Apply a little mascara to coat the lashes, and add a sexy, whispy pair of lashes (like our Huda Beauty Jaqueline Lash, $20) to add drama. I always think lashes are essential for events. If you struggle with applying lashes, check out our foolproof guide to applying false lashes here.
Lower lash line: Blend a warm-brown shade (like Secret from the New Nude Palette) on the lower lash line and add a deeper shade (I'm using Teddy) to the outer corner to create depth.
Posts You'll Love:
Skin:
The skin needs to be dewy and healthy, and completely flawless, which means a full-coverage foundation is essential.
Prime: I'm obsessed with the Tatcha The Silk Canvas Primer, $52, which really smooths out pores and locks makeup in place while also hydrating the skin.
Foundation: To get glowing and even tone, I'm mixing foundation (#FauxFilter Foundation, $40, in the shade Macchiato 440G) with a little Melted Strobe (a cream highlighter) from our Golden Sands Highlighter Palette, $45, and I'm using a flat, dense foundation brush to apply the mix all over my face.
Brighten: To conceal my dark circles, I like to brighten the undereye with a concealer a couple of shades lighter than my foundation. I always use our super full-coverage Overachiever Concealer, $30, and I like to tap and blend it into the skin with a brush.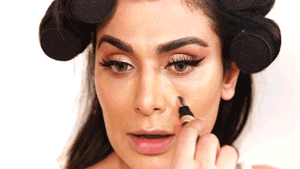 Set: Pick up a little loose setting powder on a damp sponge and press the powder under your eyes and across your face to set your foundation – I like to use Easy Bake Loose Powder, $45, in the shade Banana Bread.
Contour: For my forehead, I like to mix a little concealer with foundation. For a slightly softer contour, dust a little powder bronzer underneath your cheekbones and along your jawline.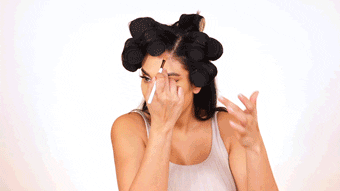 Glow: To get a gorgeous glow, I like to spray a blender with setting spray then dip it into a cream highlighter and dab it over cheekbones and the entire face to add a glow.
Nose Contour: I use Musk from our Desert Dusk Palette, $65 – it has a grey undertone that's perfect for adding shadow. Once contoured, soften it with a blending brush and use a powder to set.
Blush: Choose a shade that will complement your lip color. So if you're going for a pink lip, use a pink-toned blush. I'm doing a red lip, so I'm opting for a red-orangish blush shade.
Lips:
For beautiful, long-lasting lips, lip liner is essential. This will help ensure that your lipstick doesn't feather, and will ensure it lasts as long as possible.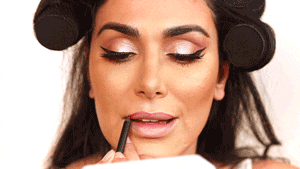 Line: Line the lips with Lip Contour, $19, in Heartbreaker – I like to slightly overline my lips, check out my lip lining technique here.
Fill: Apply a matching red lipstick. I like to use our Liquid Matte, $20 (I'm using shade Heartbreaker), as it's super long-lasting.

What do you guys think of this look? Let me know in the comments below.