The Craziest Eyebrow Extensions We've Ever Seen – In A Jar!
Who isn't obsessed with having full, beautifully groomed brows? We all want them – I definitely do. The unfortunate problem is our bushy brow dreams of today are often hard to achieve. Fortunately, there are tons of ways to get your brows looking gorgeous and full, and the latest product for full brows isn't a pencil or pomade, it's fake hair encapsulated in a gel formula! I actually tried sticking individual lash hairs to my brows last year to see how it looked, so I was psyched when I saw the Reallyyy 3D Eyebrow Extension Fiber. We reposted this crazy fake brow product on our IG in December, and I just had to try it for myself.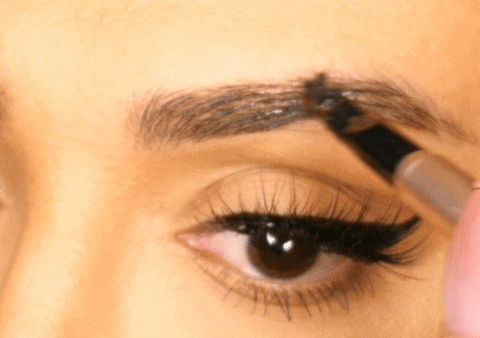 What it is: A clear, gel, glue-like formula containing hair-like fibers. The formula comes in a pot with a fine-tipped brush.
What it does: The gel can recreate the look of natural brow hairs to visibly fill in the brow.
First impressions: When I first opened the product, it looked kind of gunky, a bit like hair that you pull out of your sink. I tried applying the product straight to my brow, which really didn't work very well. You need to apply the product to the back of your hand, pick up as few hairs as you can on a small flat brush, and place them one by one in the areas you want to add volume. You could even use tweezers to get the best application, but this could be quite time-consuming.
What I didn't like: This product will take some practice to get it looking good, as it didn't look very natural at first. Once it sets, the hair placing can't be fixed, so you need to make sure you get the hairs in the right position straight away. I tried to clean up my brows with concealer after I applied the product, which didn't look good, as anywhere the glue is, it makes it look like your skin is almost peeling. The gel is tacky and sticky, and when you use it all over your brow it doesn't feel nice at all, and when it dries it just feels a bit like plaster, so I recommend to use this sparingly in the areas needed.
What I liked: I love that this is so innovative, and such a simple concept. It's really good for adding depth to the front of your brows, especially if you don't have many brow hairs there and you want to bring your brows further in (it makes your nose look slimmer!).
The verdict: This is a cool product and worth a try if you're looking to fill in your brows in the most natural way possible. I would suggest doing your brows as usual with a product that has a lot of staying power, and then sparingly applying this on top. Using just the gel only took me a few minutes to do my brows (it was quite a frustrating process), but I would definitely use it again at the front of my eyebrows after I've applied my usual product. If you have very sparse brows, I think microblading or simply filling in your brows using a fine brow pencil in hair-like strokes is a better option, as using this product alone would take a lot of time to make it look natural on sparse brows.
Price: $52
Available: TopGlamShop.com