Lip Tips And Hacks Everyone Should Know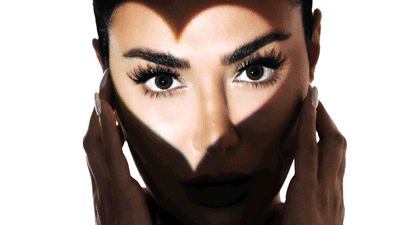 Lipstick is a makeup staple; that's indisputable. It literally has the power to change our mood and make us feel so. damn. powerful, which is just one of the many reasons we love lipstick. So naturally, after a lifelong love affair, we know how to #werk a lisptick. And, of course, we don't gatekeep, so today we're sharing our ride-or-die lipstick hacks to help prime, set, and plump your pout. We got you, hunny!
1. Always Prep Your Lips
Before you even begin to consider what lipstick to wear, you need to prep and prime your lips. To create a clean canvas for smooth application, exfoliate your lips using a gentle scrub. The WISHFUL Yo Glow Enzyme Scrub, $39, is our forever go-to as it removes dead skin easily without irritating the lips or leaving them feeling dry. However, we'd still recommend hydrating the lips post-scrub with a moisturizing lip balm like the Huda Beauty Silk Balm Hydra-Plumping Lip Balm, $21, or our drugstore fave, the Aquaphor Healing Ointment, $5. Let this marinade on your lips while you do your makeup, then blot your lips with a tissue to remove any excess formula before applying your chosen lip color.
2. For a Natural Yet Full Pout
View this post on Instagram
Don't pass on lipstick altogether if you're a no-makeup makeup girlie. Instead, use a lip liner in the same shade as your natural lip color (or one shade deeper), and trace the outer line to add definition and shape. Next, add a sexy shine with a clear gloss or reflective lip balm. One of our faves (which Kate Moss also loves btw) is the Laneige Lip Sleeping Mask Intense Hydration with Vitamin C, $24, as it makes your lips look so luscious and is next-level hydrating.
For a little more intensity, we also love using the Huda Beauty Power Bullet Cream Glow Lipstick, $25, in a nude-for-you shade, as it has a natural but glossy finish that leaves your lips looking juicy AF.
3. Create a Monochromatic Makeup Look
Monochromatic makeup (when you use the same shade family for your eyes, lips, and cheeks) is proving to be the ultimate "classic"  look. And for good reason – it instantly elevates your makeup game and allows you to create a polished, harmonious look.
The easiest way to create a monochromatic makeup look is by using the same product on your lips, cheeks, and eyes. For example, when creating a soft pink look, we use one of our Huda Beauty Power Bullet Matte Lipsticks, $25, from the Rose Collection. Start by dabbing the matte lipstick on the apples of your cheeks and blend outwards in a circular motion. Complete the monochromatic makeup look by applying the lipstick to your lips, et voila! Another great product for a quick monochromatic look is a multi-tasking makeup stick (check out our faves here). Simply swipe it across your lips, eyes, and cheeks, and you have a polished look in under five minutes flat.
4. Save Dry Lips
The next time your lips feel dry or rough, get your DIY kit out instead of reaching for a lip balm. This all-natural lip-soothing treatment will instantly hydrate and soften the lips. Plus, it tastes delicious too.
Start by taking a large cotton pad and cutting it to the shape of your lips. Dice a large piece of pineapple in a small bowl and submerge the cotton pad into the mixture. Apply half a teaspoon of Manuka honey directly onto your lips, and massage the lip in small circular motions. Next, place the soaked cotton pad on your lips for up to 10 minutes, so the enzymes can gently exfoliate your lips. Remove and enjoy the softest lips of your life.
Posts You'll Love:
5. Contour 101
Want to fake a fuller pout? The easiest solution is lip contour. Here's our step-by-step guide…
Step 1: Start by overlining your lips gradually, then draw a line in the center of the lip and two strokes on either side. Next, apply your matching lipstick of choice.
Step 2: Use a lighter shade in the center of your lips for a soft contour, and blend outwards with your fingers. A cream eyeshadow or a dab of concealer can also work if you don't have a lighter shade.
Step 3: Seal the look with a gloss or moisturizing lip balm, which will also make your lips appear fuller. Focus the gloss at the center of your lips for even more volume.
6. Use Concealer To Perfect Your Pout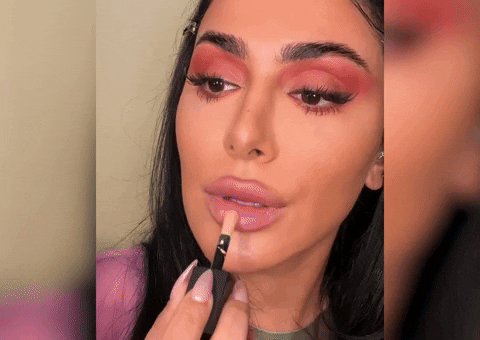 While we're on the topic, concealer is the multi-tasking hero of the makeup department and is a product we also love to use when executing a lipstick look. Concealer is the ultimate touch-up tool. Use a little concealer on a small brush to clean up the outer edges of your lipstick for a clean, crisp look.
7. Use a Hydrating Lip Plumper to Prep Lips
Thanks to TikTok, lip plumping is back on-trend, and we have the puuurfect product(s); depending on whether you prefer that icy cooling sensation or love when a gloss brings the heat. First up, the Huda Beauty Silk Balm Hydra-Plumping Lip Balm, $21. The formula is enriched with licorice extract and gives a soft plumping effect with zero sensations! Apply this to plump and hydrate while you do your makeup, then blot prior to lipstick application.
Posts You'll Love:
8. Never Forget to Highlight

It may sound basic, but strategically placed highlighter can transform your pout. Opt for a champagne-toned highlighter, which you can find in our Glow Obsessions Mini Face Palette, $29, then apply it along the Cupid's bow using a soft fluffy brush. For a faux-plumping effect, add a little to the center of your lower lip to make it appear fuller.
For a more exaggerated effect, take notes from @angelaluvspho and use a highlighter to line your pout. It delivers the most lustrous-looking pout. One word: WOW.
9. Create a DIY Lipstick
If you're ever caught off guard without your favorite lip color but have eyeshadow and lip balm to hand, this hack will save the day. In fact, variations of this lipstick technique have been around for some time – celeb MUA Mario Dedivanovic reportedly uses it on his A-list clientele, including Kim K.
First, hydrate the lip using a nourishing lip balm – it should be clear so that it doesn't affect the final color. Gently blot your lip balm with a tissue to remove any excess product. Your lips should feel moisturized but not wet. Next up, using a densely packed flat brush, pack a powdered eyeshadow of your choice onto the lip and blend the color. The more eyeshadow you apply, the longer it stays, so don't be afraid to layer up.
SHOP HUDA BEAUTY LIP PRODUCTS
10. Set Your Lips with Powder
It's no secret that we're baking lovers, but did you know you can bake and set your lipstick with translucent powder for a long-lasting look?
Simply apply your lipstick, and then using a densely packed flat brush or makeup sponge, pack the translucent powder onto your lips, leave it to set for 3 to 5 minutes, then dust off the remaining powder. Once that's complete, go in for one final layer of color by dabbing the lip with lipstick. You soften the lipstick's color slightly, but it works really well. We set our Cinco De Mayo Matte Power Bullet, $25, with Huda Beauty Easy Bake Powder, $35, and it stayed in place even after eating an apple, with minimal transfer.
11. Try 90s Brown Liner
View this post on Instagram
All we're sayin' is the supermodels of the 90s knew where it was at *claps for emphasis.* This is one of our all-time fave lip liner and lipstick combos. It gives this slightly edgy yet glam vibe, but it always makes your lips look really full, thanks to the subtle sheen. The exact combo we love is our eyeshadow tips that'll boost your makeup game.
Disclaimer: Every product we review has been independently selected and tested without bias by our editorial team. Although some brands allow affiliate links, we never take payment to review products, so we may earn a commission if you purchase a product by clicking on one of our links.