ALL My Makeup Tips For Round Eyes
When it comes to makeup, there's isn't one universal look or rule that applies to everyone, as we all have different features and facial dimensions. So a particular makeup look could be stunning on one person but look completely different  a total disaster on another. Take brows for example; they can completely transform your face, but if they don't complement your face shape, they can add years on! So, we've rounded up (no pun intended) all of our makeup tips for round eyes.
Round eyes are usually large and amazingly striking – just think of celebs like Mila Kunis or Katy Perry. The length and width of the eye tend to be equal, with the white of the eye highly visible. Here're all our tips for adding dimension and intensifying your eyes.
1. Always blend outwards
In order to balance out the width of round eyes, you want to add some length. Blend the eyeshadow outward towards the tail of your brow, always blending your eyeshadow from the outside towards the middle of the eye in a horizontal line, this will add dimension.
2. Work the shadow in a gradient
To create an elongated outer eye, start with the lightest shade at the tear duct, which will open up the eye. Then, gradually intensify the shadow until you reach the outer corner.
Posts You'll Love:
3. Keep the lower lash line subtle
With round eyes, you want to accentuate the top lash line and the outer corners, so it's best to keep the lower lash line simple. So always use a soft shadow that's a couple of shades lighter than the color on your lid and only apply to the outer third of your eye.
4. Highlight strategically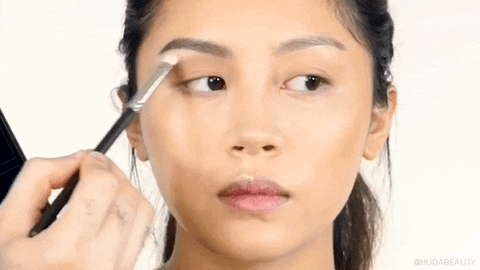 Highlight below the brow bone and in the inner corners of the eye. This will create the illusion of a larger eye, as the highlighter will draw out the diagonal points of the eye.
5. Know how to avoid a 'cute' eye
Round eyes are often labeled 'cute,' which is great if that's the look you're going for, but if you want something a little sexier than an intense, smokey eye is the easiest way to do that. Use a paler shade around the inner eye, and a darker shade for the outer corner, extending the shadow into an angular cat-eye. Then use a dark shadow to smoke out your lower lash line starting from the outer third.
6. Work a horizontal wing
Liner is our ultimate hero, and it's key to transforming round eyes. To create the illusion of added width, you need to draw focus to the outer corners. Start with your upper lash line, beginning 1/3 of the way into your eye, drawing your eyeliner into a long, horizontal flick.
7. Add drama with lashes
Long lashes will really enhance and draw attention to your eyes: look for long wispy lashes with more drama towards the outside wing, which will create a seductive cat-eye shape. The Huda Beauty Scarlett lashes, $24, are ideal! For every day, if you're sticking to mascara, pay particular attention to the outer lash and always curl your lashes before you add mascara to keep the eye from looking flat.
8. Arch your brows
A good pair of brows can really enhance any makeup look, so knowing what shape works for you is essential. For round eyes, if you add a slight arch with a long tail, you'll draw attention to the outer corners, which will complement your eye shape. If you don't have a natural arch, you could pluck from below to create one, but be careful not to go OTT. To pluck like a pro, read our brow grooming tips here.
Let us know if there are any makeup application tips you'd like help with, in the comments below.