This Genius Hair Product Will Fix Your Roots In Seconds - For Less Than $10!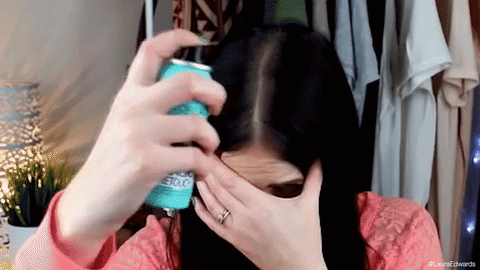 If we could afford to go to the salon every month to get our hair done, we would – who wouldn't? But let's be real, ain't nobody got time for that… or the money! So the reality is we're either wondering around with our roots showing or using the old eyeshadow hack to cover up our greys. Thankfully there's a genius way for you to stretch out your trips to the salon and it won't cost you a ton either, say hello to L'oreal's Magic Retouch Root Spray, $10. It's not just genius for hiding grey hairs and your roots either, if you have thinning hair or sparse patches, this does a really great job of filling in those areas and creating the illusion of thicker hair.
What it is: A retouching spray designed to cover grey hair and roots in seconds. There are five colors available, from light blonde to dark brown. It has a skinny nozzle for concentrated application (definitely helpful around the hairline) and the silicone-based formula has finely-milled pigments that grip the hair.
Who it's good for: If you've died your hair darker and need to get rid of your roots, this will do the job amazingly. BUT be warned, if you have naturally darker hair (and darker roots) with dyed blonde hair, even using the blonde shade of this won't turn your dark roots lighter. However, if you have blonde hair and white roots, using the blonde shades of Magic Retouch does do an amazing job of concealing the greys – we recommend testing them in the stores to get the closest match. This is also amazing at giving the illusion of fuller and thicker hair, as the pigment clings to any fine hairs.
What we liked: It's super easy to use, and even though there are only five shades, they were a good for most of us in the office. If you have cool blonde hair, these do have a warmer undertone, so test them first to see if they work with your tone. Using this is super easy, and we feel like it's a product everyone can appreciate – even if you don't have roots and greys, it does an amazing job of making your hair appear thicker when it's sprayed around your hairline. Once sprayed, we found this lasted until we washed our hair (it even lasted through our sweaty gym sessions)!
What we didn't like: The only thing to be cautious with is touching your hair, as if you're tying your hair up or touching your roots you may notice some transfer onto your fingers. We also noticed a dry shampoo-like texture after using this, but we didn't really mind it because it worked so well!
Tips for using Magic Retouch: Do what the directions say and keep it 10cm away from your roots, this will give you controlled yet even coverage. If you hold it too far away it won't be as effective, but if you spray it too close it could make your hair look a little patchy, especially on lighter hair. Start with one layer, and if you feel you need more coverage, wait for the first layer to dry (around 5 minutes) and give yourself a top-up.
Available: Target.com