This Is What You Need To Do For Sexy Smooth Skin In Winter
As much as we love getting cozy by the fire, there's no denying that winter is a recipe for disaster when it comes to your glow game. Not only is the outside air dry, but combine this with increased indoor heating and piping hot showers and you're much more likely to be left with dry, dull skin. To ensure this doesn't happen to you, we've curated the ultimate list of winter skincare tips, plus some helpful DIYs to keep your skin happy, healthy, and hella-glowy. Thank us later.
1. Humidify
It's winter, it's cold, and all we want is to be at home binging on You with the heating on full blast – preferably with some hot cocoa to hand. And, although this seems like the perfect solution to the winter weather, the dry air from heating can majorly dehydrate your skin, leaving you with chapped lips and dry skin. The answer to this dilemma is simple: a humidifier. A humidifier, especially in your bedroom, will put the moisture back into the air and back into your skin, boosting radiance and helping your skin to stay healthy. We're obsessed with the Neal's Yard Remedies Maya Diffuser, $82, as it also has low energy LED bulb to create soft, soothing mood lighting, which is great to use during meditation, aromatherapy treatments, or drifting off to sleep.
2. Keep Up With SPF
We know, it might seem silly to slap on sunscreen when you haven't seen the sun in what feels like forever, but just because you can't feel it, doesn't mean it's not there. Experts have confirmed that simply by wearing sunscreen daily, you can slow down signs of aging by 24%. Even wearing a foundation with SPF won't cut it; applying sunscreen with SPF 30 and 5-star UVA protection to your face and hands every morning is essential. And we've got you covered to find the perfect formula for you; whether you need sunscreen for oily skin, SPF to reapply over makeup, or an SPF formula with no white cast, there's something for everyone. On a budget? Check out our fave drugstore sunscreens here.
3. Incorporate Supplements Into Your Routine
Taking supplements to give your skin a little extra lift, especially during the winter months, is a pro tip all the A-listers swear by. Look out for vitamins E, C, and B2, which are full of antioxidants that encourage skin cell renewal and aid in the formation of collagen to keep your skin looking firm, supple, and radiant. Another supplement that works miracles is hyaluronic acid capsules as they help boost moisture levels in the skin (see why hyaluronic acid is awesome here).
4. Exfoliate Regularly
While many of us are aware of the importance of exfoliation, it's easy to fall into the trap of over-exfoliating or not doing it often enough. Between the cold air outside and the dry indoor heating, your skin can get majorly dehydrated, which can lead to a buildup of dead skin that can eventually lead to clogged pores. Exfoliating twice a week will help buff away this dead skin, thereby minimizing the likelihood of breakouts, and leaving more radiant even-toned skin in its place. Our fave exfoliator is the WISHFUL Yo Glow Enzyme Scrub, $39, which is enriched with AHAs, BHAs, and natural fruit enzymes that melt away dead skin while restoring uneven tone and texture. Plus, it's actually gentle enough for daily use making it the ultimate makeup prep. For more exfoliation tips, check out our exfoliation guide here.
Posts You'll Love:
5. Use Vaseline Everywhere!
There's nothing more irritating than cracked dry lips, which is why you'll never find us without a good lip balm in our purse. However, you don't need to limit your Vaseline or lip balm application to your lips. Jennifer Aniston uses Vaseline under her eyes at night to combat her crow's feet, while Hailey Bieber and Meghan Markle apply Aquaphor, $5, to their face for a dewy glow. You could even try your hand at slugging, a hack TikTok has revived over the past year, when you apply Vaseline to your skin instead of moisturizer to lock in hydration (check out our slugging guide here). You can even use your lip balm on the ends of your hair or to tame fly always if you need a little extra moisture.
2 Nourishing DIY's To Combat Dry Winter Skin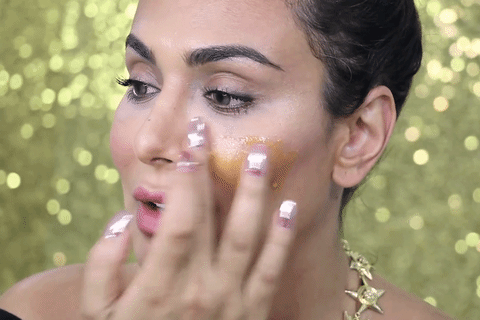 If you love a good ol' DIY as much as we do, here are two super quick masks using our fave miracle ingredients to combat your dry winter skin; plus, you probably already have them in your kitchen.
Honey: When your skin is starting to get a little dull, honey should be your go-to. Not only is it bursting with antioxidants that will replenish your skin, but it's also antibacterial. Simply apply a thin layer of raw honey directly onto your face and lips in circular motions, leave on your skin for 15 minutes and rinse off with warm water for radiant, gorgeous skin.
Avocado: When celebs like Adriana Lima and Jessica Biel swear by this $2 ingredient, you know it has to be good. Avocado is rich in minerals, nutrients, and vitamins that promote healthy skin. Check out our hydrating avocado DIY here.
For more skincare tips, our fave TikTok derm spills her secrets.
Disclaimer: Every product we review has been independently selected and tested without bias by our editorial team. We never take payment to review products, however, some brands allow affiliate links, so we may earn a commission if you purchase a product by clicking on one of our links.