The 10 Best Beauty Tools Actually Worth Your Money!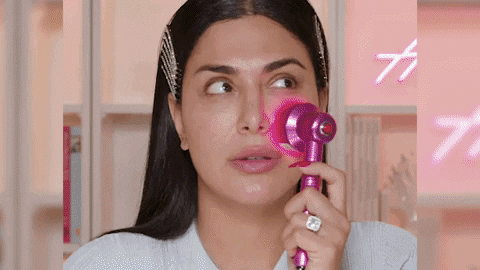 Beauty tools and devices have come a long way over the last few years, and if there's one thing we've learned, it's that they're one of the best ways to elevate your beauty routine. But finding the right beauty tool can be a challenge – there are a lot to choose from! Some are seriously game-changing and others just aren't worth your time or money.
While there are some seriously great budget options (clock number one below) we really do feel that sometimes opting for the more expensive technology makes all the difference. A great example is red light… yes, you can get a red light device on Amazon for $30, but the quality of the light will most likely not give you the results you're after. Remember, unlike your skincare products, a good tool can last you five years or more, so when considering the price, bear in mind that it's an investment and a tool you'll reap the rewards of for years to come.
So, from anti-aging tools and pimple-zappers to haircare tools and laser devices, here are 10 tried and tested products that are a worthwhile addition to any routine.
If pimples are a regular visitor of yours, then this handy light device will definitely come to your rescue. The light therapy device targets breakouts while improving skin tone and texture. Red light helps to increase collagen production to help reduce any existing scars or indentations while lessening the likelihood of future scarring while it's also anti-inflammatory, so it'll help tackle any swelling in the skin and reduce inflamed pimples. Blue light is also anti-bacterial and will target and destroy acne-bacteria that's lingering in the skin to make your pimple disappear faster. Read our full review here.
This tool uses small electronic vibrations to pass current through the skin to encourage collagen and elastin production. It might sound scary – the idea of having microcurrents run through your skin – but trust us when we say it doesn't hurt. What the Ziip definitely does do, is tighten and tone your skin to an incredible degree. The results can be seen when you've used the tool on one side of your face, and you can immediately see a lifted, I've-just-had-a-facial-effect!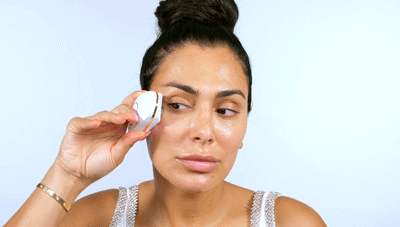 The tool itself can be used to treat melasma, hyperpigmentation, undereye bags and wrinkles. It's super easy to use, simply download the app, and choose your program to target different skin concerns. Find out more about the Ziip and see it in action here.
If you're not a fan of the au naturel look, then you've probably considered laser hair removal at some point in your life, whether for your legs, bikini, or armpits. Laser hair removal is expensive, but this at-home device, which we've tried and tested, is a much more affordable option for smoother skin. The Philips Lumea Prestige uses IPL (intense pulsed light) to emit a wavelength into the skin, which is absorbed by pigment (aka your hair). This turns into heat, which kills the 'growing cells' that make the hair. Effectively, this puts the follicle into a resting phase, which means that hair growth gradually declines.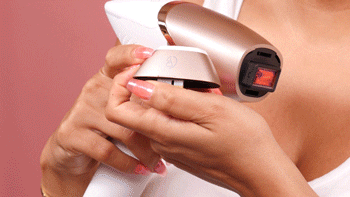 With continued use, you'll see a rapid decline in hair growth and instead of thick, dark hairs, over time any hairs that do grow back will be much thinner and barely noticeable. Check out our full experience using the Philips Lumea Prestige.
Gua Sha is a practice that involves moving a blunt, smooth instrument (a Gua Sha) along specific energy lines (in your face and neck) to remove toxins from your lymphatic system. This can help with everything from contouring and improving fine lines and tightening skin, to reducing acne, acne scars, pigmentation, dark circles, and puffiness. By moving the stone along certain paths you're able to release and clear toxic stagnant lymph and remove blockages that essentially hinder your skin from acting as it should.
There are some really expensive Gua Sha tools out there, but we have found this jade tool to do a great job. After one session you'll notice a lift and glow to your skin, and with increased use (a couple of sessions per week) you'll start to reap some of the rewards listed above. Check out more about how Gua Sha works and how to do it yourself with our expert's Gua Sha guide here.
This ceramic-coated brush straightens your hair without the traditional damage of flat irons, in just minutes. The Dafni brush has ceramic-coated bristles with seven times the surface area of traditional flat irons and is programmed to evenly distribute a constant 185°C heat – making it much less damaging to your hair – and it can be used on any hair type.
While the brush might not give the exact same results of straighteners, it definitely will smooth and straighten the hair in half the time, which for every day is a winner. Choose from the more affordable Dafni Classic Brush, $120 (they also have it in a gorgeous Rose Gold color, $185), or try their new Dafni Allure, $197, which is cordless and slightly quicker at straightening the hair due to the larger surface area of the brush.
6. For an At-Home Facial: Foreo UFO, $279
When your skin is in desperate need of hydration but lounging around with a sheet mask on for 20 minutes isn't an option, in comes the Foreo UFO, a life-saver for those who have no time but still take skincare seriously. The Foreo UFO is a smart mask device that effectively delivers the ingredients of a sheet mask into your skin in just 90 seconds. Literally, the results are insane (we use it nearly every day).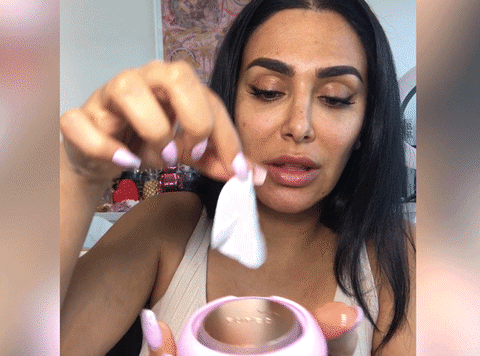 Just pop a mini mask on to the device and sync it up to your Foreo phone app, and with the help of healing light therapies and cryo and thermo-therapy (that's hot and cold technology to you and me), the UFO will deliver the mask serum deeper into your skin. Read our full review.

The device comes with a host of Korean-made masks, choose from hydrating, mattifying, brightening and more.
7. For Intense Skin Rejuvenation: Quasar MD Plus, $399
This red light device is based on technology developed by NASA to heal wounds! Red light increases energy in your skin, which triggers a series of reactions that result in new collagen forming. This means with time, you'll see an improvement in wrinkles, fine lines will be diminished, plus it's amazing for fading scars and post-inflammatory pigmentation, and evening skin tone.