5 Of The Best Brow Products, EVER!
It's no secret: the beauty world is obsessed with big, feathery brows and thank the gawds because super skinny brows were not our most flattering look. If you don't have naturally full brows, then don't worry, because there are SO many different products that'll help you fake it in minutes. Whether you love brows bushy or a sleek #InstaBrow, these are our all-time fave tried, tested and loved brow products.
Benefit Cosmetics has some of THE best brow products on the shelves! The Precisely, My Brow Eyebrow Pencil, $24, is our go-to brow pencil. The pencil is super fine, so it's easy to create hair-like strokes that mimic natural brows while the formula is the perfect mix of waxy and wet, so the application is extra smooth.
The formula is also waterproof and smudge-proof so your brows will stay slayin' for 12-hours. The twist-up mechanism also means the pencil remains sharp, which is a must! We also love the 12-shade range as there's a really great shade for everyone. To see the full shade range, read this.
Top tip: Choose two shades so you can add dimension to your brow. Use the deepest shade for the tale and mid-section of the brow, and a lighter shade for the front.
If you're someone who likes their makeup to stay in place all day long – TBH who doesn't? – you need this brow pomade in your life. The creamy pomade is waterproof, smudge-proof, transfer-proof, easily buildable, and will last up to 24 hours. We know it sounds too good to be true, but we tried it for ourselves and it's real talk.
The formula is waxy enough to sculpt the brow, and wet enough to apply easily and blend before it sets for the day. The pomade is accompanied by a double-ended tool – a spoolie to groom and blend, and an angled sculpting brush to fill in your brows with. It also comes in eight shades that range from light blonde to a deep brownish/ black shade.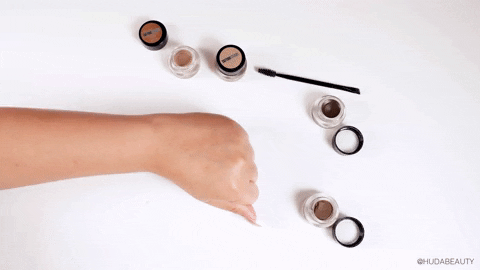 Top tip: If you want a natural look, dip the end of the angled brush into the formula and use it to create hair-like strokes. Then use the spoolie to blend out the formula. For filling in sparse areas, dip the brush in the pomade and turn the brush on its side for quick and even application. Read our full review here.
The Splash: Of course, another iconic brow pomade that we couldn't miss is the Anastasia Beverley Hill Dipbrow Pomade, $18. The long-lasting formula glides on easily and sets to a matte finish and comes in a slightly broader, 11-shade range. The iconic formula is loved by makeup artists globally, but we think the Maybelline pomade does a great job of mimicking the same effect as the ABH pomade for a much more affordable price.
The genius double-ended brow product has a wax-like pencil formula at one end and at the other, a super-fine felt tip with an ink stain. Whether you prefer a dramatic brow or a natural finish, this product gives you the freedom to decide. If you're into the bushy brow, the ink tip allows you to create tiny hair-like strokes within seconds – it's almost like your own microblading brow pen. The waxy pencil formula is ideal for filling in brows and adding definition.
The formula isn't 100% waterproof, but it's really long-lasting so you won't need to touch up through the day. The shade range is also super extensive – there are seven shades in total, which vary from deep to fair so you should be able to find a color that flatters your hair tone. For more deets, read our review here.
Top tip: Use the pencil to fill in the arch and tail of your brows and any sparse areas. Then use the ink pen to create the illusion of tiny hairs and add depth with brow-like strokes on the front and tail of the brow.
Posts You'll Love:
This brow gel may be small but it makes such a difference to your brow game. Without a good brow gel, our brows are unruly and wild, but this brow gel manages to tame, add volume and sculpt our brows in just a few swipes – and it lasts ALL day! The formula is infused with amazon-clay to hold your brows in place and pick up even the tiniest of brow hairs while the teeny tiny spoolie allows you to groom precisely.
There are a ton of different brow gels on the market, but of all the ones we've tried, we love how much color, definition and hold this adds to our brows. This brow gel comes in six shades to slay your brows.
Top tip: If you already have bushy brows, this is all you need to tame and define your brows. If you need to add volume, use a pomade or powder to fill in your brows first, then use the brow gel to add more depth and fix your hairs in place. Start by brushing the front section of your brow upwards and then angle it at the arch towards the hairline.
This $11 brow kit contains everything you need to pluck, shape, and style your brows. The complete kit contains a pigmented wax and powder (in two shades to add dimension to your brows), as well as two mini brushes AND a pair of mini tweezers. The wax is super-pigmented and will help tame unruly brows and hold them in place, while the powder is ideal for contouring the front of the brow as it's a slightly lighter shade than the wax and gives a softer finish.
We love the tools this kit comes with as well; there's a super-fine angled brush that helps you mimic hairs, plus a dense rounded brush that works for filling in softening edges. The brushes are angled and superfine helping you achieve precision. In four shades – light, medium, dark, and extra dark – there's definitely a shade that should work for you.
Top tip: A little goes a long way, especially with the wax – you only need to lightly dab your brush into the formula. We've been using the same palette for nearly a year and we're still not halfway through – we've hit pan on the wax, but the powder looks barely used! For more top tips, read this.
What's your fave brow product? Let us know in the comments below.