Why TikTokers Are Obsessing Over Orange Blush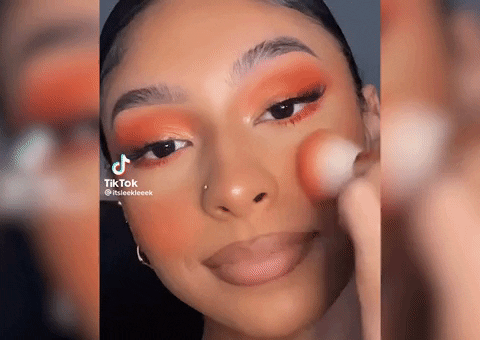 When it comes to our go-to beauty hub, yup, you guessed it right… It's TikTok. It constantly delivers bomb product recommendations, not to mention viral hacks. Most recently, TikTokers have been obsessing over orange blush. We know what you're thinking, orange blush?? Allow us to explain: She's a certified statement look. She's radiating sun-drenched fall energy, and she's universally flattering. Seriously, we can't get enough. Here's everything you need to know to slay the look, plus our fave product recommendations. 
The look: There's no denying orange blush is a #lewk. Obviously, no one naturally turns a beautiful sunset orange hue; orange blush is intentional. You're basically declaring to the world you're a beauty lover, and you're not afraid to experiment with bold new hues, and we love that energy.
The hype: A little history lesson: the trend actually blew up on the J-Beauty scene back in 2018, then trickled into K-Beauty. Now, it's officially infiltrated TikTok. The hashtag #orangeblush has over – drum-roll please – 11.8 million views on TikTok and counting. 
How to Get the Look
Before we get into the blush technique, it's important to find the right blush for your skin tone. The secret to finding the right complexion product ALWAYS lies in the undertone. (Check out how to figure out your undertone here) If you have cool undertones, look for an icy orange with blue undertones. Alternatively, if you have a warm undertone, look for a fiery copper or warm orange hue.
You'll notice that these TikTok beauties apply their blush from the apples of their cheeks all the way to the top of their cheekbones. Take note. This will help snatch and define the contours of your face while giving you that sunset glow.
Posts You'll Love:
Orange blush is also ideal for blush draping, one of our fave blush techniques RN, which involves applying blush along your cheekbones all the way to your temples, and around the hairline. To intensify the look, you can also opt for an orange eyeshadow on your lid.
5 Bomb Orange Blushes To Try
When a product goes viral on TikTok, there has to be a reason. In this case, it's the unique texture, which transforms from a cream to semi-matte powder upon application. The result? It literally melts into the skin – no streaks here, hunny! It's also infused with argan oil and vitamin E to hydrate the skin for a plump glow. Oh, and the sun-kissed orange hue? *Chefs kiss*
Delicate yet bold, this golden tangerine hue is everything you need to create the most stunning blush look. Honestly, we've tried it on all skin tones, and somehow it looks great on everyone. The silky-smooth texture is also worth praising – it applies and blends effortlessly in just one quick swoop. As it's a powder, you can also use it on your lids for a 30-second draped blush look. #LOVE. 
A long-lasting liquid blush that blends and builds beautifully for a soft, healthy flush of color. The creamy formula is also super pigmented, so be wary and build the color gradually. The orange blush shade 'Joy' is our new fave, plus, it's super flattering on all skin tones.
This limited edition cream blush delivers the most insane pop of color with a subtle gold shimmer. The texture is literally so creamy and delicious – it blends like a dream and feels almost weightless on the skin. We also love that it's easily buildable, so you can take it from a soft orange to an intense tangerine glow.
Achieve all your blush dreams with the Made By Mitchell Blursh Liquid Blush. The unique and innovative liquid-to-powder finish allows you to apply color under or over your makeup without messing up your makeup base. We also love to dab any excess formula onto our lips for a cute monochromatic lewk.
For more blush hacks, check out ombré blush.
Disclaimer: Every product we review has been independently selected and tested without bias by our editorial team. Although some brands allow affiliate links, we never take payment to review products, so we may earn a commission if you purchase a product by clicking on one of our links.