The Ultimate Makeup Guide For Beginners
If you've ever walked into Sephora or Ulta Beauty and felt slightly overwhelmed by the thousands of beauty products on offer, we totally get it. Even for certified beauty pros, it can be a little confusing trying to decide what products you need and how they're going to up your makeup game. So we decided it was time to take it back to basics, especially for makeup beginners, and explain the purpose of each product; from a foundation and concealer to a primer or contour. Here's the ultimate makeup guide for beginners:
Complexion Products 

Primer: A primer is designed to create an even base for makeup application. It'll help your makeup last longer and depending on the primer, it can help diminish the appearance of pores, balance redness, hydrate your skin, and even protect your skin from free radicals. Different primers also have different finishes, like matte or dewy, to cater to your skin type. Check out our guide to finding your perfect primer here. Primer should be applied after your skincare routine and SPF.
Foundation: Foundation is designed to smooth and even out your complexion. Coverage is the most important thing to consider; light coverage creates a thin veil and is ideal for those who love a natural look or want freckles to show through their makeup, while full-coverage foundation tends to have a thicker consistency and is ideal if you want a product that will conceal acne, pigmentation or acne scars. Find out our fave foundations here.
Concealer: Concealer can be used to brighten the undereye and conceal dark circles, cover blemishes or marks, and even help contour and snatch the face. Concealers usually come in a medium to full coverage formula and can have a matte, dewy or radiant finish. Check out our go-to concealers.
Contour: Contour is used to create shadows on the face, which will help to sculpt and chisel your features. Powder is quick and easy for beginners while liquid and crème formulas are great for adding a more natural contour. You can also layer products; so you could begin with a cream contour and finish with powder. Contour formulas tend to have a cool, brownish-greyish undertone to create the illusion of shadow. Typical areas you would contour are your cheekbones, nose, and forehead. Check out how to contour to flatter your face shape here.
Bronzer: Bronzer warms up the face and gives the illusion of a sunkissed glow. Although similar to contour, bronzer has warm undertones (sometimes orange) and it is generally more natural-looking. Dust bronzer across your cheekbones, bridge of your nose and forehead to fake a vacay in St. Tropez.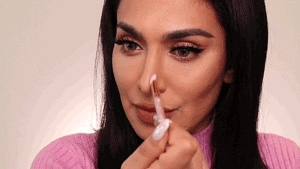 Highlighter: Highlighters are used to highlight the high points of the face, giving it a glowing, dewy finish. It is typically a shimmery formula that comes in either powder, cream or liquid form.
Setting Powder: Setting powder is either translucent (has no color) or it can be a skin-tone-colored powder that is applied on top of foundation to 'set' your makeup in place so that it doesn't look patchy throughout the day. Different formulas can be used to brighten, mattify, or control oil. Setting powder can also be used to 'bake' the under eyes, which gives a brightening finish and sets concealer so that it doesn't crease.
Blush: Blush is used to add color to your cheeks, for a sexy, flushed look. You can choose between cream, powder, and a liquid, although powder is often the easiest to use, and it should be applied after foundation and powder.
Brow Products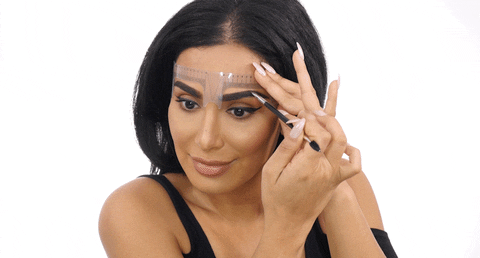 Brow Pencil: A brow pencil is ideal for mimicking real hairs and creating a natural brow. The finer the tip, the more precise you can be. Pencil formulas come in a classic pencil format or they can be made in a waxy formula that has a fine nib that makes application easier. Our absolute fave brow product is the double-ended Brow Blade by Urban Decay, which has an ink-nib for creating super precise hair strokes, and a fine-tipped wax formula.
Brow Powder: A brow powder is used to fill in your brows to give the appearance of fuller, thicker brows. It's great for filling in sparse areas, and giving a natural finish.
Brow Pomade: A pomade is a waxy formula (think of a dry wax mixed with powder) and gives a more defined, dramatic brow, while the formula also helps to keep the brows in place. It often comes in a small pot and should be applied with a small angled brush. Check out our fave new formula, the Maybelline TattooStudio Brow Pomade, $10.
Brow Gel: A brow gel is often used to keep unruly brows in place while some brow gels are tinted to add definition and thickness to your brows, like the Urban Decay Brow Endowed, $28.
Eye Makeup
Eyeshadow: An eyeshadow is a colored powder, which can be matte, shimmering (containing pearl pigments), metallic, glittery or duo-chrome (the color changes between two colors depending on the light shift). The most important thing to consider when buying a new eyeshadow is the pigment-payoff, which essentially means how bold the color appears. The more pigmented it is, the less product you'll need to use, but the more you'll need to blend.
Liquid eyeliner: A liquid liner delivers a highly pigmented liquid formula via a felt tip applicator or a small brush. The more precise the applicator and the more fluid the formula, the easier it is to apply. The Benefit Roller Liner, $22, is great for beginners – check out our full review.
Gel liner: A gel liner comes in a small pot and needs to be applied with a small angled brush. The creamy formula is typically longer wearing than a liquid liner, however, it can be more difficult to apply.
Pencil liner: This is a soft pencil and often comes in a ton of colors; from black (which is ideal for a smokey eye) to every color under the rainbow. Pencil liners don't typically give a lot of precision, but they're great for the lower lash line. We like to use a beige or white pencil liner on the waterline of the lower lashes to open up the eyes and make them appear bigger.
Mascara: Mascara will give the appearance of thicker, fuller lashes and you can opt for a normal or waterproof formula. Plastic wands will help to separate and lengthen the lashes and natural bristle brushes help to thicken and add more drama. Our LEGIT Lashes Double-Ended Mascara, $27, gives the most insane full, fluffy, and dramatic lash look.
Posts You'll Love:
Eyeshadow primer: An eyeshadow primer will create an even base for eyeshadow application and will help the color stay in place all day long.
Liquid eyeshadow: A liquid eyeshadow is a super long-wearing eyeshadow that applies like a liquid but sets to a powder finish. Liquid Shadows tend to last longer and can even be water-resistant.
Lip Products
Liquid lipstick: A liquid formula often comes in a tube and is applied with a doe-foot applicator, which makes lining and shaping the lips extra easy. The formula often dries within a minute or two and sets to a matte finish. Liquid lipsticks typically last much longer than a classic lipstick; around a few hours. Check out some of our fave long-wearing lipsticks here.
Lipstick: Lipstick comes in a bullet-shaped format and typically has a creamy formula. Lipsticks can be sheer or full-coverage and can have a matte or shiny finish.
Lip gloss: A liquid formula with intense shine; it can be colored, clear or shimmery, and some formulas also have a plumping effect.
Lip liner: A lip pencil is used to line your lips to prevent your lipstick from bleeding. It can also be used to contour your lips to give the appearance of a fuller pout, and it also helps your lipstick to last longer. Using a lip liner before lipstick also helps to shape the lips and make lipstick application easier.
We hope you guys found this helpful if you're new to makeup! What kind of makeup tips do you want us to write about next? Let us know in the comments below.